The era of data-driven recruiting is upon us. That means a recruitment dashboard — one that offers ample insights into ongoing talent acquisition activities — is now your team's top asset.
It's not just talent professionals who know they need in-depth analytics to drive daily and long-term decision-making, though. Hiring managers, people operations directors, HR professionals: They also understand the competitive differentiator that is recruitment data.
A 2022 Gem report found these stakeholders leverage data from across the recruitment funnel:
Top of funnel: 87% of talent pros track candidate-outreach data (e.g., nurture engagement).
Middle of funnel: 75% of talent specialists identify bottlenecks in their recruiting processes.
Bottom of funnel: Five in six recruiters track time to hire and use that data to speed it up.
Looking to advance your talent analytics 'maturity' and realize a stronger recruitment strategy like these TA orgs? It's time to embrace a recruitment dashboard so your team can thrive (and beat competitors for top talent) today and in the years ahead.
What is a recruitment dashboard?
A recruitment dashboard is an easy-to-digest, yet in-depth visualization of both a talent acquisition team's core metrics (more on those below) and their historical performance.
That said, not all recruitment dashboards offered by ATS providers offer the breadth and depth of recruiting data hiring collaborators need to analyze specific TA tasks.
(Notably, data that helps them evaluate candidates, address issues with pipeline speed and efficiency, and assess other critical components of their overall talent strategies.)
The top recruitment dashboards enable hiring stakeholders to review vital data points like the:
Number of applicants generated (including by source and origin): Knowing how many applicants enter one's talent pool over a given timeframe as well as which sources lead to the highest quantity and quality of prospective hires (e.g., certain job boards or career communities) is a must.
Conversion rates (e.g., screen-to-interview, interview-to-offer): Tracking prospects' 'movement' throughout their candidate journey is vital to discerning which stages are well-oiled machines (i.e., job seekers move seamlessly through them) and which need to be adjusted (or eliminated).
Performance of personalized nurture emails (e.g., opens, clicks): Regular testing of the messaging, schedule, and cadence of automated nurture campaigns requires regular analysis of the performance of each iteration of said campaigns to learn which perform best and worst over time.
Number of hired employees (by recruiter, team, role, location, etc.): You and your TA team don't decide who to hire. Nonetheless, it's important to track which and how many qualified candidates you move through the funnel convert into new hires as well as the overall offer acceptance rate.
Average time to hire/fill and related interview-stage data for roles: Similarly, the premier recruitment dashboards allow for quick and easy data 'drill-downs' that enable users to see how long their full-cycle recruiting efforts take at both the team and individual talent specialist level.
Diversity hiring metrics that can aid their respective DEI initiative: Diversity, equity, and inclusion is certainly at the forefront of leading talent teams' strategies today. Thus, they need data that details their work to onboard a broad array of top talent from different backgrounds.
As noted, legacy applicant trackers lack recruitment dashboards, which prevents ATS users from monitoring and taking action on data points like these in an efficient, streamlined manner.
The good news? There are platforms with advanced ATS functionality, candidate relationship management (CRM) capabilities, and powerful analytics baked in that make it easy for talent leaders and recruiters alike to comb over this data (and other intel and info associated with day-to-day tasks) and use it to inform decisions on who to hire and who to 'archive.'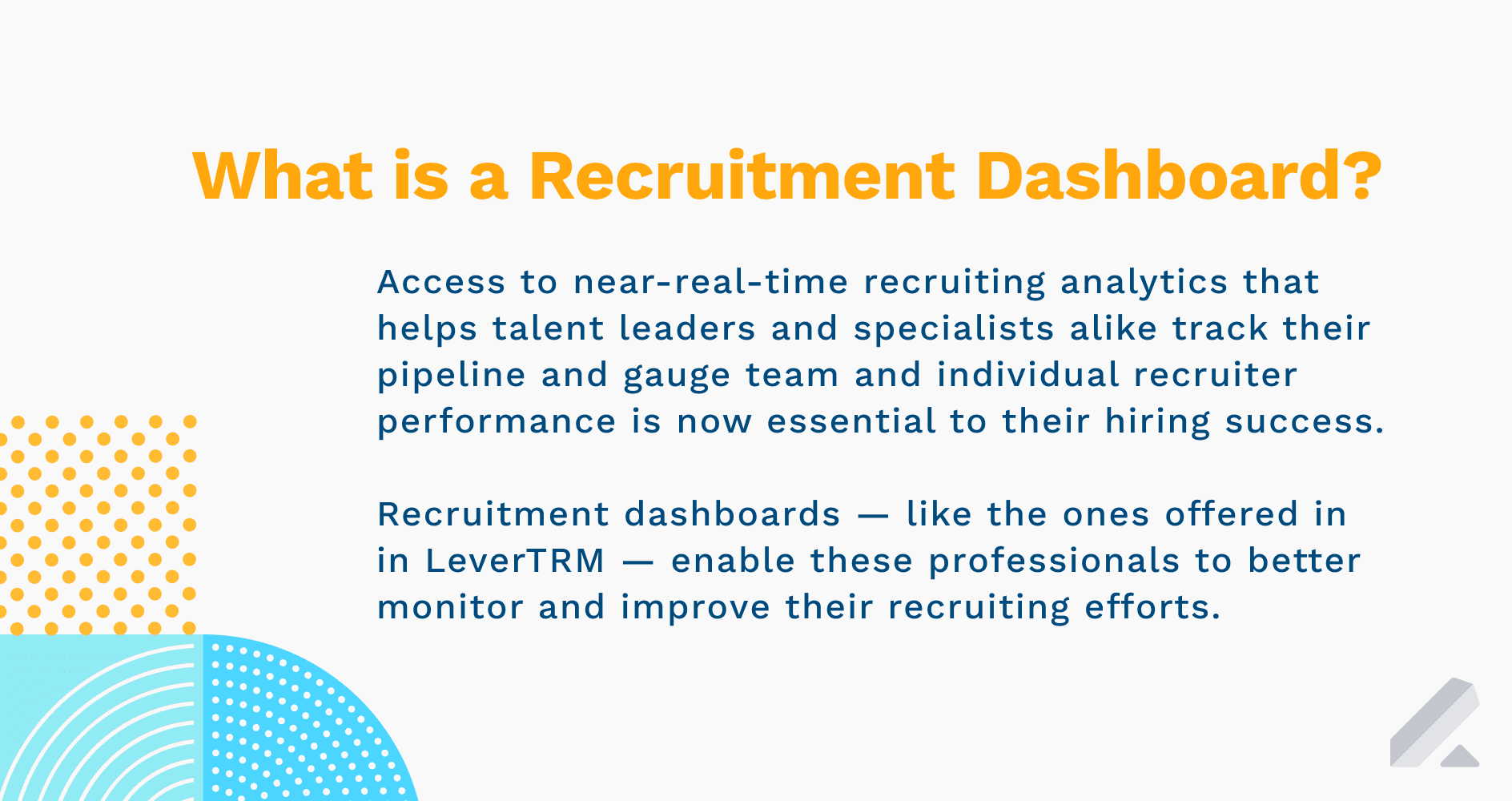 Using recruitment data to enhance your talent acquisition efforts and overall hiring process
Visual Insights, our native talent acquisition suite's in-depth analytics offering, provides a simple user interface any TA leader or specialist, regardless of their data expertise or level of tech-savviness, can use to enhance just about every aspect of their strategy.
Notably, this LeverTRM feature provides a high-level recruitment dashboard with visualizations (e.g., bar charts and drill-down tables) to help each recruiter on the team understand the status of their distinct talent pipelines and currently engaged candidates.
Consider how LeverTRM users make the most of our Recruiter Operations dashboard:
"Start each day with the data you need to succeed." That's what the Lever Customer Success team tells our customers daily. And that's exactly what they get with the Recruiter Ops dashboard.
Within seconds, recruiters can gauge the volume of new candidates added to their talent pool in recent days and weeks as well as the velocity in which those prospects move through the funnel.
Using our Advanced Analytics add-on, talent specialists can see where current 'opportunities' reside in their funnel stage-wise. They can also see how long each has been in said stages and attend to the most pressing prospects (i.e., those who risk going 'stale,' due to inaction on the hiring team's part).
Aside from seeing active candidates currently in their interview cycle, LeverTRM users can review feedback for recently interviewed job seekers (including scores from each interview panelist).
Moreover, recruiters can get granular with their analysis by examining data points like days certain 'owned' postings have been live, the most recent action taken for a given role/candidate, and total number of interviews completed over a given period of time.
Companies like Invoke Staffing, Hopper, and Cogent Biosciences use Visual Insights and its many dashboards (Recruiter Ops is but one of 13 in LeverTRM) to accelerate their hiring speed, elevate their recruiting efficiency, and — ultimately — evolve from a reactive talent acquisition approach to a proactive one that helps them hire smarter.
Whether you're a talent team of two or 20, Visual Insights is the intuitive-yet-exhaustive analytics solution that can help you develop a predictable, data-driven recruiting strategy — just as the aforementioned Lever customers have done using the feature.
With a simple learning curve to navigate and use the many recruitment dashboards within Visual Insights, you and your team can take advantage of near-real-time analytics in no time.
Building a scalable, data-driven TA strategy with a unified recruitment dashboard for your team
"Data never lies, and the proof is in the numbers," TextNow VP of Talent Suzanna Salzberg shared in our case study, noting LeverTRM is now her team's "hiring single source of truth."
Like Suzanne and Co., your TA org may understand the need to track each stage of the funnel and specific recruitment activities within said funnel to improve the output of your hiring.
But without a centralized system that offers out-of-the-box, and easy-to-navigate talent analytics — including and especially the critical data sources mentioned above — it's difficult to make significant progress with your recruitment process and hiring goals.
Another way to put it? Depending on disparate data tools cobbled together to provide a partial view of your team's and individual-recruiter performance is merely a stopgap solution.
If you truly want to take your talent acquisition strategy to the next level, a robust platform with a unified recruitment dashboard — and 'spin-off' dashboards for each niche TA activity — is your key to unlocking growth and greater ROI from your recruiting program.
Download our data-driven recruiting eBook to learn how you can improve crucial recruitment metrics by embracing the TRM approach and taking action on real-time data.