Cost per hire. Time to fill. Candidate experience.
The list of talent metrics you need to routinely track and improve is lengthy. You can't do either, though, without a platform that offers robust recruiting analytics and makes that data available to all key stakeholders. (That is, not just the talent team.)
Why talent specialists, hiring managers, and executives all need access to recruiting analytics
Many of today's talent leaders understand their team members charged with sourcing and nurturing prospects and facilitating their movement through the recruiting process need recruiting data at their fingertips to make fast, yet intelligent decisions regarding candidates.
And yet, many talent directors also still rely on legacy applicant tracking systems that prevent their teams from accessing critical hiring data and insights in a single source of truth.
The lack of robust analytics in a centralized solution means these talent leaders also can't easily share reports (or, better yet, customizable dashboards) with their C-suites and other relevant internal stakeholders to prove their progress and relay 'wins' by their recruiting staff.
Let's say HR professionals want access to your talent team's recruitment metrics:
Specifically, the HR team wants to see recent requisition data. For example, how long does it takes the TA org at large and individual talent specialists to fill job openings (i.e., average days to close)?
Human resources also wants a breakdown of who's involved with each active role — the requisition owner, recruiter, and hiring manager — to get a better sense of the hiring process.
Can you easily and quickly share it in an easily digestible format for HR? Is your requisition data even unified with other recruiting analytics (e.g., offer, posting, and interview data)?
If you can't provide near-real-time data with HR and any other business leaders who may want access in an efficient, speedy manner, you can't capably highlight your team's performance.
What's more, you'll leave key stakeholders 'in the dark' regarding your recruiting efforts.
For instance, hiring managers not only need to be in lock-step with talent specialists when reaching out to and eventually interviewing candidates, but also need to be able to view the same recruiting insights to make the necessary upgrades to their end of the hiring process.
Are job descriptions not hitting the mark (e.g., not aligning closely with the affiliated requisition, generating lots of views/applications)? Hiring managers will want to know that (as well as what talent leaders and their team will do to 'rectify' those job descriptions).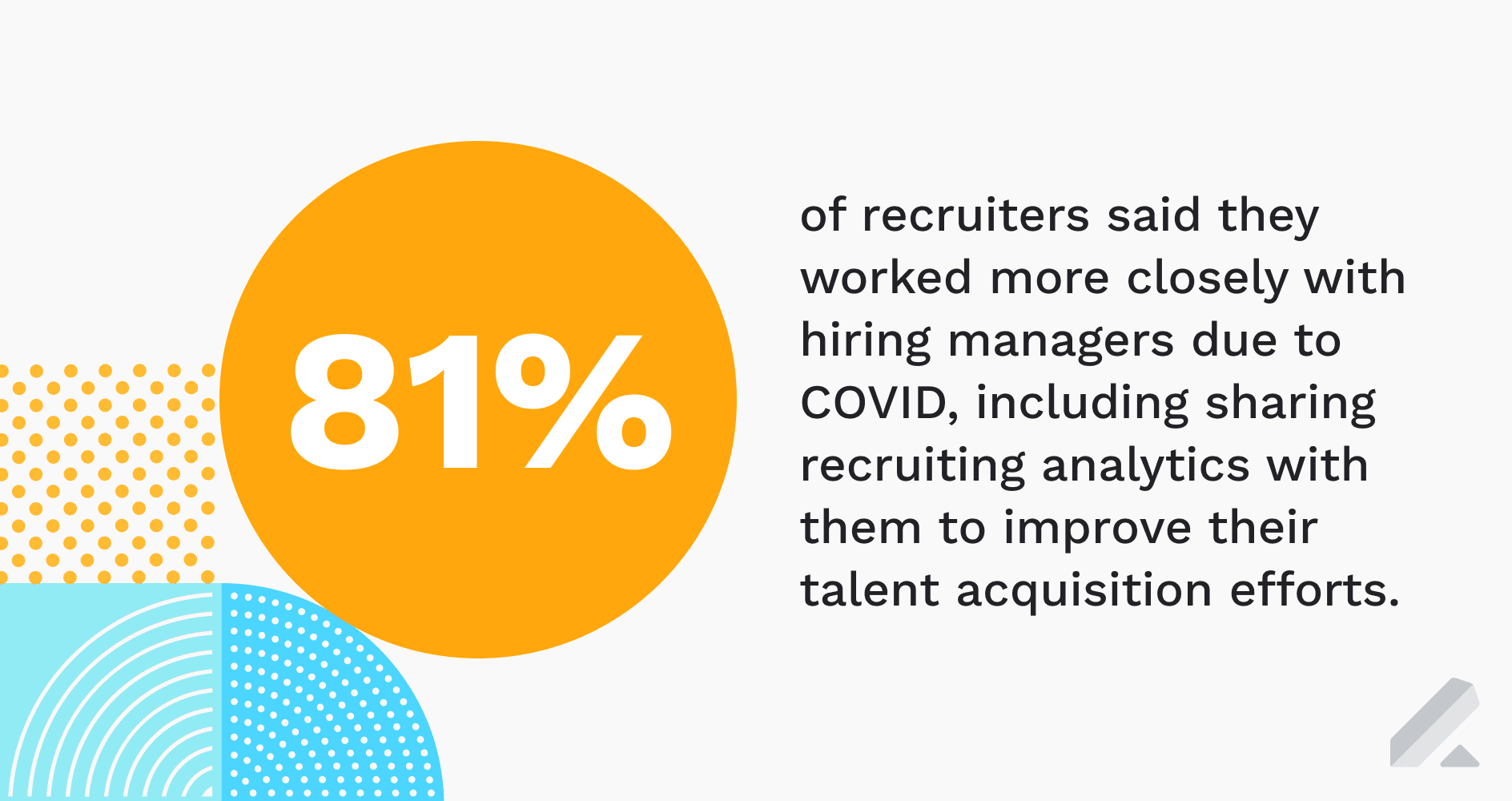 What the 'right' recruiting analytics solution offers
You don't need a data scientist to 'own' and share your recruiting analytics.
Rather, all you need is a complete talent acquisition suite that offers key candidate relationship management (CRM) capabilities and out-of-the-box analytics like LeverCRM to track your efforts with ease as well as share dashboards with other collaborators and corporate leaders.
Time to hire. Source of hire. Offer acceptance rate. DEI progress. All of these critical metrics and focus areas can be tracked effortlessly with a unified ATS and CRM with built-in reporting.
Consider how these companies use the analytics and data visualizations in LeverTRM:
Hopper: The airfare-analysis firm had two goals. First, its talent team needed to gain more insight into its pipeline. For instance, it wanted to know where each prospect was in their recruiting funnel. Second, Hopper Head of People Ops Ashleigh Jaffe needed to report 'up' to her executive team on hiring efforts across business units. With LeverTRM, both goals have been accomplished.
Centro: Determining the top sources for hiring and syncing data between Workday and Lever were Centro's top priorities when onboarding Lever. Using our reporting capabilities, the company can now identify and leverage this 'post-hire' data (e.g., quality-of-hire data) to inform where its recruiters spend their time sourcing. Moreover, it can integrate key recruiting data between LeverTRM and its HRIS. This ensures the Centro TA team's counterparts in HR have the data they need to succeed too.
Bigfoot Biomedical: Balancing headcount goals with DEI-hiring initiatives was initially difficult for the biomedical business. After investing in LeverTRM, though, it was able to utilize our automation workflows and intelligent recruiting features (e.g., diversity recruiting analytics and insights) to streamline processes and ensure it was more equitable and inclusive with its hiring efforts.
Fast, intuitive, reliable data at their disposal and ready to share with any other coworkers at a moment's notice. That's the core commonality among these companies' use of LeverTRM — and functionality that helps their organizations scale in a smarter, more data-driven way.
How using data analytics daily leads to better recruiting decisions and smarter hiring processes
Data is the key to enabling talent teams like yours to be more strategic. However, your recruiting analytics serves a variety of purposes for several stakeholders within your business.
The more recruitment data your democratize across your team and with other associates at your organization, the more you and said colleagues can stay on the same page regarding hiring initiatives and outcomes and adjust your talent acquisition approaches accordingly.
Every company's TA strategy is unique. That said, the use cases as it pertains to sharing actionable recruiting and hiring data — ideally in the form of custom-tailored dashboards you can build in a single recruiting solution — are often the same from one talent org to the next:
Talent leaders can see how their team members are doing in terms of meeting hiring quotas/deadlines, set more accurate expectations with hiring managers, forecast what activity metrics are needed in order to hit future hiring goals, and gain a deeper understanding of how unconscious bias could be impacting DEI hiring initiatives.
Recruiters and talent specialists can start their days with candidate-centric dashboards that provide a holistic view of their talent pipeline, including where each prospect is in the recruitment cycle, which individuals they're waiting to hear back from regarding offers, how many candidates they're nurturing for different roles.
Hiring managers and interview panelists can gauge how candidates of interest for positions on their respective teams are moving through the hiring funnel. More specifically, they can see historical feedback data, insights around offers extended and accepted over time, and, for HMs, the speed with which their requisitions close.
Organizational leaders can keep tabs on their entire talent team's performance. For example, talent leaders with Lever can schedule and send bespoke dashboards to their CEOs and other execs on a daily, weekly, or monthly basis that feature the most pressing data points the business leaders in question wish to track.
Simply put, recruiting analytics benefits a number of individuals within your organization.
The key to properly taking advantage of said data, though, lies in the people, processes, and — most importantly — technology you put in place for your talent team.
Download our eBook to learn how to build a data-driven recruiting strategy that helps you track your candidates throughout the recruitment lifecycle and hire faster and smarter.