Human resources teams have long used people analytics (i.e., employee data) and ongoing feedback from their staff to enhance the quality of their work. Using workforce analytics is how HR leaders solve key business problems.
For instance, many HR teams use these data sets to improve employee satisfaction and, in turn, elevate a low employee retention rate. This then makes their companies a more desirable career destination for job candidates.
Today, talent acquisition leaders and their teams are following suit by embracing talent analytics.
That is, TA and HR no longer let gut instincts drive decision-making around sourcing and nurturing. Rather, they now make data-backed recruiting and hiring decisions with help from candidate-centric dashboards and business intelligence.
This is how they find top-performing talent to present to hiring managers, engage those individuals with personalized and well-timed messaging tailored specifically to them, and get those candidates to accept offers to join their organizations.
This holistic, comprehensive view of their talent pipeline means they can better manage priorities and tasks — and, at the end of the day, hire smarter, faster, and more efficiently.
What we mean by 'actionable' talent analytics
Sales, marketing, engineering, customer service: These are all teams that require near-real-time, accurate, and actionable insights to thrive in their day-to-day. But talent acquisition and recruiting teams can now be added to that list as well.
Simply put, today's top TA teams have talent analytics programs in place that help them build a plan to connect with the right candidates and convert them at a high rate.
Just as HR uses human-capital insights to enhance workforce planning and boost employee engagement, TA now uses rich recruiting data to boost team productivity.
Actionable talent analytics is data on which you can take action immediately to realize better, smarter outcomes as it relates to your sourcing, nurturing, interviewing, and hiring.
But before you can take advantage of predictive talent analytics capabilities to enhance your TA team's performance, you need both defined processes around which data each team member needs to succeed and a centralized, intuitive solution in which your analytics lives.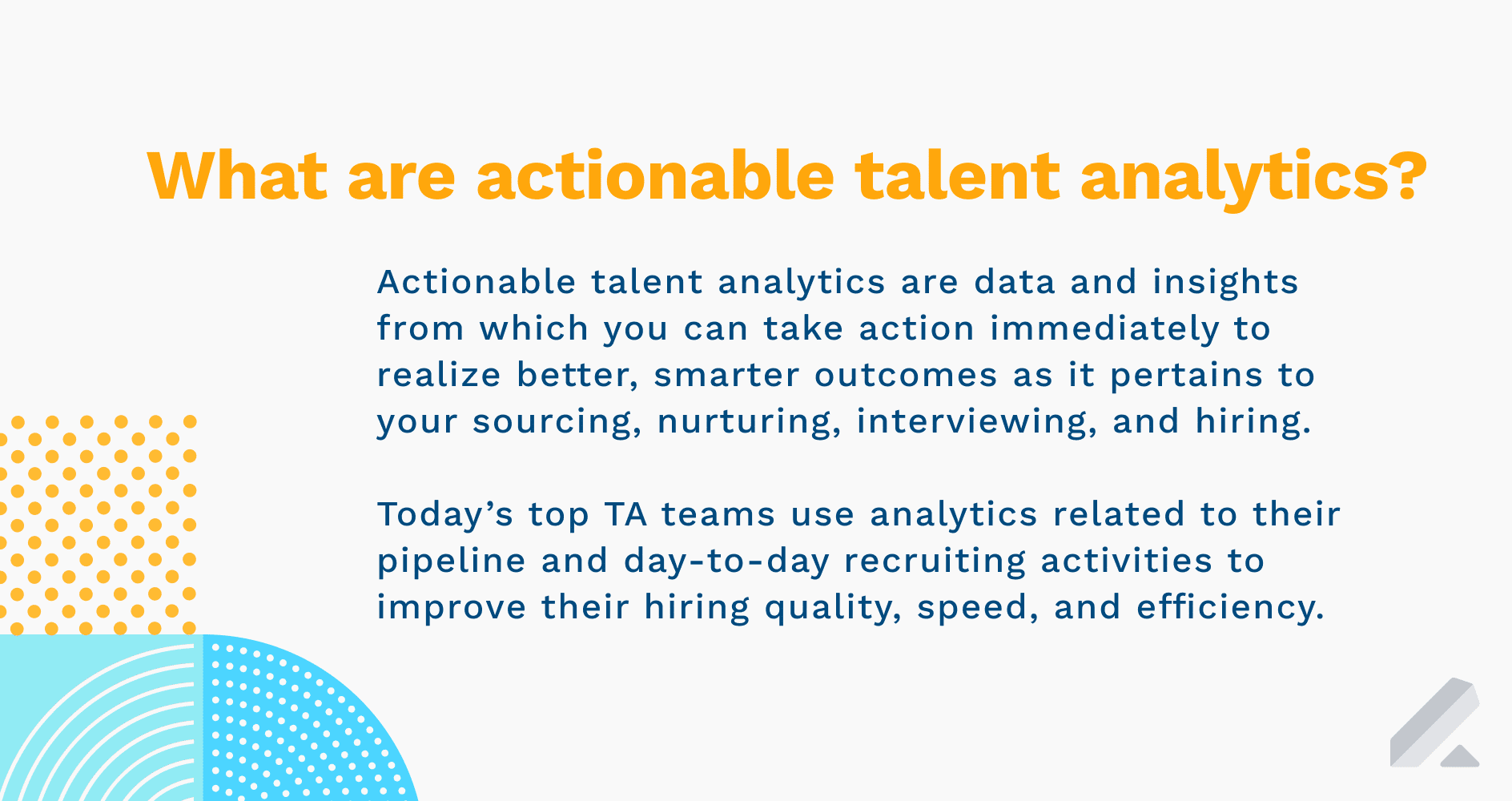 How leveraging talent analytics can lead to better hiring and performance for your team
With a coordinated effort around recruiting optimization, analytics available to each TA specialist, and a game plan to capitalize on candidate data and related insights, it's easier than ever for talent orgs small and large to turn potential employees in their pipeline into new hires.
A prerequisite to mastering this approach, though, is having the right tech.
Consider Lever customers. They use Visual Insights to drill down into data regarding intricate facets of their recruiting and TA efforts. Our analytics gives them the intel they need to enhance candidate outreach and engagement and bolster their hiring conversion rates.
LeverTRM users take action on the analytics provided in our dashboards in a variety of ways.
Source and hire a diverse array of talent for each team.
A big part of success for Lever customers' DEI efforts and building a truly diverse workforce is to routinely monitor their respective sourcing and hiring data.
Many of our customers use the EEO dashboards in Visual Insights. This shows them which source origins lead to the most diverse array of talent. If few diverse candidates are being added to their talent pool, they can see which sources do and don't help them find the ideal prospects. From here, they can double down on the former and turn to the latter less often.
Take Lever customer Maxwell. It uses LeverTRM to build a diverse, equitable recruiting funnel.
Maxwell uses the built-in DEI surveys in our complete TA suite to gauge the diversity of active and passive candidates. It then uses those insights in tandem with its talent analytics to ensure it sources, engages, and hires a diverse array of individuals.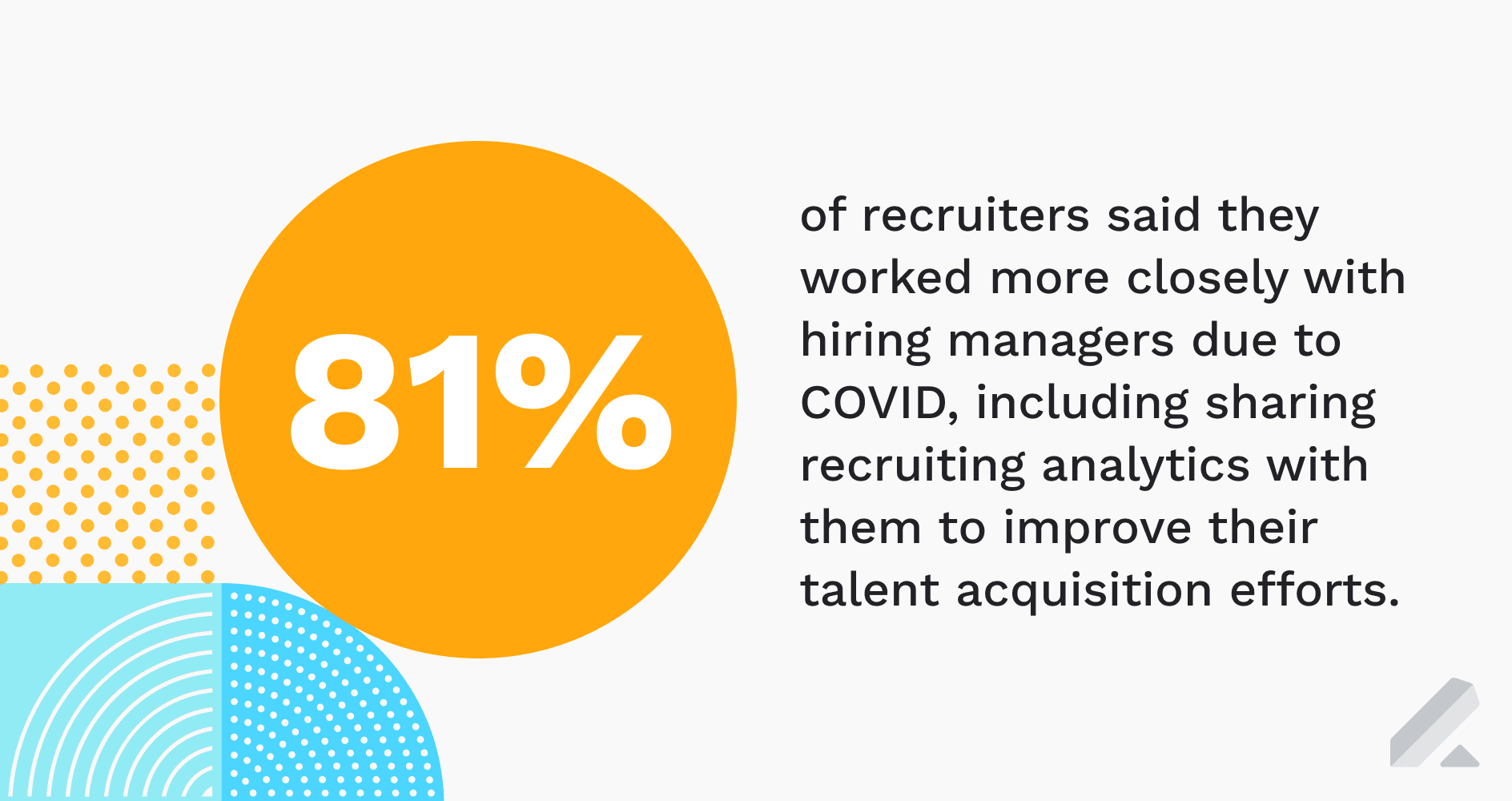 Maintain compliance by tracking candidate data requests.
The age of data privacy doesn't just apply to consumers. LeverTRM users who collect and store prospects' info in our solution must comply with various laws regarding how long they can hold onto prospects' data and candidates' data-deletion requests.
If it takes their talent org too long to comply with requests, TA leaders can address the issue with their team ASAP. This, in turn, prevents problems with candidates or regulators.
Keep tabs on key metrics, like time to fill for open requisitions.
Another area of recruiting where speed is of the essence is closing requisitions.
Let's say the number of closed reqs (either overall or for specific teams, departments, and/or locations) continues to trend down over a 30-day period for a Lever customer.
They can then update HR and hiring managers to note they're working to resolve the issue.
When the closed-req numbers get back on track, the TA leader in question can share that data with relevant stakeholders to show they're trending in the right direction.
Securing the right talent analytics solution to set your TA team up for long-term success
Knowing how to find premier prospects from a dwindling talent 'supply.' Understanding the best days and times to engage prospects. Identifying bottlenecks in interview cycles. Determining what factors contributes to low- and high-quality candidate experiences.
Talent analytics enables TA leaders and their teams to address issues with and improve these areas (among many others) the cumulative effect of which can lead to more intelligent, savvier recruiting and a higher likelihood of converting world-class candidates.
All you need is the right solution.
More specifically, you need one that offers built-in, regularly refreshed analytics and empowers recruiters and other hiring stakeholders to use that data in their candidate relationship management strategies to outcompete other companies for top talent.
Learn how three Lever customers built highly successful data-driven recruiting strategies with the actionable talent analytics offered in our complete TA suite in our in-depth eBook.