The days of depending on disparate analytics tools — each with its own distinct hiring dashboard that (more often that not) doesn't share essential data with other talent acquisition and human resources tech — are over.
Today, the top-performing TA strategies revolve around a centralized analytics solution.
More to the point, those strategies are built around a comprehensive analytics platform that provides not just a dedicated hiring dashboard for the talent director to use, but also niche dashboards for each specific recruiting task.
10 hiring dashboards that help Lever users evaluate and improve their entire recruitment process
In addition to creating personalized nurture campaigns and streamlining their sourcing efforts, LeverTRM users also utilize Visual Insights (currently in preview for Lever customers) — and the many beneficial hiring dashboards within — to both assess their talent acquisition activities with ease and refine their recruitment metrics over time.
And these 10 hiring dashboards offer a wealth of useful and actionable insights.
Starting their mornings off with with a glimpse into their high-level recruitment metrics and ongoing activities in this dashboard helps Lever customers quickly discern how they're performing as a business unit as well as understand their high- and low-priority tasks.
All in all, talent pros with LeverTRM can see their progress as it pertains to meeting distinct goals around sourcing, interviewing, and hiring, all in one place.
Talent acquisition leaders and hiring managers alike benefit from this in-depth dashboard.
Being on the same page regarding how many requisitions remain open and have closed in a given time period as well as which reqs are assigned to which recruiter helps all key stakeholders ensure a smooth hiring process.
It also helps HMs and TA directors monitor talent specialists' progress in filling open positions and meeting headcount goals laid out by HR and leadership.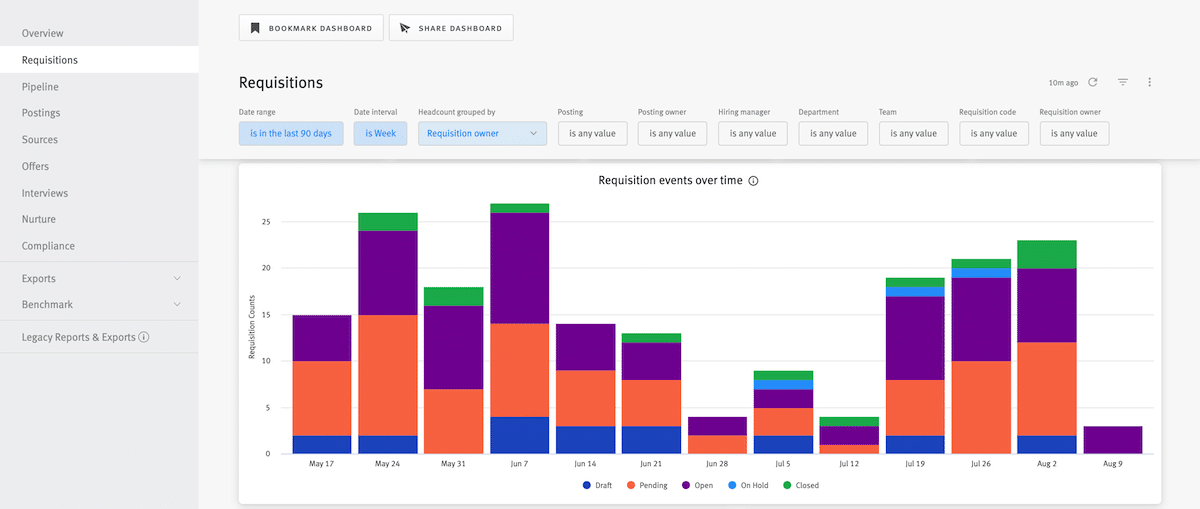 Aside from getting a near-real-time 'snapshot' of their pipeline, talent leaders can also learn how to better manage their pipeline to more seamlessly move prospects through the funnel and, in turn, deliver a top-tier candidate experience (CX).
Average days in pipeline, total opportunities created and advanced, production by opp owner: Talent directors can see a wide range of pertinent data points at a glance.
Whether you want to see long-active and recently closed listings or gauge time to hire and offer acceptance by posting, this hiring dashboard can help you keep tabs on all roles.
Drill down further, and you can see which postings take the shortest and longest to fill by team and the average length of time applicants for each posting spend in each recruiting stage.
Not all job boards and career communities generate the same quantity and quality of prospective candidate hires. That's why recruiters must review their sourcing avenues often.
Strong sources (i.e., those that lead to a sizable volume of candidates whose qualifications match active roles and appeal to HMs) can be doubled down on. Meanwhile, less-fruitful sources can be turned to less often (or not at all).
For which roles have offers been extended and accepted in the last month? How many revisions have there been to offers made during that period of time, on average? What's the average time to accept an offer?
Both talent leaders and HR professionals find this hiring dashboard highly valuable, as it provides them with insight into offer volume, new hires for specific roles, and recruiter performance (i.e., how often candidates turn into new employees).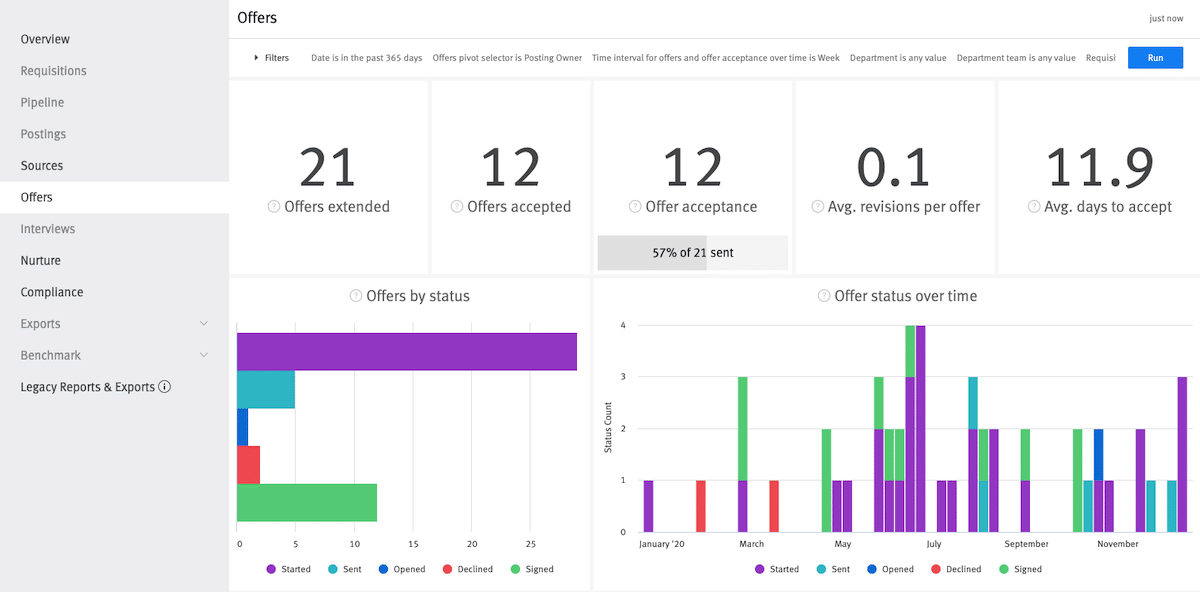 You can't provide a best-in-class CX if you don't regularly scrutinize your interview data.
This recruitment dashboard enables Lever users to see which interviewers provide the most positive and negative candidate feedback, their average time to provide said feedback, how long it takes interview panelists to complete their conversations with prospects, and how many interviews are conducted in a given time frame.
Just as marketers A/B test communications with leads, recruiters with LeverTRM do the same.
As they experiment with automated talent outreach, Lever users also turn to this dashboard to see which nurtures hit the mark (i.e., moves the most prospects to the interview stage) and which don't. It's the latter they fix (in terms of messaging, schedules, and/or cadences) to gradually realize better results.
There are many regulations by which recruiters must abide. Thankfully, talent teams with Lever can capably track their efforts to maintain compliance with certain measures in this dashboard.
Specifically, they can see all candidate-submitted data requests (e.g., opt-out via GDPR consent links, unsubscribe to recruiting emails) and info related to those requests (e.g., how long it takes to close them).
Diversity, equity, and inclusion is top of mind with recruiters today. They can't realize more equitable and inclusive hiring practices, though, without knowing the demographics for leads in their pipeline: actively sourced/engaged prospects, archived talent, and new hires.
This Visual Insights dashboard helps Lever users do just that. They can then use this EEO survey data to inform necessary changes to their recruiting and hiring practices.
Your mission: Build a more comprehensive hiring dashboard with a complete talent acquisition suite
Factoring in the data from these regularly updated dashboards in their day-to-day recruiting efforts is ultimately how Lever customers enhance their TA programs and scale as desired.
If your team lacks a system like Lever in which you can easily, quickly, and efficiently evaluate your talent acquisition data — both related to prospective hires and internal performance — it's time to revamp your tech stack and onboard an advanced analytics platform.
More specifically, it's time to turn to a 'complete' TA suite that helps you execute each activity associated with your full-cycle recruiting program (i.e., your sourcing, nurturing, interviewing, and hiring efforts), analyze the efficacy of that work, and take action on that data by making the requisite adjustments to your recruitment model.
It's only when you have such a solution in place that you can build a scalable, sustainable, truly data-driven talent acquisition strategy that helps your business grow as desired.
Download our eBook to find out how Lever customers make the most of the customizable hiring dashboards available in LeverTRM to build smarter, data-driven recruitment strategies.