It's not just smaller talent acquisition teams that struggle with growing their talent maturity levels today. Even sizable TA orgs face daily challenges that deter them from advancing their distinct strategies and achieving their respective recruiting and hiring goals.
According to The HR Research Institute's Future of Talent Acquisition Report from August 2021:
62% of talent leaders said adding enough workers to support growth is a top driver
61% said they struggle to find and hire top-tier talent that meets job requirements
46% reported prospects in their talent pool don't have the right skills for open roles
As you can see, if you frequently struggle with identifying, engaging, and converting high-quality candidates into new hires for your business, you're not alone.
The first step to alleviating your sourcing, nurturing, and hiring issues and growing your organization as desired is to know your company's talent maturity level — that is, the level of efficiency, effectiveness, and sophistication of your recruiting and hiring processes.
We believe businesses fall into five broad levels (or stages) of talent maturity:
To help you understand these levels, we've created a series of blogs to define and recognize key obstacles and practical steps to thrive in each level. This blog explains Level 3: Dynamic.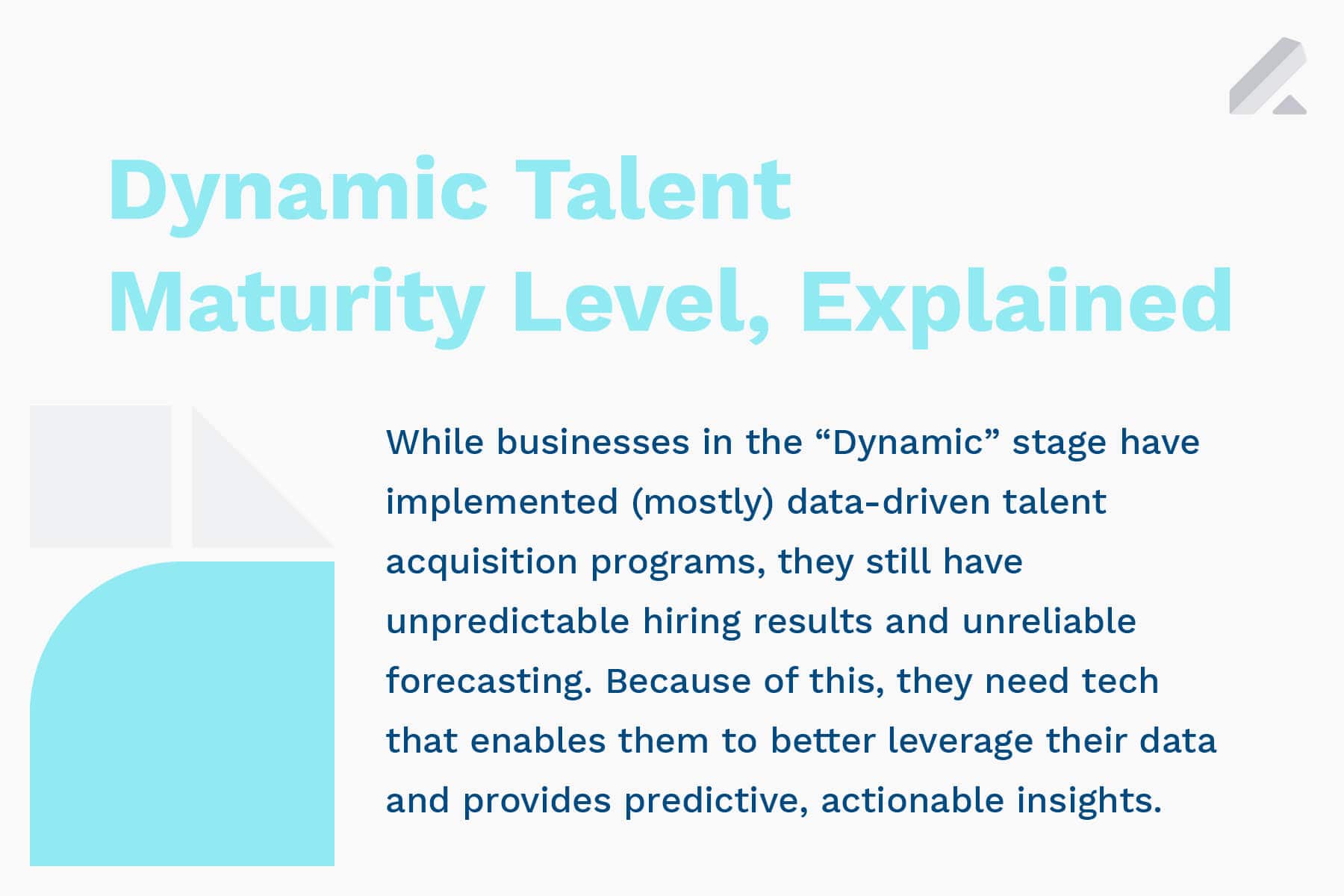 What is the Dynamic talent maturity level?
When you are at the Dynamic level of maturity, your organization effectively executes its talent acquisition plans and operates efficiently and productively. In short, your TA team can usually meet the headcount/hiring objectives laid out by your executive team.
In all likelihood, you have hiring and recruiting processes that can be measured and optimized to help you make data-driven decisions (at least at the tactical level).
Your goal now? Eliminate unpredictable hiring results and unreliable forecasting — and, in turn, improve your strategic data-driven decision-making as it relates to your overall talent acquisition strategy so your TA org contributes to tangible, long-term growth.
Ultimately, this business challenge is probably the result of:
Delayed data, making timely or accurate forecasting impossible
Limited data (and poor predictability) into how new hires perform
Little visibility into human resources systems (e.g., your HRIS)
So, how can you and your talent team move beyond this stage?
The answer lies in optimizing your recruiting function — a task that requires the right talent acquisition partner (i.e., one that offers advanced and intuitive technology as well as hands-on guidance) — who can help you amplify your existing recruitment model.
Here's a look at how some companies who found themselves at the Dynamic talent maturity level took the necessary, long-term steps to advance to the next maturity stage — and did so with our native talent acquisition suite at the center of their TA/HR tech stacks.
With very specific employee needs, Cogent Biosciences needed to double its growth. The ATS its talent team used, however, wasted recruiters' time. With Fast Resume Review in LeverTRM, though, the TA org could streamline its decision-making regarding which candidates in its pipeline to 'advance' and which to 'archive'.
Today, reviewing applicant resumes is 92% faster for the Cogent talent team. This speedier prospect assessment has helped fuel the company's growth strategy and enabled the business to increase its headcount by 492%.
Scaling talent recruitment to keep up with hyper-growth in a remote-first environment was a real challenge for BenchSci, which needed to accomplish that while filling key roles with top talent. Then, there was the problem of quickly acclimating new hires while preserving BenchSci's strong people-first culture.
To achieve both objectives, the company turned to LeverTRM and our integration partner bob, an HRIS platform, to make it easy to source top talent, reduce time to fill, and optimize its hiring funnel, then introduce new hires to bob, which unites communication, attendance, and performance data for HR leaders to leverage.
This allowed the BenchSci team to go remote-first within just one week of onboarding our ATS + CRM solution. Moreover, the business was able to onboard 119 new employees remotely, increase organization-wide collaboration, and deliver important insights.
Medal.tv, a content platform for clipping, editing, and sharing gameplay, hired a talent acquisition manager who had used a lot of different ATSs in his career — but knew LeverTRM stood out from the rest. Our complete TA suite enables him and his team to screen inbound applicants in seconds and shortlist candidates.
The results of relying on our native platform? LeverTRM empowered Medal.tv to grow its headcount by 53% within the first six months post-implementation, thereby helping to support the company achieve its expansive-growth goals.

Some tactical advice for companies that find themselves at the Dynamic talent maturity level
We've shared some high-level info as it relates to the Dynamic level. Now, let's look at some strategies to take your TA program to new heights and improve your core metrics.
Craft a high-volume hiring strategy to fill key roles.
If you're like many Dynamic companies, you have a rapidly growing business (and ever-changing headcount goals and needs laid out by your leadership team). That means you need to prepare accordingly — and we don't just mean adding a lot of prospects to your pipeline.
In our in-depth eBook on high-volume hiring, the Lever team shares five simple, yet effective ways you can find and employ high-quality candidates both quickly and at scale.
Better prepare for post-funding headcount needs.
Many companies at this stage are landing their next round of funding to continue to grow their organizations and their upward trajectory. Landing a round of funding is a cause for celebration, no doubt. But now that you have the resources to grow, what comes next?
We've gathered a series of five startup-centric steps to help you hire the right people at scale, so you can get it done faster, better, smarter — without wasting resources.
Scale your org in a structured data-driven manner.
A period of rapid growth can be difficult if your company isn't ready for a surge in growth.
Whether you're growing from 10 to 100 employees or 100 to 1,000 workers, you need robust recruiting-performance and candidate insights to help you better understand what does and doesn't work with your recruitment funnel (e.g., nurture campaigns, interview approach) and, in turn, make the requisite adjustments to boost your hiring speed, quality, and efficiency.
Fill out our 5-minute Talent Maturity Assessment to understand both the strengths and areas for improvement with your organization's recruiting and hiring programs.