Many talent acquisition leaders grapple with how to best execute their respective TA programs as well as continually improve and grow their recruiting and hiring processes.
That begs the question: Where does your business stand with its recruitment model today?
In a recent Deloitte study on Global Human Capital Trends, 81% of survey respondents reported that their organization's recruitment processes were standard or below standard. Just 6% of HR professionals polled reported having best-in-class processes and technology.
The first step to improving how your company hires is to understand your talent maturity level — that is, the level of efficiency, effectiveness, and sophistication of your hiring processes.
We at Lever believe businesses fall into five broad levels (or stages) of talent maturity:
A clear understanding of where your organization falls on the talent maturity scale is essential to seeing the big picture. That's why we wrote this blog post series: to define and recognize key obstacles in each level — and share practical next steps to elevate your TA effectiveness.
First up? An explainer of the Foundational 'stage.'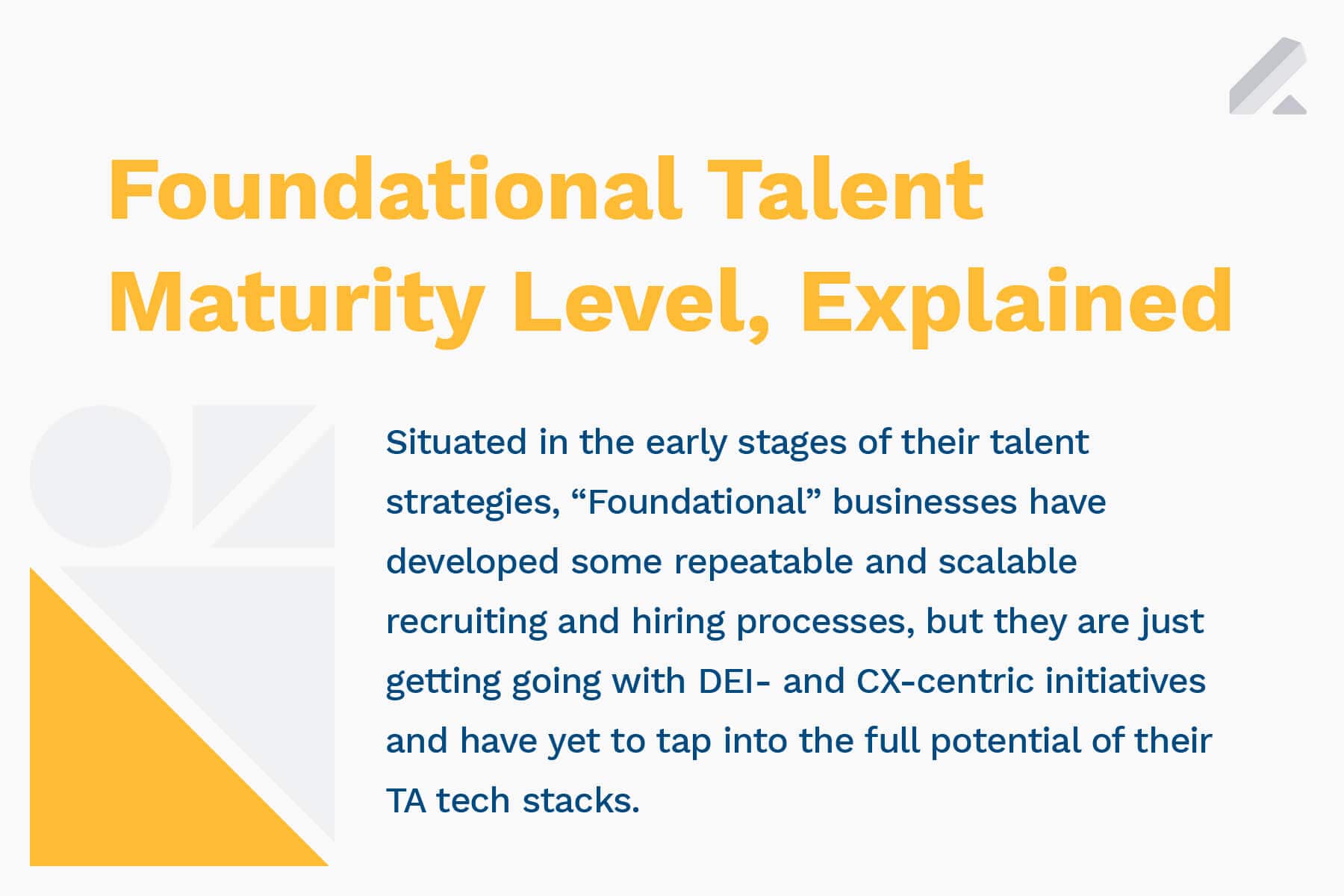 What is the Foundational talent maturity level?
With a Foundational recruitment model and hiring approach in place, your business satisfies some of the most fundamental talent management responsibilities today.
That said, there's plenty of room for growth. To progress beyond the Foundational stage, you need to level-set around the resources and time available to your TA team today.
At the Foundational Level, your greatest challenge is most likely the need to be more consistent with finding and hiring top-tier candidates more quickly and cost-effectively.
A few causes of this business challenge likely include:
Your lean staff, with talent acquisition maybe even being driven by your HR department
Having to manually conduct critical tasks (e.g., postings jobs, reaching out to prospects)
The need to manage and track the results of multiple job-posting partners and channels
So, how can your company move beyond this beginner stage of TA maturity?
Start by learning how your talent team can tactically simplify your recruitment and hiring processes to reach your business objectives (and onboard high-quality candidates) faster.
That means evaluating your current applicant tracking system to determine if it's the right talent acquisition partner (i.e., one that provides both advanced and intuitive recruitment tech as well as expert, hands-on guidance) and ensure your talent team can thrive.
That's just one step to evolving your talent acquisition strategy, though. To make substantial headway in the long term with your recruiting and hiring efforts, you must also:
Ensure your small-scale recruiting staff has clearly defined tasks/roles
Secure referrals from existing employees to reinforce your talent pool
Automate processes such as job distribution and candidate notifications
Start to track more crucial candidate and recruiting performance metrics
Want examples of actual organizations that once found themselves at the Foundational level but took the necessary steps to evolve their TA efforts? Look no further than these Lever customers, who take advantage of our ATS + CRM solution to achieve their business goals.
With an old-school ATS, Autify struggled to source, nurture, and onboard new candidates manually. Now, LeverTRM fuels the company's rapid expansion by helping organize candidate info/data and streamlining the hiring pipeline.
Autify now fills open positions 2X faster than they ever could via manual recruiting efforts. In one year, LeverTRM enabled the team to recruit 41 new employees and contractors — a 310% increase over the previous year (i.e., pre-Lever).
Fullstack Labs also needed to upgrade from archaic tracking in spreadsheets to a more holistic view of the hiring funnel to place the best talent in the right roles quickly and efficiently.
The business was impressed with Lever's on-call support and direct integrations with critical recruiting and communications tools from. By making the most of these capabilities and services, Fullstack has streamlined its pipeline management and hiring processes.
After implementing LeverTRM, the company has built a seamless integration with LinkedIn and Google Workspace, realized better (and more predictable) hiring processes and pipeline growth, and shifted from a transactional recruiting approach to a candidate-centric strategy.
Invoke Staffing, a North Carolina-based recruiting firm, needed a better system after using a legacy ATS from the staffing space that wasn't adding the value it wanted.
After implementing LeverTRM, the company saw a 90% reduction in time to hire and 300+ monthly InMails sent through LinkedIn, on average. Moreover, the business now has far better pipeline visibility to filter, engage, and — ultimately — hire the best candidates.

How to advance beyond the Foundational talent maturity level: Best practices for your TA team
You now know what Foundational means. So, let's look at some action items you and your team can tackle to enhance the effectiveness of your talent acquisition program and improve both your important quantitative and qualitative recruiting and hiring metrics:
Ensure you have a wealth of accurate, unified recruitment data. You'll need to think about how long it takes to fill a role, how your time to hire compares with other companies, and the average time it takes for a candidate to move through your recruitment funnel. Knowing these metrics will help you see where inefficiencies occur and what you can do to rectify them.
Analyze and, as needed, adjust the structure of your hiring process. Map your recruitment funnel from start to finish. Identify inconsistencies and variations, but don't make judgments (and subsequent optimizations) until you have evaluated your insights as a team.
Write clear job advertisements meant to attract the most relevant candidates. Be upfront about the experience needed, education requirements, and — most importantly — what the expectations are for the job in terms of ultimate impact on the team and business at large. Being clear and concise will help you not only attract the right candidates but also make it easier to sort resumes for the most relevant matches.
Regularly inspect your careers site and jobs pages to ensure they're all up-to-date. Your careers page should reflect your culture, vision, and values. It should be updated regularly so candidates interested in your company can trust that a job is still open when they apply.
Liaise with HR to improve your brand's internal positioning and external messaging. Your employer brand is critical for attracting top talent. Ensure you promote your culture and mission statement across channels: from your website and social presence to your career page.
Audit your candidate experience efforts to boost the quality of CX provided to prospects. Gaining feedback about your candidate process is invaluable for insights into how candidates move through the process, what parts are difficult, and at what points they may drop out.
Consider your organization's long-term needs when building your talent pool. Think about your current hiring needs, while also anticipating future growth or changes that might impact hiring needs. Filling your pipeline with numerous 'warm,' qualified candidates can help your future-proof your sourcing and nurturing efforts.
These best practices offer an optimal starting point to help you and your business get well on your way in terms of moving up from your Foundational talent maturity level.
But it's vital to remember you need an expert TA partner who can help you adapt your recruiting and hiring efforts and build a more sustainable, scalable approach to hiring high-quality candidates and making continual progress with your DEI hiring initiative.
Fill out our 5-minute Talent Maturity Assessment to determine the strength of your organization's recruitment model and where you can stand to improve moving forward.