At the Strategic talent maturity level, human resources and talent acquisition are considered (you guessed it) strategic pillars within their organizations. That is to say, they have a 'seat at the table' and a voice in discussions around near- and long-term business goals.
As industry expert Josh Bersin noted in his 2022 human resources predictions report, most HR and TA leaders "are [already] involved in doing strategic work, participating in cross-functional teams, and designing new solutions faster than ever."
In short, companies with strong HR and TA leadership and advanced talent acquisition technology stacks in place are ones who are set up to succeed today and in the years to come.
We believe businesses fall into five broad levels (or stages) of talent maturity:
To help you understand these levels, we've created a series of blogs to define and recognize key obstacles and practical steps to thrive in each level. This blog explains Level 4: Strategic.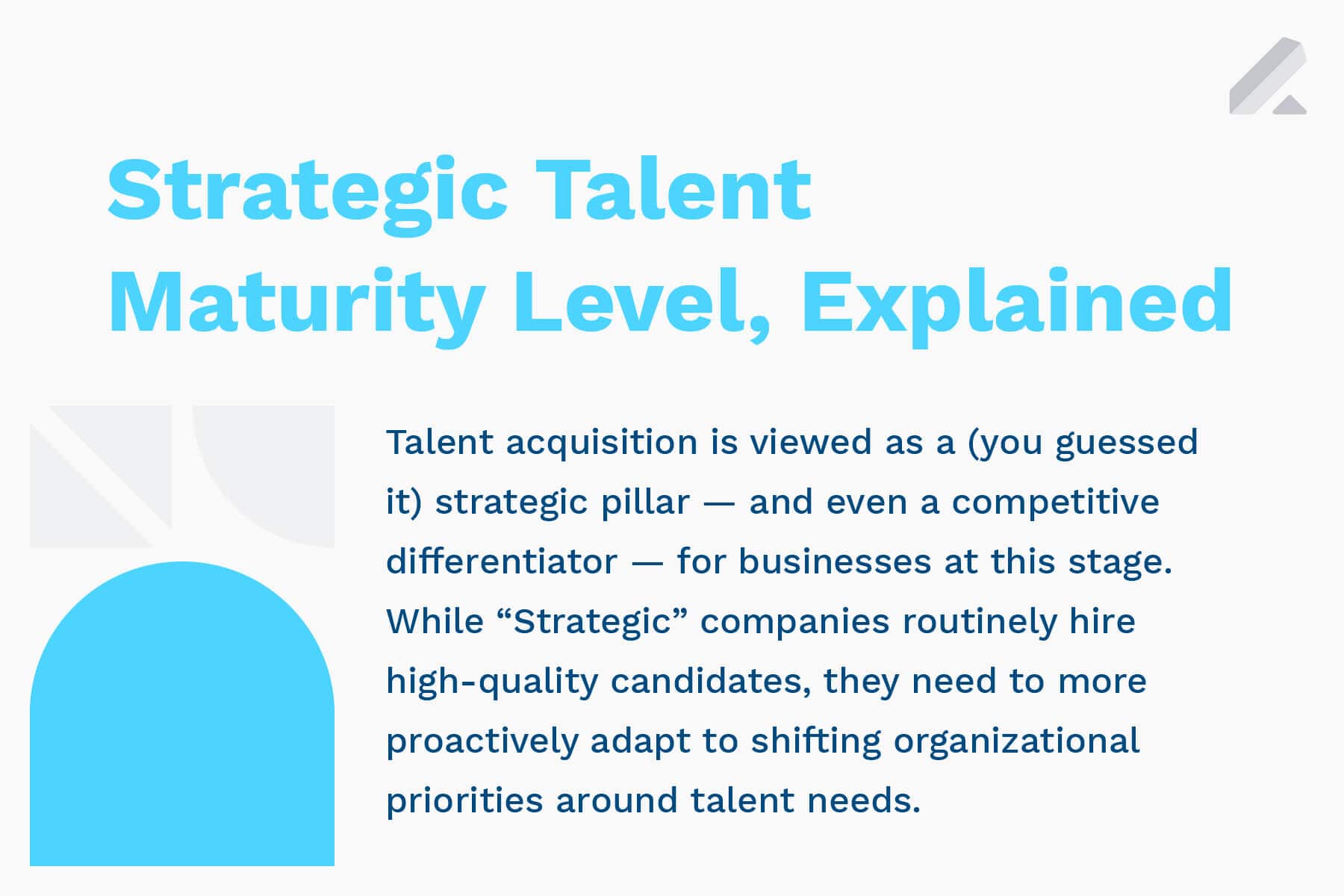 What is the Strategic talent maturity level?
At the Strategic level, your org strategically aligns its talent acquisition plans with larger organizational goals and is poised for growth and improved business health.
You work not just as an excellent TA team, but also contribute regularly to critical business goals such as scaling as you grow, increasing productivity, and exceeding your DEI goals.
At this distinct stage of talent acquisition maturity:
Your TA program is a crucial component of your org and often recognized as a competitive advantage.
You hire premier talent to align with your company's business goals but have yet to reach the potential for greater business transformation.
You're able to plan, and often predict, the success of your recruiting efforts and hiring objectives.
Your greatest business challenges at the Strategic level are most likely to effectively and proactively manage the shifting complexities and priorities of your company's talent needs, continue to increase the quality of hiring, and better retain top talent.
These business challenges are probably the result of (or at least exacerbated by):
Having only HR and recruiting involved in strategic talent decisions
Lacking optimal flexibility and agility in the acquisition processes
Spending too much time and focus on today's most critical job requisitions and demands
So, how can you and your talent team move beyond this stage?
At this stage of talent maturity, you are very likely starting to compete against the best-recognized brands in your market for top talent with increasingly specialized skill sets.
With the right talent acquisition platform and partner in place, these challenges translate into opportunities to become a more deeply informed and highly empowered executive talent leader — one who can better drive long-term business growth.
Here's a look at how a few companies who found themselves at the Strategic Level took steps to not only thrive at their level but to grow toward the next level.
Fiix Software, an open CMMS platform that digitizes, organizes, and scales maintenance operations, made a firm commitment to diversity, equality, and inclusion (DEI). However, the company struggled to find recruiting and hiring tools that provide substantial visibility into the talent pipeline.
LeverTRM allowed the software provider to make strides in several critical areas of DEI, which ultimately helped it implement a more proactive sourcing plan to find diverse talent (e.g., creating an equity statement it incorporated in job postings and on its career site).
The results of its DEI-centric recruitment revamp? An increase of 63% in the number of diverse hires made — and a talent pool featuring many more 'warm' candidates from a variety of backgrounds, making it easier to identify top prospects for future hiring needs.
Maxwell, delivering a modern mortgage experience, wanted to gain deeper insight into the talent market and the health of their hiring pipeline. They also wanted to nurture and engage their talent pool and build real relations with candidates.
With LeverTRM, the Maxwell team could focus on DEI data and build a more diverse and equitable funnel.
Using our complete talent acquisition suite, Maxwell achieved 400% year-over-year growth in headcount. Moreover, the business saw its time to fill decrease by 20% and offer acceptance rate increase 31%, compared to when it used its legacy ATS.
Secure Code Warrior (SCW), the secure coding company helping developers think and act with a security mindset, set out to find a tech partner to help them double headcount while tracking post-hire data in one central place.
With Lever, the company has applied a sales strategy to its recruitment model designed to reach out and close strong talent. Using this approach, the SCW has experienced a 30% reduction in time to hire and 20% improvement in sourced hires.
What's more, the business scaled its hiring growth 80% year-over-year, while its recruiters spent 80% of their time sourcing instead of 'back-office' task management.

Some Tactical Advice for The Strategic Level
We've covered pretty high-level info as it pertains to the Strategic level. Now, let's look at strategies that can take your TA program to new heights and improve your metrics.
Use automated nurtures to build better candidate relationships.
Whether your talent acquisition team focuses on converting sourced candidates or existing talent in your database into new hires, one thing is clear: You must nurture each candidate with personalized, thoughtful outreach to provide a stellar CX and improve your hiring conversion rate.
Sometimes nurturing candidates can feel more like marketing than TA. In our eBook, "Building Better Candidate Relationships with Automated Email Nurturing," you can discover candidate-nurturing best practices as well as the many benefits of automating most of your candidate communications.
Continue to build and refine your organization's DEI tech stack
As an integral part of your hiring process, you understand that it's imperative to integrate diversity, equity, and inclusion (DEI) into your recruitment strategy.
Given the critical role that talent acquisition and recruitment play in the growth of your company, you know that a well-rounded, DEI-focused recruiting process will help to eliminate bias and nurture a more inclusive talent acquisition program.
At this stage in talent maturity, you are churning along in your DEI goals but we have information on the latest tech stack to push you even farther.
Future-proof your hiring by staying up-to-date on hiring trends.
Recruiting and hiring are moving in the direction of traditional customer service. It's become clear talent relationship management software, when compared to legacy ATS, better enables TA to communicate and collaborate with other hiring stakeholders
Keep your eye on the latest trends and developments in TRM software and it's updates to ensure you remain at the Strategic level and move toward the next level in TA maturity.
Take our brief Talent Maturity Assessment to discover the strengths with your current recruitment model as well as adjustments you should make to level-up your TA strategy.