When you find yourself at the highest talent maturity level — and achieve your pipeline, DEI, and hiring goals with great ease and efficiency — you understand the need to build strong candidate relationships and align with leadership on long-term business goals.
And yet, even at the 'leading' talent maturity level, there are still opportunities for growth:
From bolstering your employer brand, to leveraging automated workflows, to making more data-driven decisions regarding your recruiting and hiring approaches
To maintain your team's status as a premier talent acquisition organization, you need to regularly assess (and, where needed, improve) the productivity and collaboration of your recruiting staff and sophistication and structure of your hiring processes.
We believe businesses fall into five broad levels (or stages) of talent maturity:
To acquaint you with each level, we've created a series of blogs that defines all of them and relays what you can do to enhance your talent strategy in the months and years ahead.
In the final post here, we explore the Transformational level.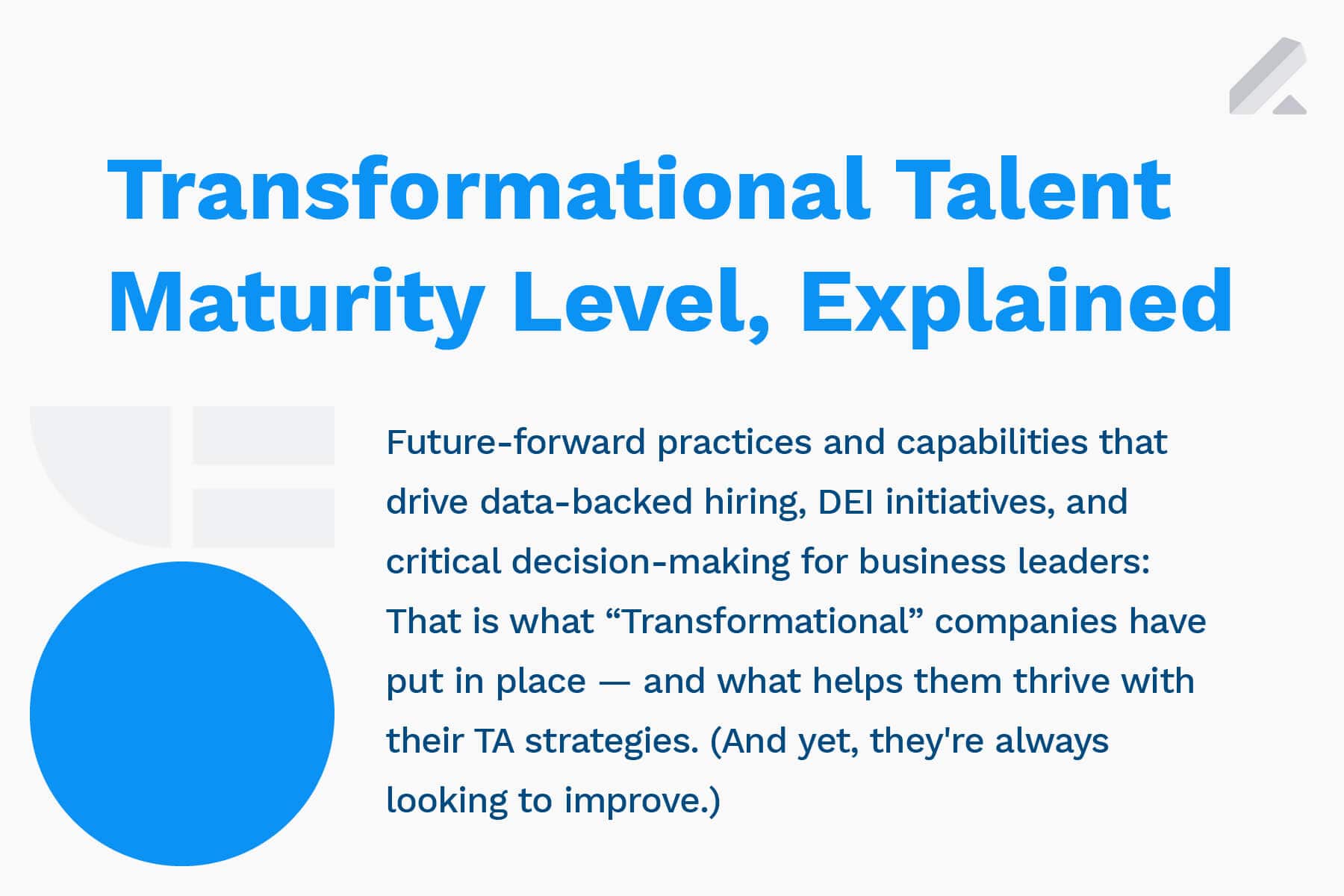 What is a Transformational talent maturity level?
We define a Transformational talent strategy as one in which business-aligned processes are continually optimized and new and innovative boundaries in TA are proactively pushed.
When you find your business at this level, you have an elite recruitment model and hiring program. The talent acquisition team helps inform and drive organizational transformation.
In fact, at this stage, your overall hiring approach is a competitive advantage. Your offer acceptance rate among passive candidates is one of the best in the recruiting industry.
All that said, you face stiff competition from the most recognized brands in the world for top-tier talent, meaning you always need to adapt your talent acquisition processes to beat those businesses for premier prospects — especially ones for critical leadership roles.
Some key ways you can continue to stay proactive and progressive at this level include:
Managing the increasing complexity of talent needs by routinely liaising with your C-suite and HR
Continuing to increase your quality of hire by getting feedback from hiring managers/team leaders
Retaining talent through a focus on internal mobility (e.g., identifying existing employees who are strong fits for open and upcoming roles across different business units)
Although you are very likely on top of the talent game, you must also be aware that you can't become complacent. You can still increase your ability to drive best-in-class results that help improve growth and success.
With the right talent acquisition platform and consulting, these challenges translate into truly Transformational opportunities to become a deeply informed and highly empowered executive talent leader and actively drive long-term business outcomes.
Here's a look at how some companies who found themselves at the Transformational Level took steps to not only thrive at their level but to continually improve to stay at the highest level.
Atlassian, an enterprise software company that develops products for software development, project management, and content management, has been on a journey of rapid growth.
Its unique direct-sales model and word-of-mouth success helped fuel this growth. However, the business found it had other strategic challenges it needed to address to maintain this progress, including unifying data across systems, creating a predictable model to hit talent growth targets, and continuing to provide a positive candidate experience.
With LeverTRM, recruiters were able to smoothly move candidates through the recruiting and interviewing process without losing any data or personal connection.
Atlassian now realizes more seamless collaboration between its 100+ recruiters, gets more than 80% of its interviewees to complete feedback forms regarding the recruiting cycle. Moreover, 30% of its hires now come via sourced candidates.
Opinov8 has 20+ open positions worldwide every month, including roles for coders, cloud engineers, UI/UX designers, and business analysts. Thus, continuing to drive down time to fill became a strategic imperative for its talent team and org at large.
After a long search, Opinov8 chose Lever as its TA suite of choice to help its recruiting team gather feedback faster, make more informed decisions, and speed up the entire process.
Thanks in part to Lever, Opinov8 fills open roles more quickly and efficiently.
The KPMG team needed a true talent acquisition partner, as the business's TA org crafted a more efficient yet engaging recruitment process. It ultimately chose Lever to help decrease its time to hire and build more meaningful candidate relationships.
Since onboarding Lever, KPMG has sped up hiring by 35% and cut its screening time by 50%. What's more, the company's talent team has been able to better streamline and humanize their interview process and the number of applicants has increased by 17%.

Tactical advice for the Transformational level: Continuing to make progress with your strategy
When you find yourself at the Transformational level, you've done a lot of hard work and have had considerable success with your recruitment strategy and hiring goals.
That being said, there are still some distinct strategies you can implement to maintain your status as a best-in-class talent organization worldwide today.
Stay up-to-date with the latest trends in the job market.
We're experiencing an event unlike any other we've seen before in the world of recruiting: a mass exodus of employees, an intense competition for talent, and the need to source the best candidates to fill a rapidly growing number of open roles.
Though the trend has been ongoing since mid-2020, the Great Resignation continues to force organizations to rethink how they approach hiring and retention, as our research shows.
Stay up-to-date with the state of hiring nationwide (and worldwide, if you're an enterprise spread across the globe) to uncover how you can best attract and retain workers during this unprecedented time, and consider the impacts of prioritizing internal mobility.
Tap into your top talent to drive better business outcomes.
Sourcing the best talent is a tough task for any recruiting organization, regardless of their talent maturity stage. To alleviate sourcers' efforts to find net-new prospects, leverage top talent already in your system to better identify strong fits for open roles.
For example, with our "Modern Recruiter's Guide to Internal Mobility," you understand the need for career agility and how to leverage it for future-looking business objectives.
Regularly evaluate quality-of-hire data to improve sourcing.
The world of work is in a new age. You have remote, hybrid, and office workers today. Employees demand better work-life balance and want more flexibility from their employers.
As a Transformational TA leader, you look for ways to continually improve hiring and retention and will have to think outside the box to meet your respective headcount needs.
Improving the quality of your hires by analyzing people analytics via your HR team and insights from hiring managers is a savvy more to bolster your recruiting strategy.
Fill our our 5-minute Talent Maturity Assessment so you can better understand the efficiency and effectiveness of your current TA approach and where you need to improve.