Data and insights help marketing, sales, product, and other teams across companies execute (and excel) in their day-to-day. Talent acquisition teams would be wise to do the same: use recruitment analytics to improve their candidate sourcing, engagement, and conversions.
There's certainly no shortage of recruiting data talent orgs like yours can leverage to enhance just about every element of their TA strategies: from the language of their job descriptions, to the UI/UX of their careers pages, to the candidate experience they provide prospects.
The key to making the most of recruitment analytics generated throughout your full-cycle recruiting strategy is to understand which data points and metrics matter most — and what you and your talent team must do to continually improve them and enhance your hiring.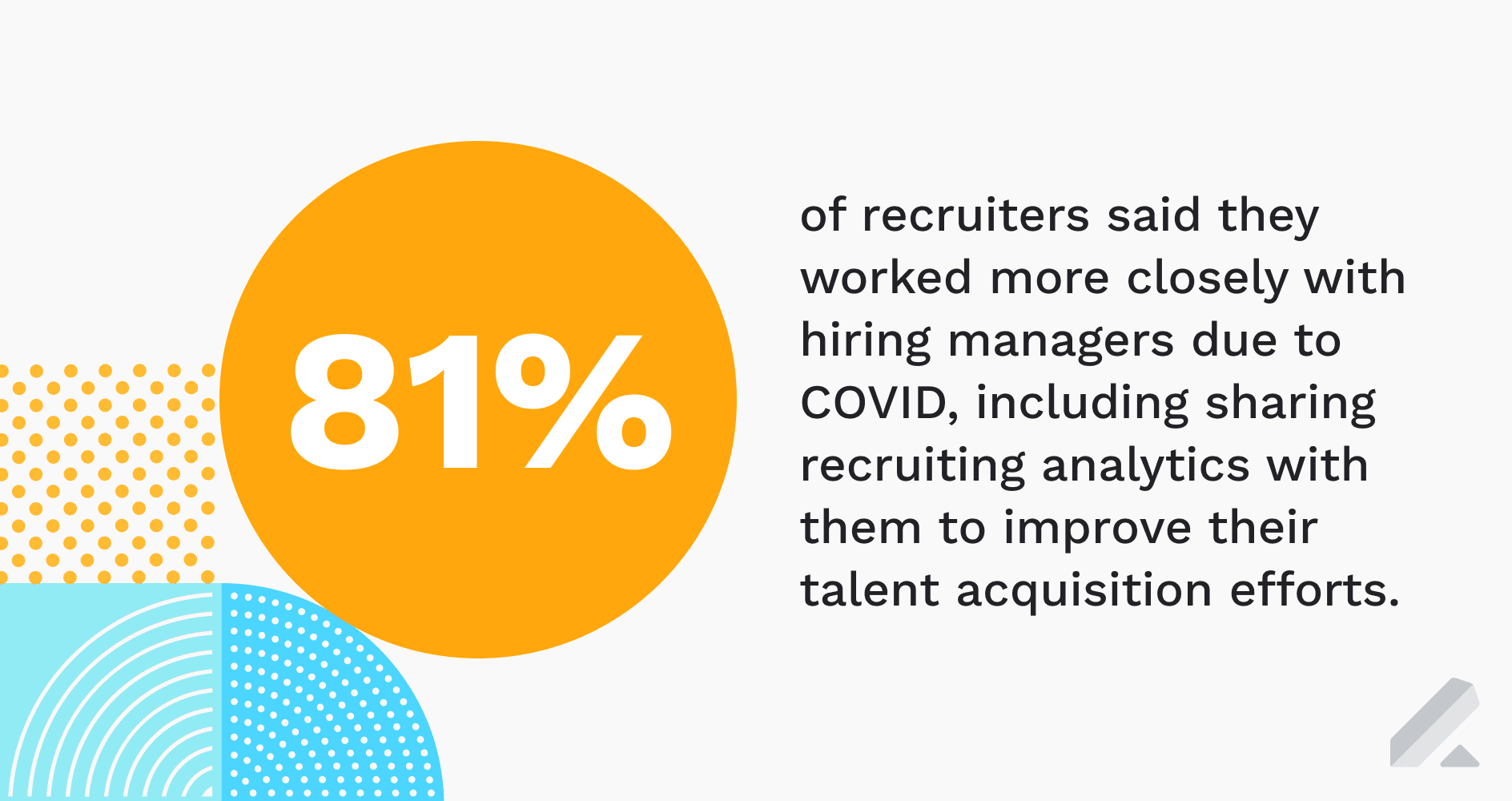 Recruitment analytics: How insights into your hiring process and performance can help you grow
What is recruitment analytics? The TL;DR definition:
Historical data regarding both your candidates (e.g., number of applicants and sourced prospects, how long job seekers stay in each interview stage) and your recruiting metrics tied to your performance (e.g., cost per hire, time to hire, time to fill)
The real question to ask is: 'How can I and the rest of my team build a scalable, sustainable, data-driven talent acquisition strategy using recruitment-process analytics and insights?'
And the answer — for all talent teams and companies, irrespective of factors like their size, hiring needs, and growth goals — starts with having the ideal analytics-enabling tech in place.
Traditional applicant tracking systems offer some useful features for talent teams (e.g., ability to post to several job boards and social media and collect hiring managers' feedback).
That said, many older ATS lack proper (see: predictive and actionable) analytics that can help recruiters move from a reactive talent acquisition approach (waiting for the right talent to come to them) to a proactive one (taking initiative to identify and engage quality prospects, based on existing data, to gauge their fit for open and future roles).
Consider Lever customer Hopper:
The company's prior ATS deterred it from both assessing progress with its talent pipeline (i.e., how effectively recruiters moved candidates through the recruiting funnel) and sharing sourcing, nurturing, and hiring insights with leadership.
So, it decided to transition to LeverTRM. Why? Because it has core ATS functionality as well as candidate relationship management (CRM) capabilities — including predictive analytics for recruitment-performance tracking and optimization.
Thanks to the recruitment analytics provided in LeverTRM, Hopper can see 'simple' data points it couldn't previously (e.g., how many prospects are currently being interviewed, the status of each recruiter's tasks and pipeline) as well as take action on predictive insights to speed up its hiring, elevate its hiring efficiency/quality of hire, and boost team productivity.
"Our biggest problems were reporting, scheduling, and pipeline management," Hopper VP of People Operations Ashleigh Jaffe said. "Lever was the obvious answer to all of those."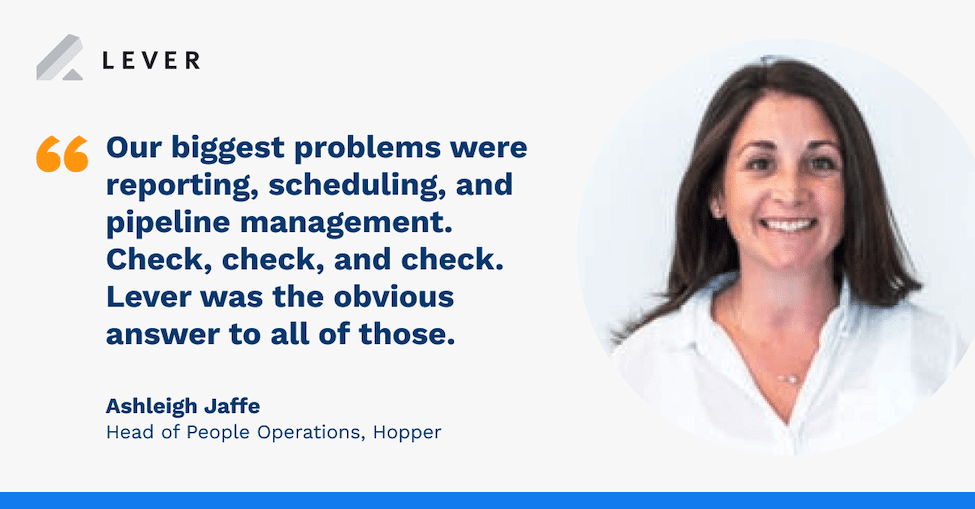 How you can develop a proactive talent acquisition strategy with help from recruitment analytics
No two companies or talent strategies are the same. Thus, the specific way your organization uses recruitment analytics to grow will differ from others, even your closest competitors.
At the same time, every TA team, regardless of their particular recruitment model and hiring objectives, needs robust recruiting insights — and, ideally, centralized in a single source of truth that helps talent specialists tackle other essential activities — to build a data-driven talent acquisition strategy and scale their hiring accordingly.
Once you have such a solution in place, you can reap the rewards of recruitment analytics to improve in several key areas. To help you craft a proactive talent strategy that leads to your desired ROI, let's look at how Lever customers capitalize on our complete ATS + CRM.
Start each day with an overview of upcoming tasks and candidate updates.
Before diving deep into your data, it's worth taking the 30,000-foot view of your analytics each morning to plan effectively for the rest of the day (and even the coming days). LeverTRM users get this comprehensive, at-a-glance view in our Overview dashboard.
This provides a high-level snapshot of active listings, offer acceptance rate, opportunities hired and moved (i.e., from one recruiting stage to the next), and other crucial data points.
What's more, recruiters with Lever can filter these dashboards in several ways (e.g., by date range, posting/requisition owner, team/department) to get a more granular view into their data.
They can even share a custom-filtered dashboard with colleagues and business leaders who do and don't have access to Lever to ensure they are kept up to speed on all hiring trends.
From here, dig down into other detailed, dynamically updated dashboards.
The Overview dashboard is just that: an overview. Recruiters and talent leaders who want more in-depth insights into TA activities and recent performance can use our other dashboards.
For instance, LeverTRM users turn to our many exhaustive dashboards that supply insights into:
Interview processes and updates: The rate of scheduled-interview completions, how long it takes interview panelists to share feedback, the percentage of positive and negative candidate scores
Nurture campaign effectiveness: How many opportunities receive/reply to nurture emails, the reply rate for all campaigns, how many candidates who receive emails are moved to interviews/hired
General recruiter operations info: Details regarding open postings recruiters 'follow' (e.g., posting hiring manager, days since publication) and offers (e.g., how many have been sent/are awaiting reply)
EEO/DEI survey results: The overall diversity of one's pipeline, at what stage(s) diverse candidates are archived most often, reasons why they're archived, a breakdown of prospects by diversity groups
There are many dashboards that offer eye-opening insights. The point is regular analysis of these distinct facets of your TA efforts is now essential to improving your performance.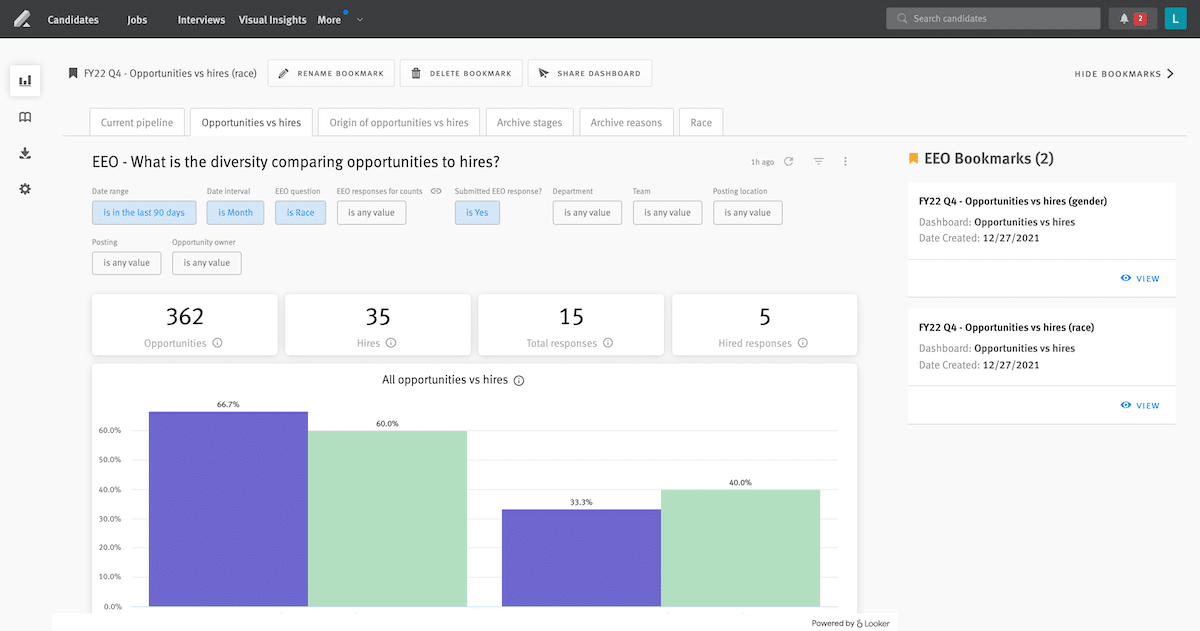 Utilize past data to inform future decision-making and evolve your hiring.
None of these dashboards and associated insights will do you any good if you don't incorporate them into your daily decision-making. Recruitment analytics can help you get answers to questions that previously proved difficult (or impossible) to explain and resolve.
For instance, LeverTRM users tap into our analytics solution to:
Determine the efficacy of sources and source origins, based on quality-of-hire data (i.e., feedback from hiring managers and/or other stakeholders) so they can refine where they source
Understand what causes bottlenecks in one or more interview stages as well as for which roles, teams, departments, and/or locations bottlenecks exist and must be addressed/resolved
Evaluate high-performing nurtures (e.g., how many touchpoints are used, what the ideal 'send' schedule is) so they can refine poor-performing nurtures (i.e., low-engagement campaigns)
How you use your recruitment analytics and related insights depends on many factors.
But what's clear is your best bet to building a data-driven hiring model is to get a holistic view of all recruiting data and make it accessible to and actionable for each talent team member.
Download our data-driven recruiting eBook to see how Lever customers use our recruitment analytics to elevate their talent acquisition programs and scale their hiring efforts.