Talent acquisition journeys are unique for every business. At every stage of the recruitment cycle, companies face obstacles when creating and improving their respective programs:
From hiring for hard-to-fill positions to eliminating bottlenecks with interviewing
Add in the perpetual need for speed (i.e., decrease time to hire and close requisitions on or ahead of schedule), and it's clear today's talent teams have a lot on their plates.
To improve your hiring effectiveness and onboard high-quality hires across your organization, you first need to know your talent maturity level. (That is, the level of efficiency, effectiveness, and sophistication of your recruiting and hiring processes).
We at Lever believe businesses fall into five broad levels (or stages) of talent maturity:
We've produced a five-part blog series that relays what each talent maturity 'tier' entails.
In this post, we spotlight the second level, Accelerating, and how organizations that fall into this category can progress to the next level(s) through calculated, coordinated changes to their existing TA strategies — including and especially their recruiting technology.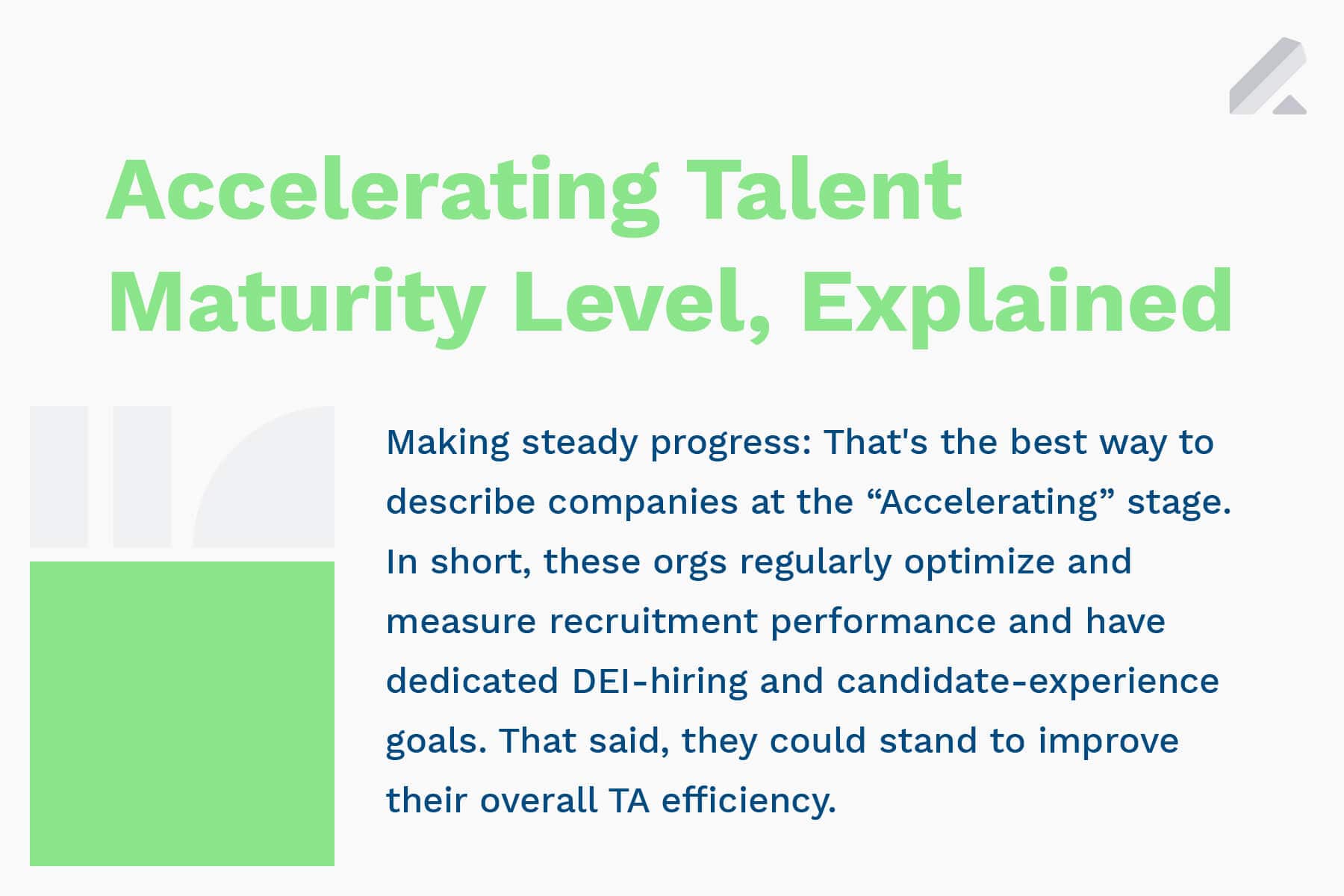 What is the Accelerating talent maturity level?
In short, having an Accelerating talent maturity level means you have both an established recruitment model and hiring program that have helped your talent team contribute to business growth. That said, there's plenty of room for improvement with both.
Your C-suite asks a lot of you and your TA team to help meet critical business goals. A lack of standardization around your TA tech stack (i.e., legacy ATS) and processes, though, deters you from achieving these organizational objectives in a timely, efficient manner.
The greatest challenge likely facing your business is to figure out how you can more capably use the resources and technologies at your disposal (or, similarly, determine which solutions and tools need to be eliminated outright from your tech stack).
This business challenge can have several causes:
Recruiters having unique approaches to sourcing, nurturing, and interviewing candidates (i.e., lack of structured recruiting processes across the team)
Inefficient utilization of available resources (i.e., disconnected systems, inconsistent emails, etc.)
Difficulty with expanding your talent acquisition team (i.e., finding it hard to convince leadership to allocate more spend to increasing TA headcount)
So, how can you and your talent team move beyond this stage? Your first steps are twofold:
That's a high-level breakdown of how to advance from an Accelerating talent maturity level.
Here are a few examples of actual companies that found themselves at this stage, but — with help from LeverTRM — took the necessary steps to augment their already-strong TA strategies and, in turn, better scale their hiring efforts and boost team productivity.
Digital media agency Voro wanted to reinvent its entire hiring pipeline by building a system that would scale with them. So, it turned to LeverTRM to enable its recruiters and hiring managers to remove potential roadblocks and keep candidates moving through the pipeline, thereby streamlining actions that slow down the traditional hiring process.
Shortly after onboarding our talent acquisition suite, Voro drove down its average time to hire to just 21 days, thus expediting its hiring efforts (and appeasing its executive team).
Talend, a trusted global data source, wanted to balance the "need for speed" with "getting to know candidates." Its goal: to find robust software to help nurture "silver medalists."
LeverTRM enabled Talend to create customizable tags for prospects, which, in turn, helps them filter candidates by various categories (e.g., "Consider prospect for future roles").
By leveraging our 'archive' functionality and reaching out to qualified candidates deep in its database, Talend's time to fill increased 46%. Just as impressive, fewer than one out of four roles filled requires its TA team to 'start from scratch' with net-new sourced prospects.
Wefunder, an equity crowdfunding service, needed to fill its hiring pipeline at a rate that scaled with its growth and shorten its process for hiring managers and recruiters.
LeverTRM's intuitive, user-friendly UI streamlined sourcing and hiring, resulting in 10 times more candidates added to the company's talent pipeline. Its engineering team alone grew more than 50% in size in just six months, thanks in part to using our TA suite.

Advancing from an Accelerating talent maturity level: Tips to help evolve your TA strategy
You have a clear understanding of what the Accelerating talent maturity level entails.
Now, let's explore what specific changes you can (and should) make to your talent acquisition strategy so you can up-level your recruitment model and hiring efforts.
Provide structure into your hiring program.
Implementing a structured hiring approach has been shown to not only be more reliable but also more effective than traditional hiring approach (i.e., no distinct framework in place for engaging, interviewing, and extending offers to prospective hires).
Take a look at our Structured Hiring 101 eBook to learn what your recruiting team needs to know about developing and implementing an effective, organized hiring process that, at the end of the day, can help you hire in a smarter, more methodical manner.
Streamline your repetitive recruiting tasks.
Whether it's scheduling interviews, reviewing resumes, or collecting interview feedback, automated workflows can shave hours off of repetitive tasks. With that in mind, ensuring your talent acquisition solution enables you to eliminate most manual activities.
Consider how Lever customer Maxwell utilizes our platform's automation capabilities to reduce the number of manual tasks its TA team had to tackle on a daily basis.
The company uses LeverTRM workflows to better pinpoint qualified prospects in its talent pool (applicants and sourced candidates). Moreover, it uses our automated nurturing feature to engage candidates of interest with individualized, timely emails.
Assess (and accelerate) your hiring speed.
This is an essential element for your team's long-term hiring success. Before you can improve this metric, though, you must be able to consistently and reliably measure it.
The ability to deeply measure your time-to-fill tracking enables your talent org — particularly your TA leader(s) — to better understand strengths (recruiters who excel at meeting, or even beating, deadlines for open reqs) and weaknesses (talent specialists who take considerable amount of time to fill job openings) with your overall acquisition efforts.
Take our brief Talent Maturity Assessment today to find out where your business stands in terms of its recruitment model — and what you can do to take your hiring to new heights.