From recruitment marketing and job descriptions to candidate interviews, diversity surveys, personalized communication, and more, today's applicant tracking system (ATS) is chock-full of unique features designed to streamline and simplify recruiting for talent acquisition teams. And yet, with the vast selection of systems available, choosing the right ATS to meet your hiring needs can be challenging.
Especially in today's competitive talent market, hiring without an applicant tracking system can make the recruiting process feel hopeless. An ATS is a critical component of any talent acquisition suite you leverage to source and hire the best candidates.
These systems come with a host of benefits, most of which are helpful for both recruiting and candidate experience. Some of the most common benefits of an ATS include:
Increased efficiencies
Time and cost reductions
Reporting and analytics
Candidate surveys and feedback
Streamlined communications
Structured interviews
It's fair to say that the right applicant tracking system can help recruiters and talent acquisition leaders drastically improve their entire hiring process. But how do you actually choose an ATS that fits your needs? Before we dive in, let's break down what an applicant tracking system is.
What is an applicant tracking system?
Not all ATSs are created equal. A great applicant tracking system helps companies collect and organize candidates for hiring purposes. This system allows companies to collect information that assists recruiters in reviewing candidates based on different demographics, including skill sets.
Beyond that, an applicant tracking system can also help hiring teams by automating many of the manual tasks associated with recruitment, including resume reviews, bulk hiring, outreach and communications, surveys, and diversity recruiting.
How do applicant tracking systems work?
Organizations can receive hundreds, if not thousands of applications and resumes, making it doubly important for both applicants and hiring teams to have a streamlined process in place. This is where companies can reap the benefits of using an applicant tracking system, both for recruitment and candidate experience. But how do these systems work?
Applicant tracking systems collect and store candidate information (like resumes and cover letters) in a centralized database for recruiters. Organizations can store this information for a long period of time, making it easier for hiring teams to access and reference.
Depending on the system, a recruiter can also move candidates and their information into various workflows that allow the recruiter to track outreach, interviews, and other aspects of the recruitment process. Lever customers, for example, have access to an all-in-one applicant tracking system plus candidate relationship management software.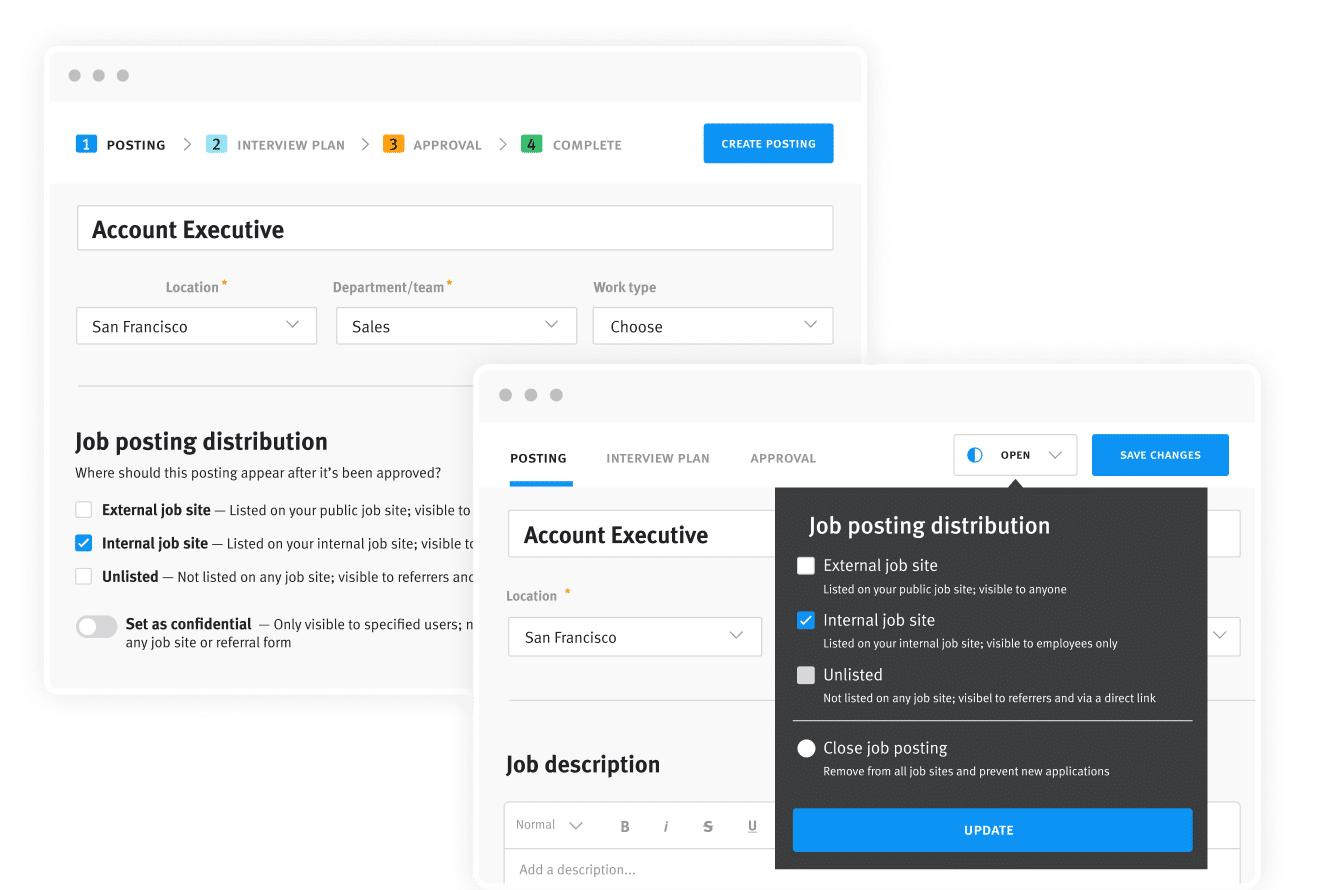 Why should you be using an applicant tracking system?
Beyond the benefits of automating manual recruiting tasks, applicant tracking systems are modernizing the way organizations source, engage, and nurture top talent.
In saying that, most organizations are now using applicant tracking systems to streamline every aspect of their hiring processes. Here are just a few examples of reasons companies need to use an ATS:
You can't find enough quality candidates to hit your hiring goals
Employees refer very few candidates
Candidates abandon the application process because of a poor experience
Interviewers don't show up to interviews, or show up late, and have no idea who they're interviewing
Administrative tasks are bogging you down, and taking time away from more strategic initiatives
Hiring managers are not aligned and have little visibility into talent pipelines
Time to hire is slow, and candidates drop out of your recruitment process
Poor reporting capabilities don't allow you to see where you can optimize your processes
Before you can onboard an applicant tracking system, however, you need to first identify why and how you plan on leveraging an ATS.
Determine how an applicant tracking system can help
Do some preliminary research to get a feel for how a new applicant tracking system could benefit your organization. You may choose to read through software review sites, peruse vendor websites, reach out to colleagues, or request a demo of an ATS. Don't forget to look at case studies and data that demonstrate the power of a modern applicant tracking system.
Identify your ATS needs
Align with your hiring team to develop a clear understanding of your company's top priorities and greatest challenges. Something to consider is where your current applicant tracking system falls short of your needs, and how this negatively impacts your organization today and into the future.

Have an audit plan in place
Selecting or switching an applicant tracking system affects people across your organization (including recruiters, HR staff, C-Level, etc), making it crucial to ensure you're looking at systems from all angles. For instance, you'll likely seek out input from customer service teams, in addition to people and culture teams. At the very least, gather feedback from a variety of users—from hiring managers and interviewers, to executives and your candidates.
Get executive buy-in for a new applicant tracking system
Before you begin evaluating solutions, ensure you have buy-in from your executive leadership. Share your needs, how you believe a new applicant tracking system can help, and the expected return on investment. You want to make sure your executive team will sign-off on a new applicant tracking system before you embark on choosing one.
The 8 must-have applicant tracking system features for recruiting
Once you've determined your 'why' and 'how' for choosing an applicant tracking system, you'll begin research into various systems and their features. It's important to keep in mind that many ATSs will share some similar features and functionalities, so you'll want to look at an applicant tracking system that does more than just store candidate information. Let's take a look at the 8 must-have features you should consider when onboarding an ATS.
You can also download our Guide for 8 Must-Have ATS Features for Recruiting.
1. Candidate sourcing
It's not enough to post open roles on job boards or use LinkedIn as a way of tracking applications; you need to build a robust candidate pipeline. The right applicant tracking system can help you enrich this pipeline and grow your talent pool as you source and hire for roles. Think about whether an ATS allows you to store candidate information easily, quickly search for and reference candidates, create unified candidate profiles, and automate outreach (even if it's 1:1).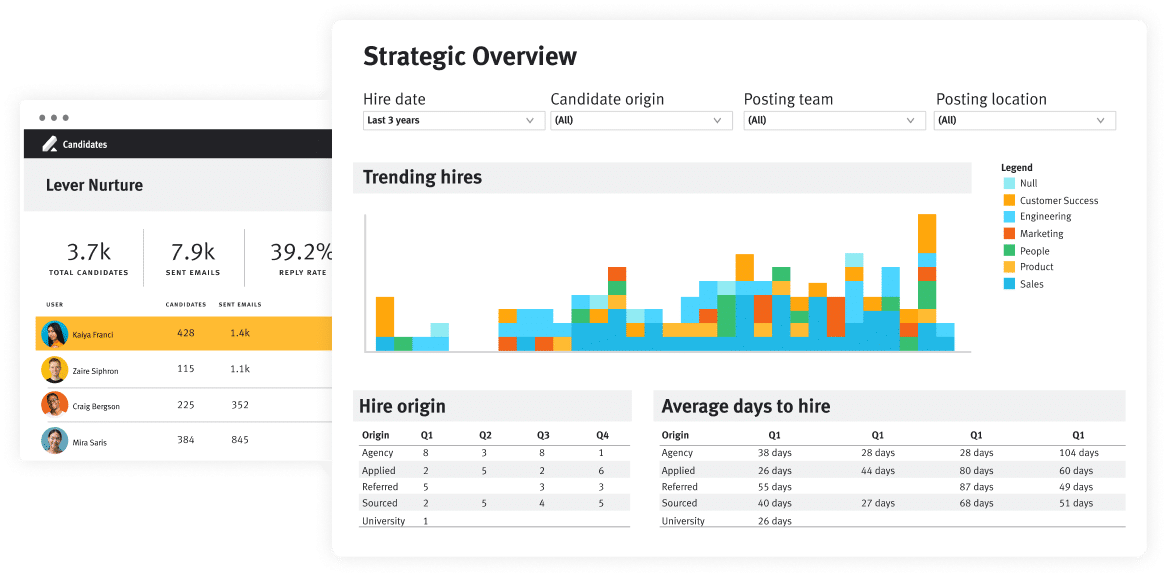 2. Managing interviews
Interviews can add a significant amount of time and stress to your hiring process, which is why you'll want to look out for features that streamline interviewing for both your team and candidates.
For example, you'll want to consider whether your ATS:
Allows you to quickly schedule interviews and integrate with your team's calendars
Provides structured interview kits and prescriptive feedback forms
Integrates with DEI tools like anonymous resume reviews
These seamless interview features don't just benefit your hiring team—they also provide a great candidate experience recruiters can easily manage and offer.
3. Candidate relationship management
It's not uncommon to come across a candidate you want to hire, but one you simply don't have the right role for yet. In cases like these, having a candidate relationship management tool (or 'CRM') allows you to leverage that applicant down the road when the time is right.
A candidate relationship management tool also helps you build meaningful relationships with potential talent through your applicant tracking system—so you nurture your candidate pipeline without missing job seekers who could add to your culture, too.
A couple of core features you should keep an eye out for include the ability to tag, filter, and search your candidate database. Additionally, look at whether you can create workflows that allow you to view past outreach while maintaining touchpoints or communications with candidates.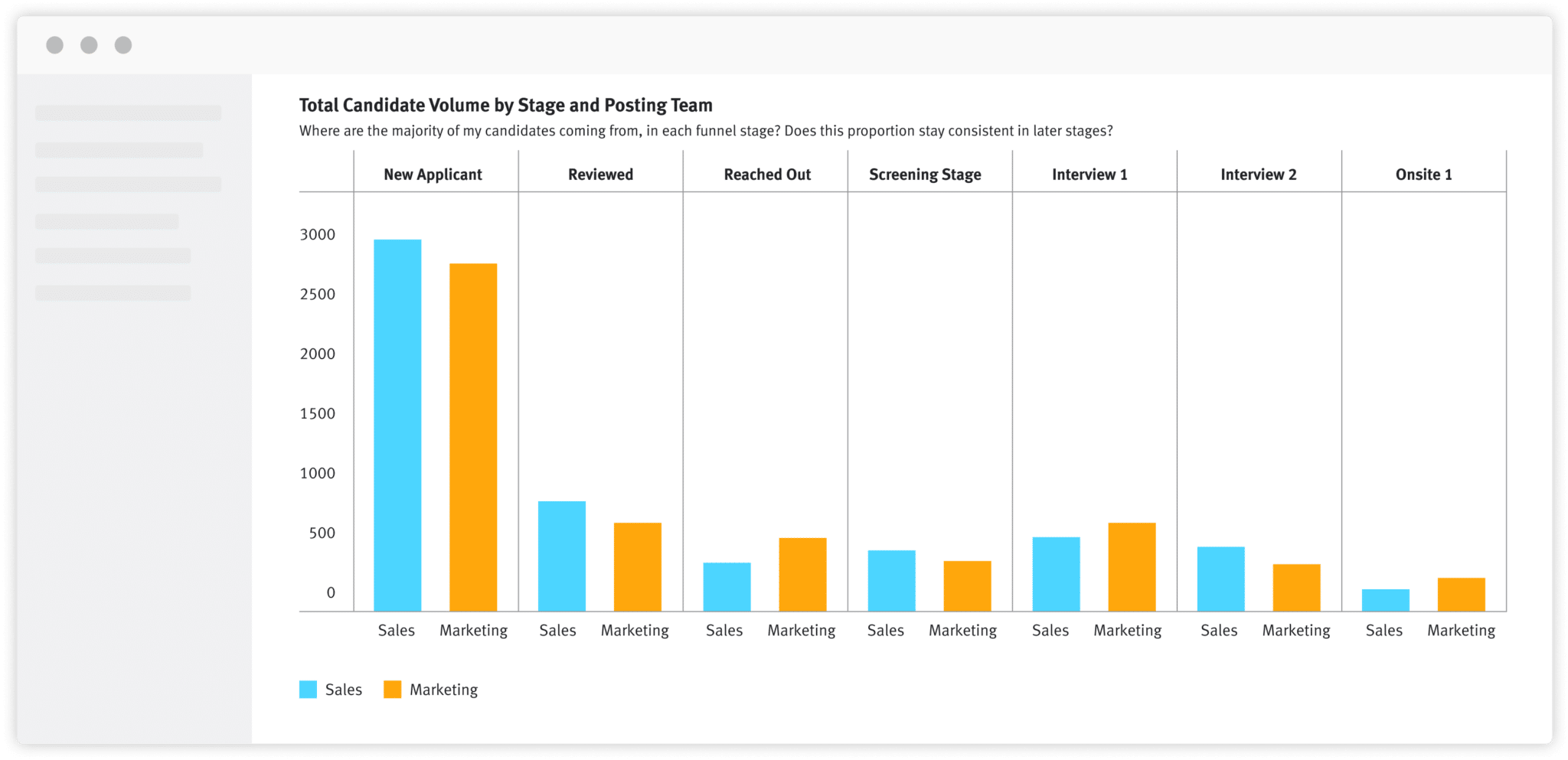 4. Reporting, analytics, and dashboards
When so much about recruiting can be reactive, you want to be proactive when sourcing and hiring the right candidates. But without the insights necessary to make informed hiring decisions, you could be recruiting at high cost with little ROI.
This is where deeper data comes into play. Reporting and analytics can help hiring teams better understand their candidate pipeline while focusing on diversity recruiting and tracking hiring progress, all in one tool. Dashboards that enable you to collect, store, and present data are also beneficial when you're strategizing recruitment or making changes to your hiring process.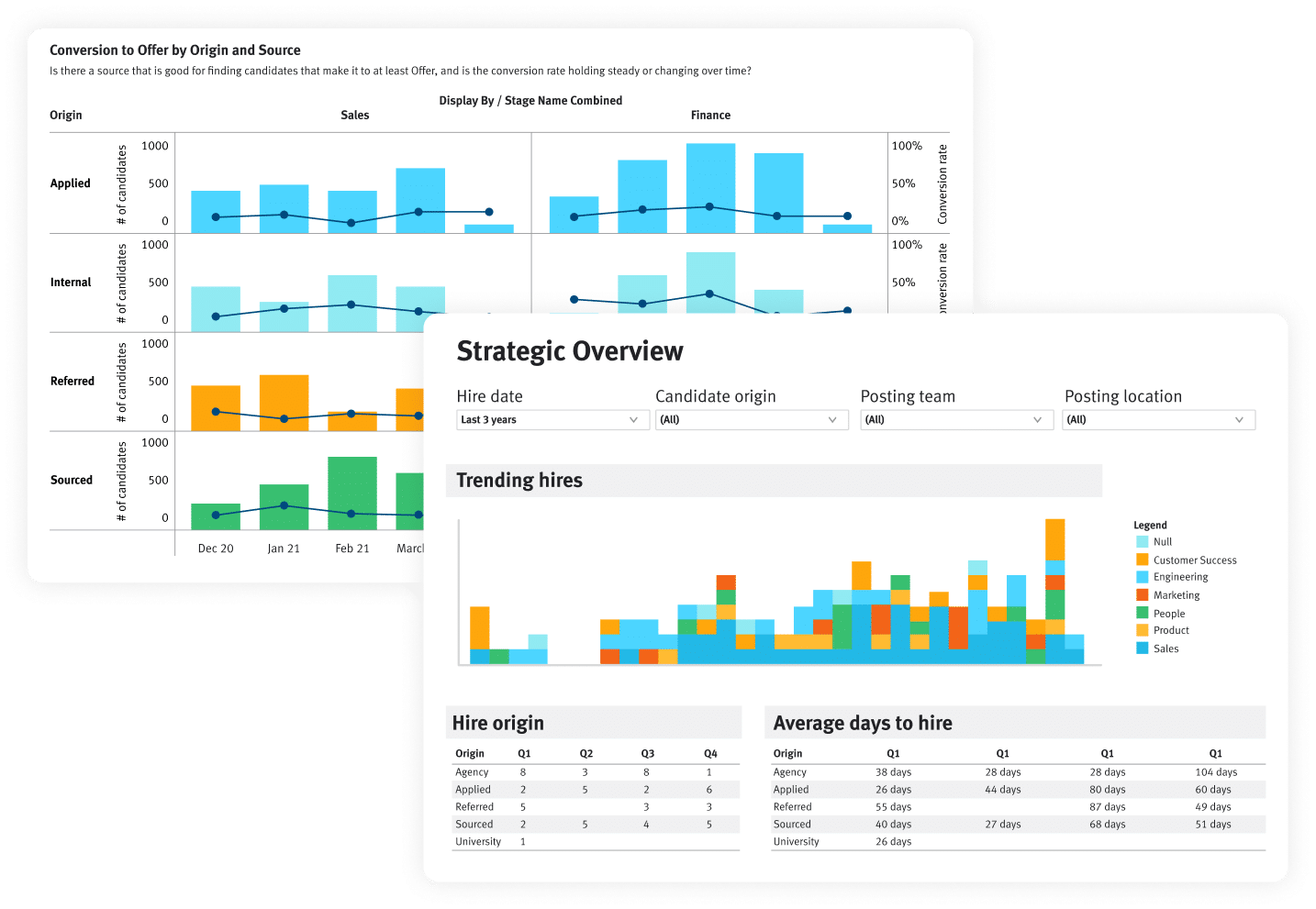 5. Centralization
Between the endless spreadsheets, job descriptions, career sites, and outreach, managing candidates can become a full-time role even before you get to the interview stage. That's why more recruiters and hiring managers are turning to applicant tracking systems to centralize these efforts.
Centralization allows you to keep everything pertaining to candidates in one place—making it easier to create concise workflows where candidate profiles, feedback, interviews, communications, and more are organized.
6. Diversity, equity, and inclusion (DEI) reporting
It's one thing to track and measure recruiting pipelines and performance, but what about diversity, equity, and inclusion (DEI)? Organizations are growing more serious about diversity recruiting, which means hiring teams need access to deeper data that helps them drive progress with DEI.
Your applicant tracking system should be able to deliver these insights. LeverTRM's Advanced Analytics, for example, lets recruiters create custom surveys to collect feedback from candidates, while EEO dashboards and reporting provide insights into the diversity of your talent pool and candidate pipeline.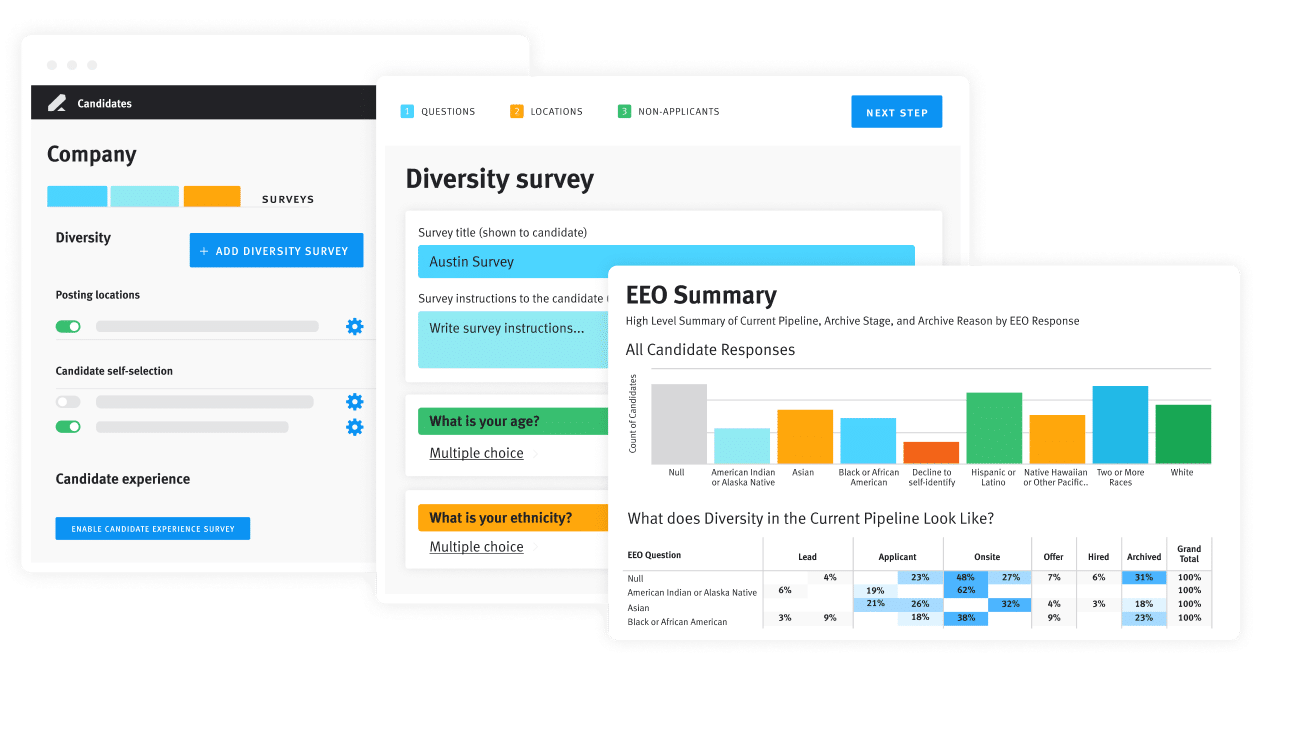 7. Recruitment marketing
A big misconception about recruitment marketing is that it's only comprised of what your company does on social media. But the reality of today's hiring landscape is that recruitment marketing must encompass every touch point a candidate has with your organization.
This means every stage of the hiring process should be aligned with your recruitment marketing, including job descriptions, careers pages, application forms/portals, candidate outreach, and more.
Carefully consider whether the recruiting software you're evaluating supports recruitment marketing efforts.
8. Automation and personalization
Poor workflows can be one of the greatest inhibitors of productivity for recruiting teams looking to source, engage, nurture, and hire top talent, especially when those workflows create more work and manual tasks than necessary.
To ensure workflows are pushing the needle forward, automation and personalization are key. For example, setting up interview processes, collecting candidate feedback, scheduling meetings, and personalizing outreach at scale should be doable with just a few clicks of a button. The same goes for integrations that help you hire faster, like when high volume hiring is a priority for your team.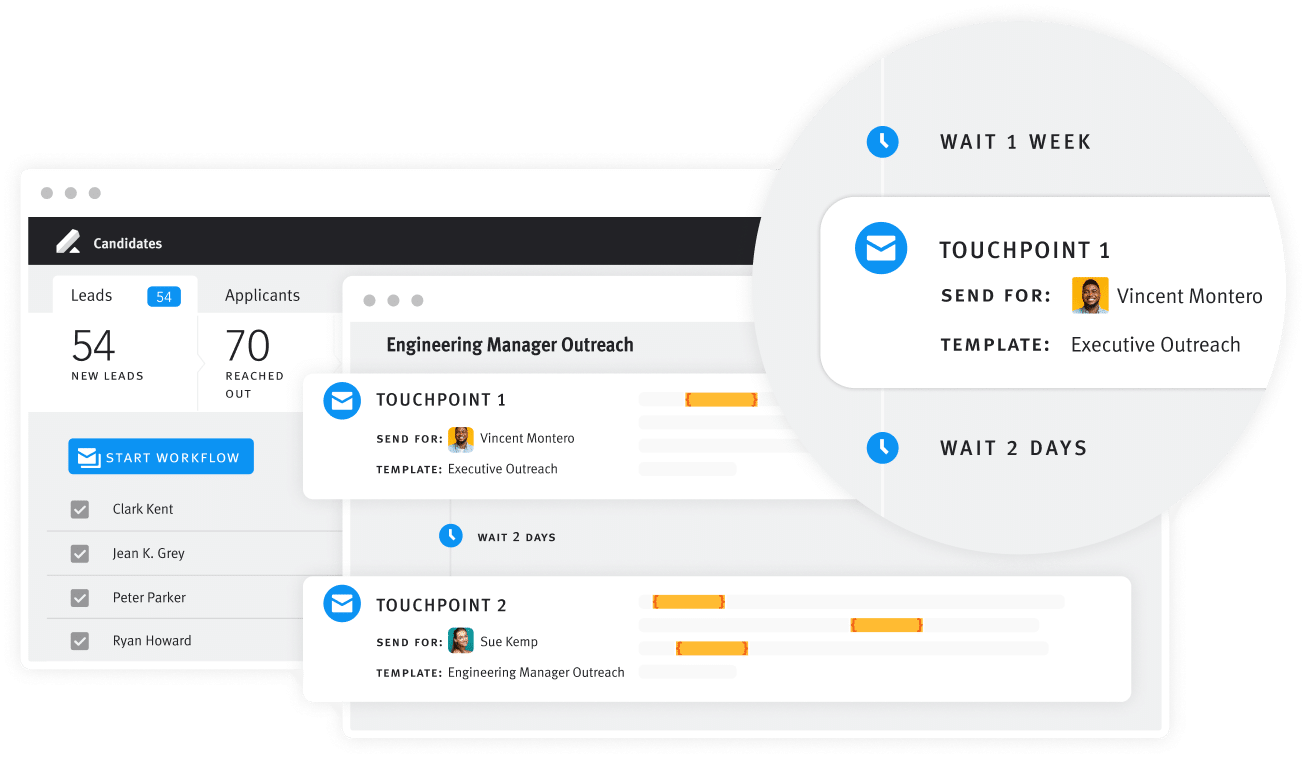 Ready to find the right applicant tracking system?
Hiring today requires your entire recruiting team to work together. But you can't support key players across the C-suite, talent acquisition team, and hiring managers with a traditional ATS — you need modern recruiting software.
Download our comprehensive ATS Buyer's Guide to learn what you, your talent team, and your C-suite should look for in a new solution for your talent acquisition team.