Winter is in the rearview mirror. Spring has arrived — and, with it, another round of new and updated Lever functionality for talent teams that use our complete ATS + CRM solution.
Here's all that's included in the Spring 2022 feature release.
Additional updates to Dynamic Approvals to align with talent teams' existing processes
After officially launching Dynamic Offer Approvals as part of our Winter 2021 release, our team made further enhancements to the popular feature — and launched two more Dynamic Approval features that provide customers with far more flexibility.
Our new offer-approval functionality for requisitions and job postings can be configured to match customers' respective recruiting and hiring processes.
For instance, multi-select approval chain and conditional approval steps were incorporated into LeverTRM to help talent leaders and specialists with our solution more quickly and easily assign approvers for job offers, requisitions, and job postings.
Customers can also now dynamically select approvers from a pre-set, drop-down list of hiring stakeholders by title (e.g., hiring manager, requisition owner) they can 'auto-assign' to specific roles, teams, departments, and/or locations for future approval needs.
Multiple offer forms with unique offer field sets now available to Lever customers
On top of these Dynamic Approval updates, we've also introduced an innovative feature for LeverTRM for Enterprise customers and those with our Advanced HR solution add-on.
Multiple offer forms can now be created by our customers by role, team, department, location, and profile origin (e.g., from a job board geared toward a type of worker/industry).
This means LeverTRM users can ensure only the most relevant form fields are included in offers sent to specific kinds of candidates. It also means they can easily reuse these unique forms for different hiring needs moving forward and, in turn, not be forced to rely on a single form that's intended for all prospective hires.
Self-serve talent pipeline and archive configuration capabilities to align with hiring process
Talent teams' recruitment funnels are becoming increasingly complex. Because of this, it's more essential than ever to have the ability to both plug in custom pipeline stages that closely align with their distinct hiring needs and develop distinct archive reasons.
Thanks to our ATS + CRM solution's latest feature, it's simple for LeverTRM users to do both.
Lever customers can now both add and move around custom-tailored talent pipeline stages that more closely correspond with their TA team's actual recruitment approaches.
As each new stage is added and the pipeline itself restructured as needed, they can adjust candidate inactivity alerts, denote which stages are used for the interview process, and choose at which stages they need to collect feedback from hiring stakeholders.
The self-serve pipeline-stage and archive-reason configuration features empower system admins (i.e., talent/HR leaders) to make more informed and intentional modifications to both over time — adjustments that can lead to smarter, more productive recruiting.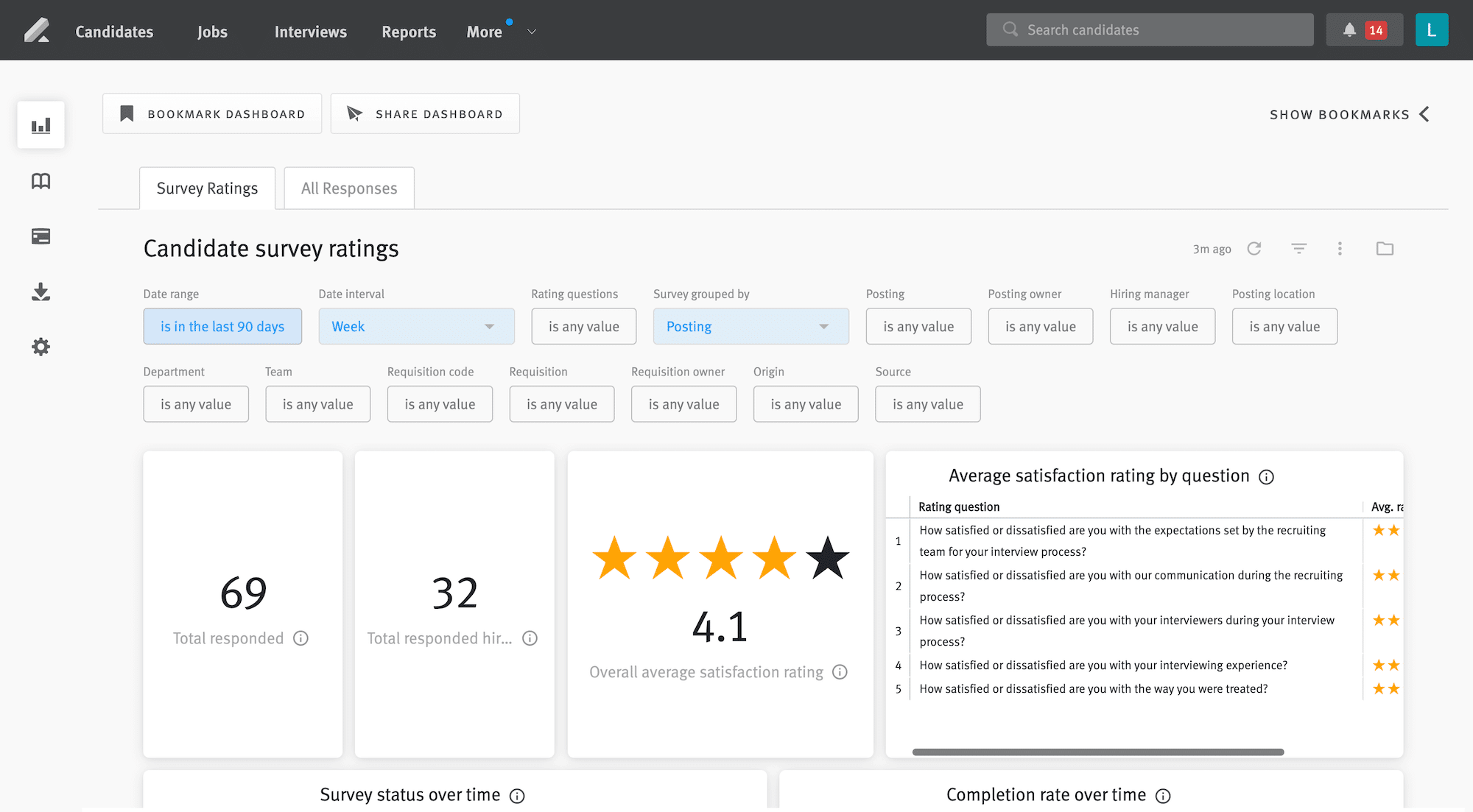 Two new dedicated Visual Insights dashboards (and an update to our Offers Dashboard)
Visual Insights has already proven to be many of our customers' go-to analytics solution to drive their data-driven decision-making in their talent acquisition strategies.
Now, they have access to two more insightful dashboards — and can answer more critical questions with optimizations made to an existing dashboard.
Our new Candidate Experience Surveys Dashboard enables LeverTRM users to better track candidate sentiment regarding their recruitment process. This data can help them address issues that may lead to a poor CX for prospects and improve their pipeline management.
Meanwhile, our new Team View Recruiter Operations Dashboard gives talent leaders a comprehensive, at-a-glance view of all their recruiters' operations and activities. They can quickly assess data points including how long postings have been live, which stages opportunities currently reside in, and how long prospects remain in each recruiting stage.
And our revamped Offers Dashboard now has an 'Approvals and Revisions' page, which allows admins to see how many offers were revised and over what period of time.
Data Explorer, which helps recruiters build and save custom reports and visualizations
Measure key metrics in the way that aligns with their TA team processes without the need for an external business intelligence tool and get a 'full-function' analytics experience without having to leave Lever: That's what our customers can now do, thanks to Data Explorer.
The dynamic dashboards in Visual Insights certainly provide LeverTRM users with an in-depth look into their recruiting performance and candidate experience efforts. But we also know they occasionally need to go a level deeper with their data analysis.
With Data Explorer, Lever customers can craft customized charts (and leverage several pre-built charts) that factor in multiple data sets. These data visualizations provide a more granular and holistic view of their recruiting and hiring activities as it relates to metrics like pipeline growth, opportunity progression, offer acceptance rate, and time to hire.
Time-to-hire configuration to allow customers to determine how calculation is set up
Speaking of time to hire, we understand not every talent team or organization at large measures this the exact same way. So, we've addressed this need for our customers.
LeverTRM users can now modify their time-to-hire calculation based on their own distinct definition, thus ensuring they can measure the metric in a way that reflects their unique TA processes and view as to what constitutes a 'complete' hiring journey for candidates.
Prospective starting points for time to hire can be when an opportunity is created, a job posting is published, or an opportunity contact is created in Lever. Possible ending points can be defined as when an offer is accepted or an opp is archived as 'Hired.'
40 more integrations with recruiting tools our customers use in tandem with LeverTRM
As we aim to accomplish every quarter, we've added many more integration partners to our expansive ecosystem. Some notable additions in the Spring 2022 release include:
HubSpot: Customers can sync candidate data between Lever and HubSpot in real-time as well as set up default field mappings using pre-set field mappings.
Deel: When Lever-hosted opportunities move to 'Hired,' a contract is automatically created in Deel, which enables HR for to begin the new-hire onboarding process.
Tilr: Matching existing candidates in Lever with open and upcoming roles is far easier, thanks to our direct integration with this popular talent intelligence platform.
Looking for more insights about our Spring 2022 release (and talent acquisition suite at large)? Chat with the Lever team today to learn all about our complete ATS + CRM solution.