The HR tech landscape can be hard for human resources leaders to navigate today. After all, there are myriad technology vendors that can help HR teams tackle critical tasks.
Notably, there are several solutions that take 'center stage' in companies' HR tech stacks:
Human capital management solutions that help HR functions analyze their workforce
Employee experience software that helps HR better understand and engage their staff
Learning and development platforms that give employees a way to grow their skill sets
Talent management tools that are now essential in the era of remote and hybrid work
When it comes to finding the right HR technology — in these areas and those built specifically for talent acquisition teams — it's best to turn to social proof to make the best investment.
This includes customer reviews, analyst recommendations, case studies — and awards.
This latter form of social proof is one Lever has plenty to offer TA teams looking for a new ATS + CRM — including recent recognition by Lighthouse Research & Advisory's 2022 HR Tech Awards.
Lever wins "Best Comprehensive Solution" in the TA tech space in Lighthouse's 2022 HR Tech Awards
Lighthouse Chief Research Officer Ben Eubanks said he speaks with more than 300 HR tech vendors annually. Why? To understand what they bring to the table for human resources teams.
The goal? "Helping buyers understand the strengths of today's HR tech firms." These insights can, in turn, educate buyers and lead to smarter decision-making with tech investment.
Regarding Lever's inclusion in the 2022 iteration of the HR Tech Awards, Ben noted our complete talent acquisition suite stood out among the independent panel of judges.
Primarily, Lever separated itself from the pack for its ability to help companies of all sizes and across industries build strong, human-to-human connections with candidates. Per Ben:
"Hiring is about relationships. If it feels transactional, conversion is incredibly difficult. If it feels personable, and personal, then the decision to take a role feels like the next natural step. Lever's product brings the relationship capabilities of a CRM together with an ATS to make it easy to connect, converse, and convert candidates into hires."
[See the entire 2022 HR Tech Awards winner list here.]
Ben added human resources leaders continue to rely on the HR Tech Awards (and Lighthouse's analysts) to vet and shortlist tech providers that can address their pain points and problems.
This reliance ultimately leads to savvier, long-term investments in solutions like Lever that aid TA teams with their sourcing, nurturing, interviewing, and hiring activities and lead to better communication, collaboration, and productivity in their day-to-day work.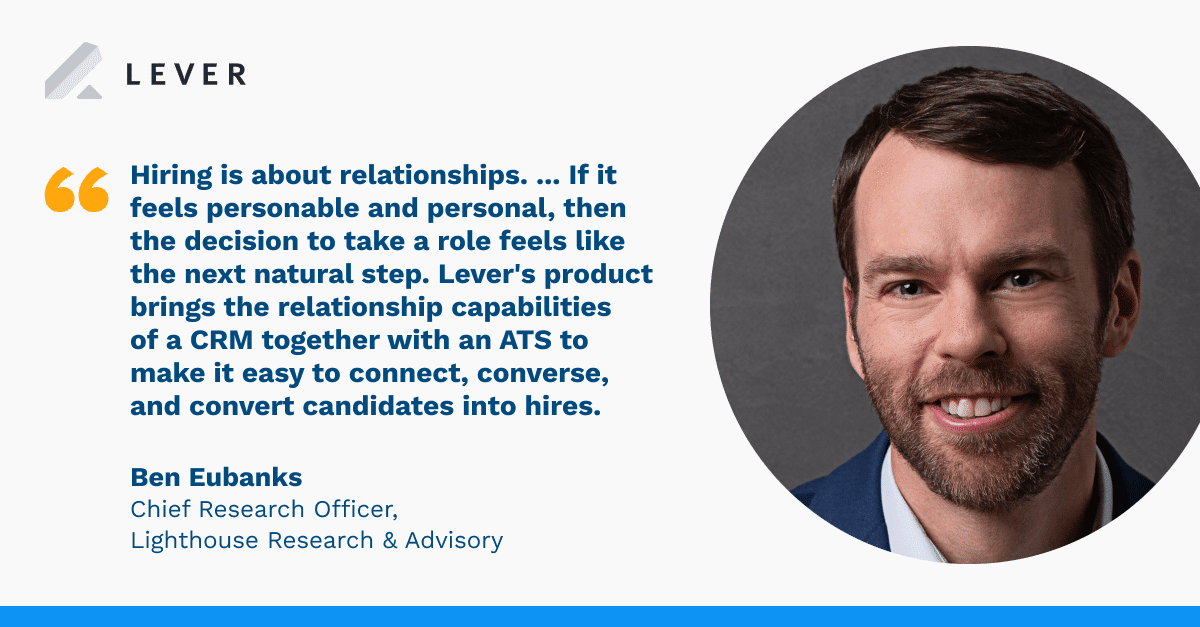 Why Lighthouse selected Lever as the premier talent acquisition suite on the market today
Aside from researching our ATS + CRM solution on its own, Lighthouse said there were a handful of other criteria it considered when evaluating prospective talent acquisition vendors for its HR Tech Awards:
Specific challenges a given tech provider solves for: Our value prop is simple: Help companies scale while also empowering talent pros to work smarter (not harder), eliminate tedious manual labor, better collaborate with other hiring stakeholders, and provide memorable candidate experiences.
Proof of customers' success: Of the many compelling case studies we could share, we chose Talend. The business drastically reduced its time to fill with LeverTRM by resurfacing qualified prospects in its talent pool. This lessened its need to constantly source net-new candidates substantially.
A demo of the tech to know how it helps HR/TA: We provided an exhaustive tour of our TA suite to show off our intuitive UI, robust candidate relationship management functionality, direct integrations with other recruiting and HR tech, automated workflows, and out-of-the-box analytics.
Differentiators compared to competing HR/TA tech: Not all TA suites are the same. Ours features both powerful ATS features as well as CRM capabilities. Combined together, they enable recruiters to better identify, interact with, interview, and extend offers to prospects in their talent pipelines.
The 'company behind the tech': Prioritizing DEI with our hiring. Tracking our employees' well-being. Adjusting benefits and perks to meet our staff members' needs in a period of disruption. The creation of employee resource groups. Lever does much more than offer a leading TA suite to talent orgs.
Ultimately, the proven ROI realized by talent teams with our TA suite along with our continued focus on providing best-in-class recruiting, automation, and analytics capabilities contributed to Lighthouse's decision to honor Lever in this year's edition of the awards.
Transforming your HR tech stack with a more powerful talent acquisition solution essential
As noted, the human resources technology landscape is becoming increasingly daunting for human resources and other decision-makers at companies to navigate today.
Why? Mainly, because of the plethora of options at their disposal.
As Ben said, the winners of this year's awards account for just 1% of all HR tech options.
With that in mind, there are two best practices you can follow to ensure you 'cut through the noise' and, at the end of the day, secure best-in-class tech for your HR/TA teams:
1) Know what differentiates a 'strong' solution (e.g.,  stellar user experience, near-real-time analytics, robust automation capabilities, is a true partner with your HR/TA team) from a 'weak' one (e.g., poor UI/UX, no automation or artificial intelligence functionality, lack of unified or actionable data).
2) Leverage ample amounts of social proof: reviews from real-life recruiters, success stories for shortlisted vendors' customers, and (you guessed it) industry accolades like the HR Tech Awards.
Abide by this blueprint — one used by countless TA/HR leaders in recent years (including Lever customers) — and you and your business will end up with the right mix of human resources and talent acquisition tech that can help you make greater headway with your recruiting, hiring, onboarding, and employee engagement objectives.
Tour our native talent acquisition suite to learn why Lighthouse named Lever one of the best TA/HR tech vendors on the market — and how we can help you achieve your growth goals.