The Lever team is constantly looking for new ways to make our native ATS + CRM solution even more impactful and intuitive for our users. With that in mind, let's take a look at all the exciting updates to our talent acquisition suite as part of our Winter 2021 Release.
Updated Visual Insights UI to help users track and enhance their performance
Out with our original in-app reporting functionality, and in with Visual Insights: the next iteration of our analytics offering, which provides talent leaders and recruiters alike with the data they need to improve their candidate relationship management strategies.
Our initial reporting functionality was robust and helped Lever customers track key metrics like time to hire and talent pipeline growth. Visual Insights, though, gives LeverTRM users get access to even more useful dashboards (more on those shortly) that can help them enhance their hiring process and the candidate experience.
With Visual Insights, you can:
Get a holistic view of your entire talent pipeline in a single location, removing the need to use disparate analytics tools to track candidates in your recruiting funnel
Move from a reactive talent acquisition approach to a proactive one, thanks to our candidate-centric dashboards that tell the 'complete' story of your prospects
Find answers to questions more quickly, since Visual Insights was designed to navigate with ease — whether you're a data expert or entirely new to talent analytics
(Note: Visual Insights will be available as a "Preview" until its full launch in Q1 2022.)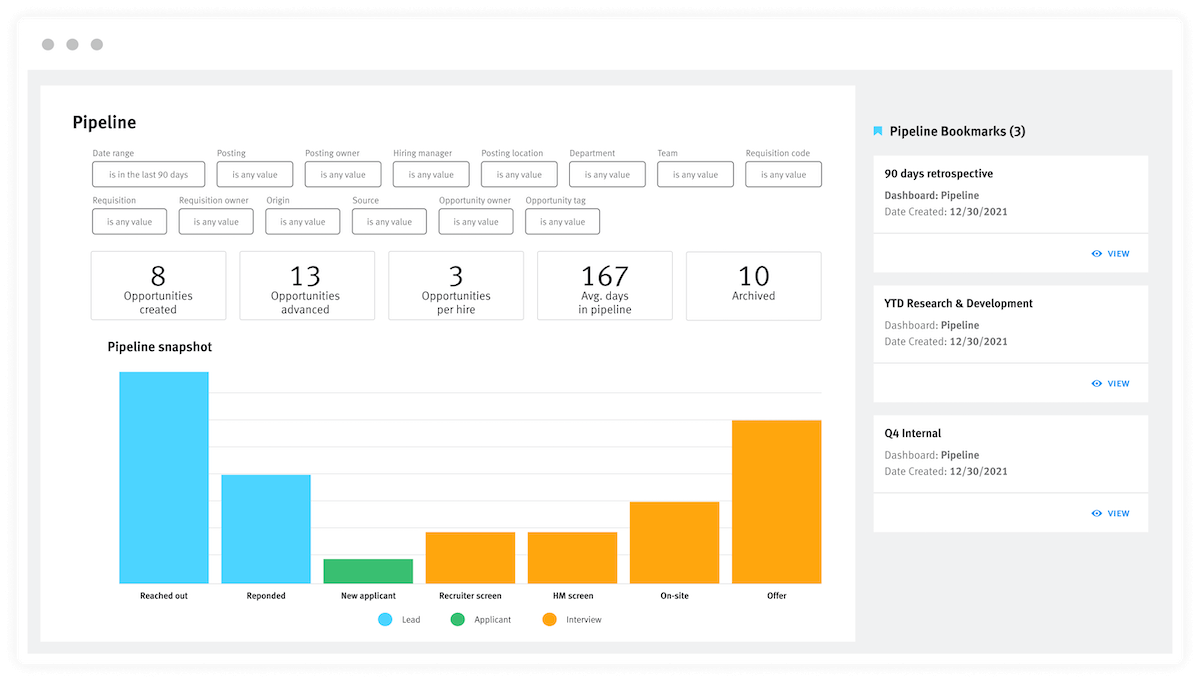 New and insightful Diversity and Recruiter Operations dashboards
Within Visual Insights, Lever customers now get an array of different dashboards, each of which offers unique (you guessed it) insights into distinct facets of their recruitment programs.
Two notable additions are the Diversity and Recruiter Operations dashboards:
The former helps LeverTRM users understand the diversity of their talent pool, based on survey responses from applicants. This dashboard helps talent specialists discern the diversity breakdown of their pipeline (including by stage) and what percentage of the pipeline falls into each diversity group.
The latter helps each individual recruiter dig deeper into their respective recruiting performance and identify areas for improvement. Moreover, they can see where each active and passive candidate is in their pipeline (lead stage, currently interviewing, offer extended) to keep them focused.
In addition to other advantageous dashboards in Visual Insights (e.g., Nurture, Offers, Requisitions, Postings), Lever customers can get even more out of our recruitment CRM software to aid their candidate sourcing and outreach and enable them to achieve critical KPIs.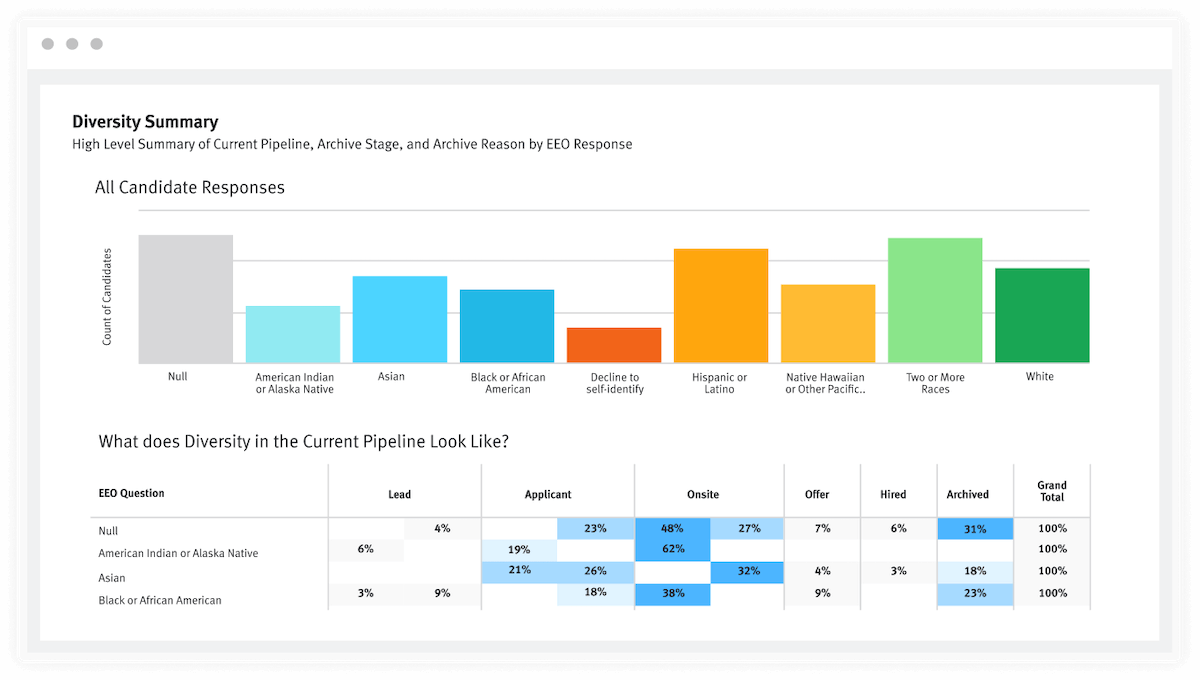 Improved Talent Acquisition Benchmarks dashboard to see recruiting 'standards'
Arguably one of the biggest differentiators in LeverTRM — and something legacy applicant tracking systems lack outright — is the Talent Acquisition Benchmarks dashboard.
Comparing their performance with other recruiting teams by analyzing anonymized and aggregated data across the industry is how countless Lever customers elevate the effectiveness of their work.
With our revamped Talent Acquisition Benchmarks dashboard, Lever users can see the 'standard' for every important recruiting metric they track: from average days to hire to how long it typically takes the average interview panel to provide feedback on candidates.
Dynamic offer approvals to provide hiring teams more flexibility and agility
Talent leaders, recruiters, and hiring managers all have a common goal: Save time so they can focus on the work that actually matters — not on the nitty-gritty details of recruiting.
With our recruiting software, now, each of these pros can get back considerable amounts of time by streamlining their offer process using our dynamic offer approvals feature.
This functionality affords LeverTRM users more flexibility in the offer-approval process, as they can now select multiple values for approval conditions to reduce duplicate approval chains.
Ultimately, this streamlined process helps recruiting teams with Lever better align with their organization's needs and reduces barriers to extending offers to high-quality candidates.
Along with using our other 'dynamic' capabilities (e.g., easy-to-update candidate profiles, ability to post to job boards universally, smart nurture recommendations), dynamic offer approvals is just another way for talent teams to strengthen their TA strategies with Lever.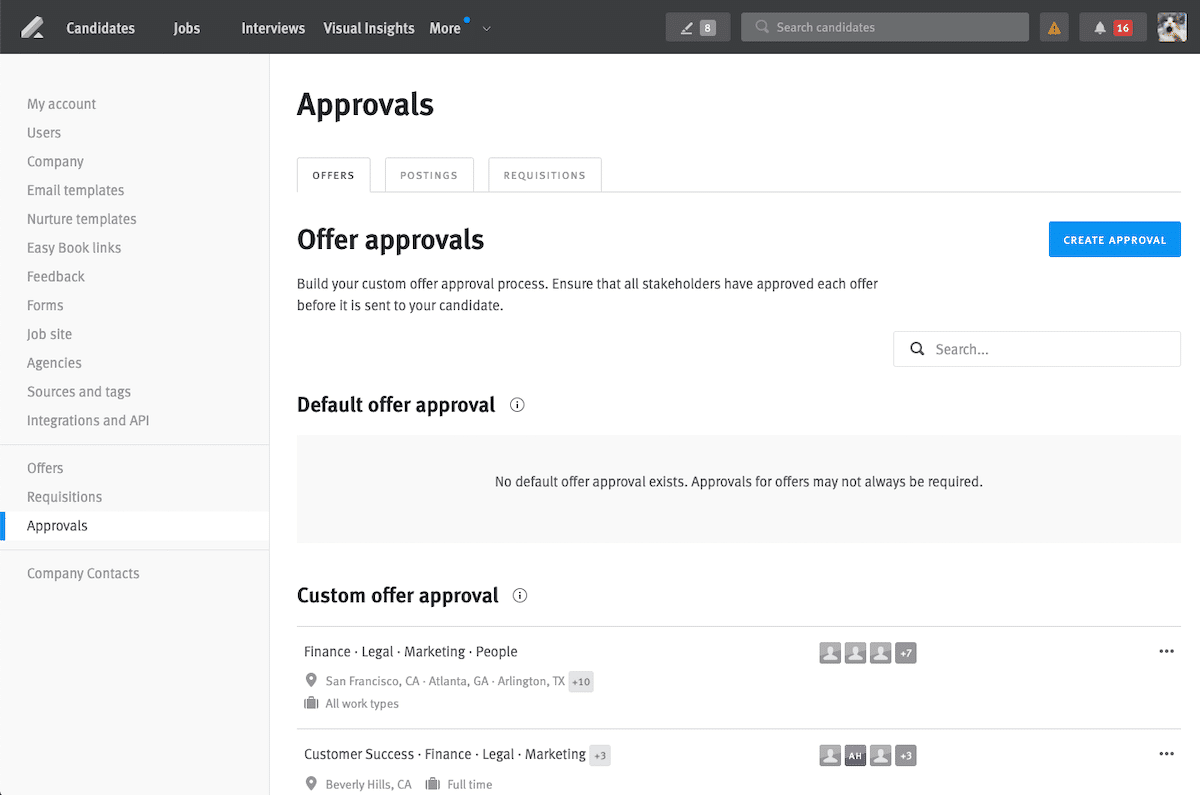 New, direct integrations with 20+ recruiting tools, including Microsoft Teams
Our complete talent acquisition suite offers many beneficial, built-in features. That said, we know our customers want and need to integrate other useful tools with our platform.
One such tool is Microsoft Teams.
Thanks to our new integration with the popular communications platform, Lever customers can add Teams conferencing links to interviews scheduled in Lever via Easy Book. This makes interview-booking far more efficient for recruiters and other hiring stakeholders.
This winter, we've also made it easier for LeverTRM users to connect even more critical tools with our solution. Some recent additions to our (vast) partner integration ecosystem include:
ContactOut: Add prospects' email address and phone numbers directly into Lever with just one click. (Tip: Using the ContactOut Chrome extension, you can choose the specific Lever job you want to 'assign' to a given candidate with ease.)
TalentWall: The popular 'hiring management platform' has proprietary modules that help talent teams better utilize their ATS data to boost collaboration and build data-driven recruiting processes that are more efficient and predictive.
Dover: This solution offers talent evaluation functionality that automatically engages candidates of interest with personalized messaging, based on open and upcoming roles. Connecting the tool with Lever means recruiters can build a more seamless outreach strategy and more capably move the 'right' candidates through their funnel.
(Bonus: View all 150+ Lever integrations here to see who's included our partner ecosystem.)
Want more details on these new and enhanced LeverTRM features? Talk with our team today.