Clearly defined recruitment goals — annual, biannual, or quarterly — created with your leadership team, HR director, and hiring managers provide structure for your talent team.
Conversely, ambiguous, poorly defined goals, as it relates to growing and engaging your talent pool and filling key roles, deters recruiting efficiency, collaboration, and productivity.
You can't afford not to spend a lot of time and energy to craft precise recruitment goals for your talent specialists to achieve in the weeks and months ahead related to sourcing, nurturing, pipeline growth, hiring speed, candidate experience (CX), DEI, and other focus areas.
More to the point, you need 'SMART' goals for talent acquisition.
This means ones that are Specific, Measurable, Achievable, Relevant, and Time-based — and, at the end of the day, help all of your recruiters streamline and automate their work and empower them to optimize their performance thanks to accessible and actionable data.
3 expert tips to set ambitious — but attainable — recruitment goals for your talent acquisition team
"Talent acquisition departments are so busy trying to keep up with the pressures and demands of sourcing and hiring that companies are lacking clear hiring objectives and strategies," HR.com CEO Debbie McGrath recently stated, in reference to the HR Research Institute's 2021 study on the state and future of recruiting.
Debbie added the key to attracting and retaining best-in-class talent starts with a "focus on developing strategic talent acquisition goals" — ones that factor in both recruiters' bandwidth and executives' organizational growth aspirations.
There are many examples of recruitment objectives and TA approaches that can inspire your long-term goal-setting. Just as importantly, though, there are three best practices to follow when establishing tangible recruiting team goals for your talent specialists.
1) Chat with executives, HR, and hiring managers to discuss headcount needs.
Alignment is everything. Co-developing job (or impact) descriptions with hiring managers and engaging passive candidates and active job seekers through various recruitment marketing methods without consulting your C-suite — notably, your CEO and CHRO — is a recipe for recruiting and hiring disaster.
As a TA leader, you must liaise with these leaders (and hiring managers with approved requisitions) to set SMART goals that enable your sourcers to scour the 'talent community' as effectively as possible and gauge which prospects might be ideal fits based on experience levels, skill sets, and other essential criteria.
Each hiring stakeholder you speak with will likely have different preferences and requirements.
Regardless of their specific wants and needs, this candidate-centric criteria must be relayed to your entire recruiting staff prior to initiating their talent search.
Fail to do so, and your TA team will only end up wasting precious recruiting time, energy, and resources (e.g., targeted ad spend), as they'll end up with subpar prospects added to their respective pipelines — talent that doesn't align well with the positions they need to fill.
Equally as frustrating, they may think they need to source net-new candidates for roles when, in fact, they have applicable prospects waiting in their talent 'archive.' (That is to say, individuals who check all the boxes for roles and can be reengaged with ease.)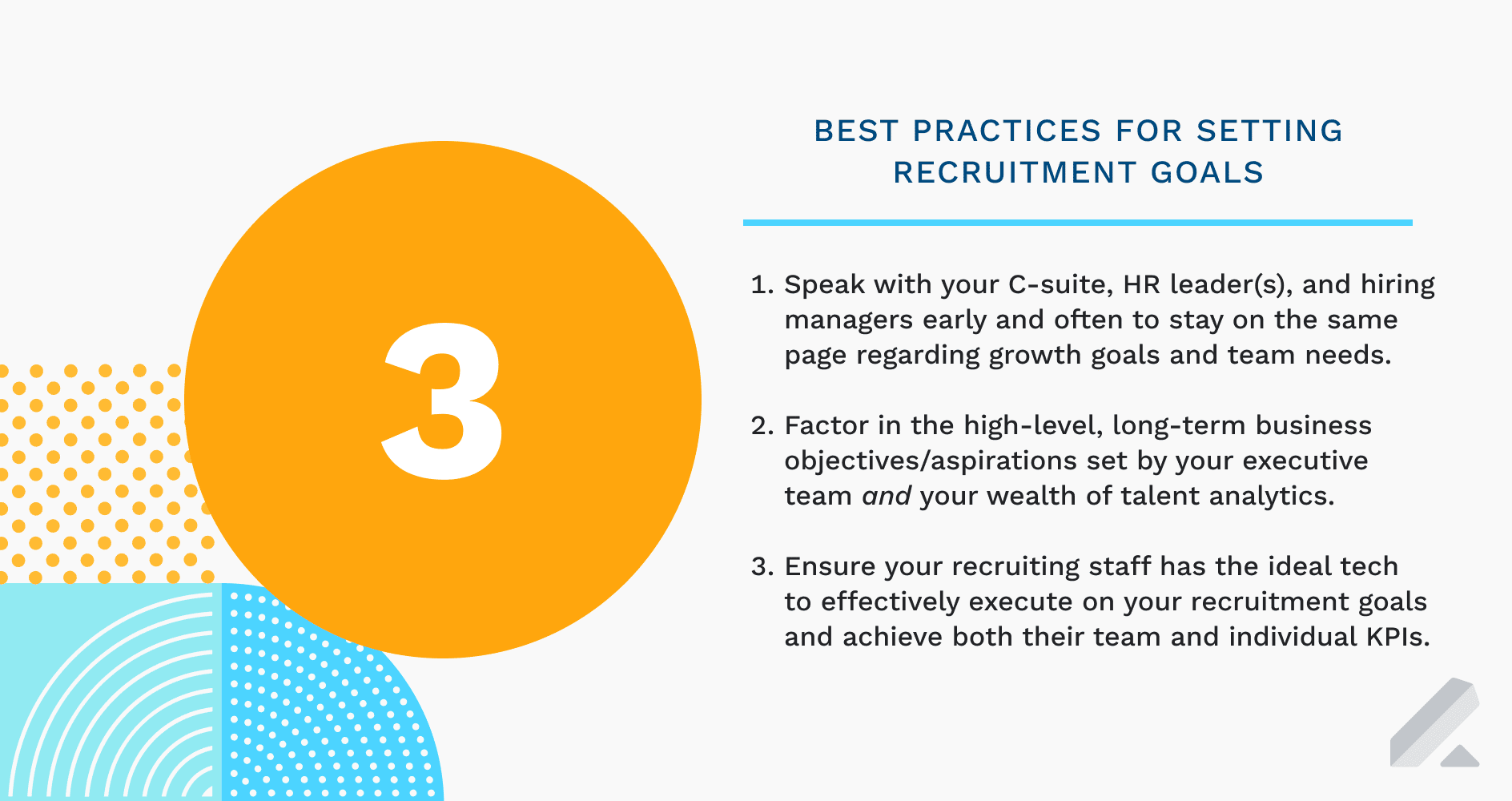 2) Approach goal-setting with recruiting metrics and growth targets top of mind.
Aside from speaking with the aforementioned folks, you must also factor in your critical recruitment metrics you must regularly improve and 'scaling' goals laid out by leadership.
Let's tackle the latter component first. Consider the distinct, data-backed growth targets set by your C-suite for the year ahead for each team and department across your business.
As a talent leader, you need to know which business units are top priority headcount-wise (often, the ones that'll contribute most directly to revenue growth.)
For instance, if engineering needs 10 more employees by the end of the calendar (or fiscal) year, you need to know which specific engineering roles (e.g., chief architect, infrastructure and quality specialist, operations managers) take precedence over others.
Once you have that info, you can balance your team's focus on filling other teams' positions.
Regarding recruiting metrics, you know which to account for goal-setting. Some notable ones:
Applicants per opening: Number of active job seekers who apply for open roles, on average
Employer turnover rate: The total number of workers to quit and overall 'pace' of attrition
Cost per hire: How much it costs to bring on new hires based on recruiting and other expenses
Time to fill and hire: The length of time it takes to get candidates from sourced to onboarded
CX score: Rating that basically equates to interview experience and employer brand perception
TL;DR: Balance your both your high-level business needs and your talent analytics (i.e., candidate and new-hire data, recruiter operations insights) when setting recruitment goals.
Just be sure to adjust your objectives as the former changes (e.g., execs adjust your business model) and/or the latter provides new, compelling insights to take into consideration.
3) Know what your talent team needs to execute on the decided-upon objectives.
Goal-setting is vital to long-term success, both as a talent team and organization in general. None of your SMART goals for recruiters can be realized, though, with weak technology:
Want to ensure your TA team sources a diverse array of talent and helps your business hire a more balanced mix of employees in terms of ethnicity, gender, and other diversity traits? You need a solution that enables your recruiters to request demographic details in applications and send diversity surveys to prospects and employees to learn about their backgrounds.
Want to 5x the number of prospects in your talent pool this quarter to lessen your talent org's need to constantly source new candidates down the line? You need a platform that centralizes sourcing data and, in turn, allows each recruiter to discern which sources/source origins lead to high-quality hires and qualified 'silver-medalists' they can reengage as needed.
Legacy ATS simply doesn't offer the advanced capabilities pertaining to analytics, automation, and pipeline-tracking talent specialists need to achieve recruitment goals like these.
A complete talent acquisition suite with powerful applicant-tracking features and candidate relationship management capabilities, on the other hand, empowers recruiters to work smarter and help scale their businesses efficiently (and, when needed, quickly).
Bottom line: Your team's recruiting 'reach' (i.e., their ability to connect with high-quality passive prospects of interest across job boards and communities) and TA effectiveness at large is determined by the quality of recruiting software they use daily to carry out crucial tasks.
Watch our webinar with BambooHR, Hired, and Remote to learn how your company set smart recruitment goals that help you build a globally inclusive recruiting and hiring strategy.