A 2020 Chartered Institute of Personnel and Development report found 44% of talent acquisition teams were recruiting passive candidates as a means to cope with a difficult labor market. Another 45% of recruiting orgs said they were planning to reach out to 'passives' too.
Fast-forward to today, and conditions are much the same they were around early 2020:
The Great Resignation has yet to cease (and The Great Return has yet to commence).
There remains a dearth of job seekers actively looking for new career opportunities.
Recruiters continue to test new tactics and techniques to find top talent for job openings.
Sourcing passive candidates for open positions is as important as ever for companies.
As we've discussed, recruitment marketing is an ever-evolving approach for talent teams.
But one constant with recruitment marketing (at least in the current climate) is the need to target and find passive job candidates who are good fits for available and upcoming roles.
The good news? Many passive candidates are willing to at least hear about job opportunities. The bad news? You're competing with many other brands who want to hire them as well.
That means you need to attract and engage these individuals in a speedy and smart manner.
And that's where targeted, personalized talent nurturing comes into play for your TA team.
Why attracting passive candidates is more critical than ever for talent acquisition teams
Roughly two in five recruiting leaders said their teams proactively identified passive talent and gauged their interest in potentially considering leaving for a new position elsewhere when the COVID-19 pandemic began, per our 2020 State of Recruiting Report.
However, these talent acquisition directors also noted this was simply 'exploratory' outreach.
They had no intention of making offers to any passive candidates at the time, given their businesses — like many others recently — paused hiring until external conditions improved.
Rather, these TA leaders just needed to know there was an 'appetite' among non-active candidates to potentially accept a job offer. Why? So their teams were ready (i.e., had a robust talent pool of ideal prospects to engage) when requisitions started rolling in.
In short, adding many prospects to their system helps them future-proof their recruiting — especially in 'down' times (see: 2020-22) when the rate of new applicants and active candidates added to their respective talent pools tends to slow down.
If you didn't establish a passive-sourcing strategy in these past few years — and, in turn, bolstered your candidate database with numerous qualified professionals of interest — like these talent directors and their recruiting orgs, it's (well past) time to do so.
The pros of prioritizing passive candidates in your recruitment marketing (e.g., delivering targeted messages to professionals of interest on LinkedIn) are many. But you need to be savvy about how you pitch your brand and roles to get them to consider you.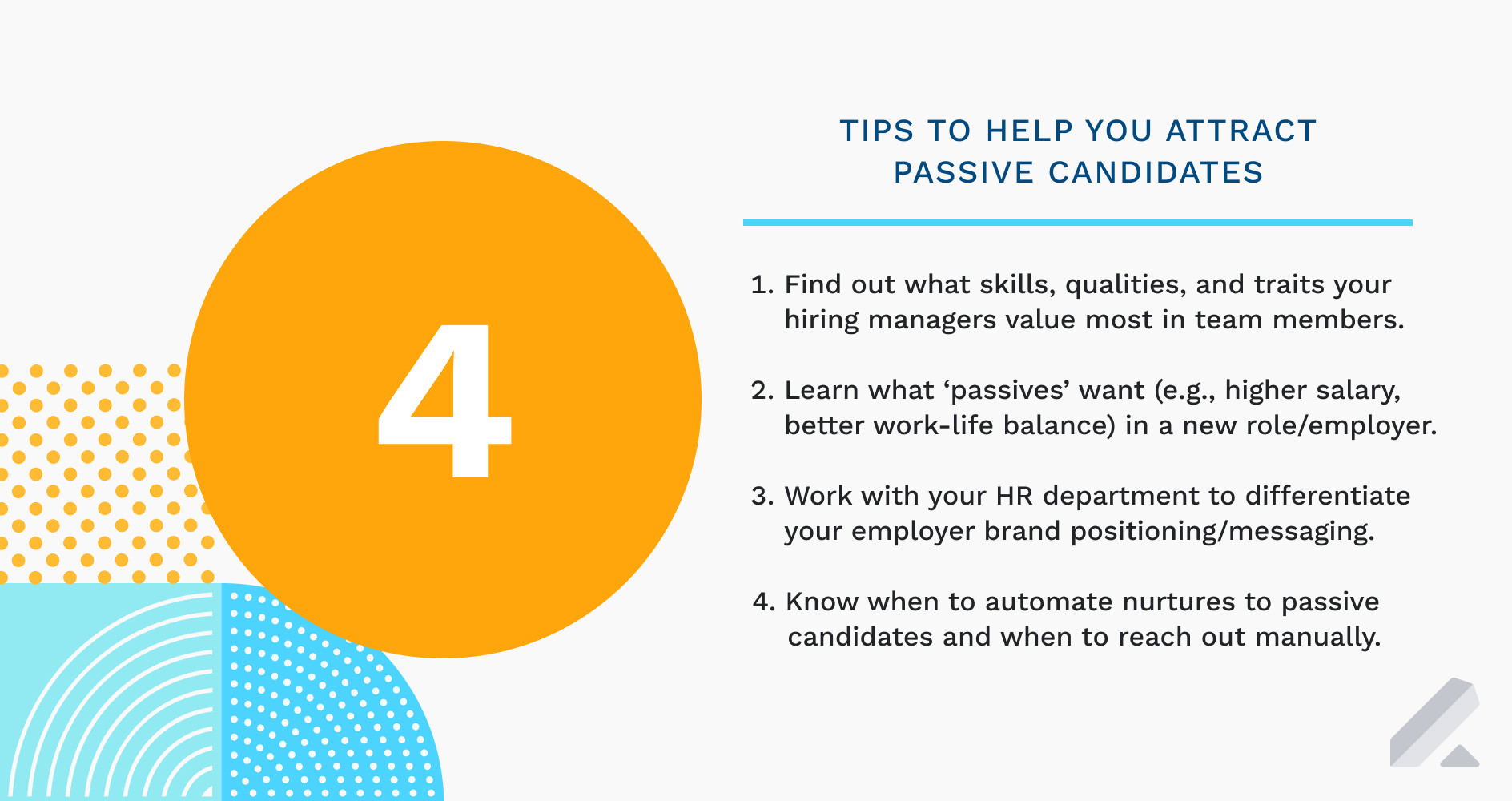 4 expert tips to help you and your talent team connect with (and convert) 'non-active' candidates
Here are some best practices to follow when reaching out to passive prospects you source.
1) Ask hiring managers what general worker qualities and skills they prefer.
Departmental leaders involved in your hiring processes and recruitment cycles certainly need the biggest say in what type of employee works best (no pun intended) for their teams.
Therefore, it's in your talent team's best interest to secure a list of wants and needs in prospective hires — even if there aren't any open reqs for their business units at the moment.
Why? Because, even without knowing specific job/role specs, you can get a high-level sense of what the 'ideal employee profile,' so to speak, looks like in the eyes of these hiring managers.
2) Learn what passive candidates look for in terms of careers and employers.
Just as you want to ensure you're aligned with hiring managers on what to look for in prospective hires, you need to pay equal attention to what passive candidates desire in terms of their next position and the next company at which they'd like to work.
A 2022 Gallup poll of U.S.-based employees found 64% want better pay in their next job. Moreover, roughly 60% of these workers said they need an improved work-life balance and the "ability to do what they do best" wherever they work next in their careers.
It's this kind of data that can help you address candidates' biggest pain points and must-haves.
3) Work with HR to differentiate your employer brand positioning/messaging.
Other employer-related preferences for passive candidates — like the ability to work remote full-time and for a business that prioritizes diversity, equity, and inclusion — certainly factor into prospective hires' decision-making regarding where to apply and interview.
It's considerations like these that must be front and center in your employer-brand messaging.
The more you can differentiate your organization from others — including, but certainly not limited to, core competitors with which you often contend for talent — the better you can position your business and stand out from companies that don't offer modern perks and benefits, allow employees to 'WFH,' and have dedicated DEI initiatives.
4) Know when to automate nurtures and manually reach out to each candidate.
The three previous tips all fall under 'pre-outreach' advice. When it comes to actually engaging passive candidates in your pipeline, you and your team essentially have two options:
1) Reach out to each individual prospect manually with custom-tailored messaging that — based on all your legwork and research from the best practices above — can entice them to reply.
2) Automate your nurture messaging to passive candidates at the individual level as well as for segments of potential hires — both of which you can accomplish with ease using LeverTRM.
Look no further for proof of the importance of (and substantial ROI realized from) automated nurturing than the campaigns executed by Lever customers like TextNow and Maxwell.
Both businesses have seen strong results from nurtures, thanks to Lever Nurture, which enables them to test things like the campaign schedule and number of touchpoints.
How targeted, personalized, well-timed nurturing can help you 'win over' passive candidates
It's apparent attracting passive candidates should be a priority for your talent team. But engaging them is much the same as for any other prospects (e.g., those who applied via job boards or the career site or were recommended via your company's referral program).
Regardless of where you found job seekers (or how they found you), you need a concerted candidate-nurturing strategy that helps you move them through your recruitment funnel quickly and efficiently (or, in the case of un-engaged prospects, archive them accordingly).
That is what LeverTRM users do daily: build, test, and optimize nurture campaigns to steadily improve their open, reply, click-through, and conversion rates from active and passive candidates.
LeverTRM users have sent more than 5 million nurture emails to prospects using Lever Nurture.
This has helped them engage their prospects in a more intelligent, streamlined manner than before embracing the feature (i.e., pre-Lever, when they used a legacy applicant tracking system and relied solely or mostly on a manual nurturing approach).
As Secure Code Warrior Global Head of Talent Nathan Reese said about Lever Nurture:
"[Nurturing candidates is] no different to your sales pipeline. How you take customers through your sales journey should be no different to how you take your candidates through your hiring journey. … [T]he fact that Lever introduced Nurture years ago gives me an abundance of confidence in how far ahead of the competition they are."
There's been a sizable increase in adoption of Lever Nurture among our customer base (174% higher in 2021 versus 2020). Thus, it's evident the feature, used in tandem with our other advanced CRM capabilities, leads to much smarter outreach to passive candidates — and an opportunity for these companies to grow and scale faster.
Download our candidate-nurturing eBook today to discover how you and your talent team can automate your personalized outreach at scale and convert more qualified prospects.