Whether you have 100 candidates in your talent pool or 100,000, you need to nurture them through your recruitment funnel intelligently to entice top talent you've sourced (and even archived) to join your business.
By 'intelligently,' we mean in a seamless, persuasive, data-driven way.
With rules- and workflow-based email automation — something the talent community continues to embrace — you can elevate your recruiting strategy effectiveness, hire top prospects, and maintain candidate relationships.
How automated nurtures (and a complete TA suite) help recruiters engage and convert their talent pool
Build repeatable campaigns that scale (i.e., structures and schedules that can be repurposed for multiple roles, locations, and teams) and convert (i.e., turn prospects of interest into new hires at a consistently high rate).
As our eBook on automated candidate nurturing explains, that's every talent org's goal today.
It's also one they can achieve with a dedicated nurturing approach — and tech with built-in nurture functionality. Consider how Lever customers utilize Nurture to stay in touch and top of mind with talent.
Here are the pros of using our platform — with native nurture functionality — to not just engage and convert candidates, but also strengthen collaboration and communication and increase productivity among your team.
Manual outreach processes are reduced substantially.
The laborious task of manually contacting prospects can be lessened for Lever users, thanks to Nurture.
Nurture enables recruiters and TA professionals to build custom campaigns tailored to individual or groups of candidates that trigger emails based on a pre-defined schedule or a candidate's email engagement.
Manual follow-up at later stages of the recruiting process (e.g., when you are scheduling interviews at each stage of your unique interview cycle) will always be required.
But 'exploratory' talent nurturing, so to speak, is what can help you distinguish intrigued and qualified prospects from those who aren't ideal fits for your open roles.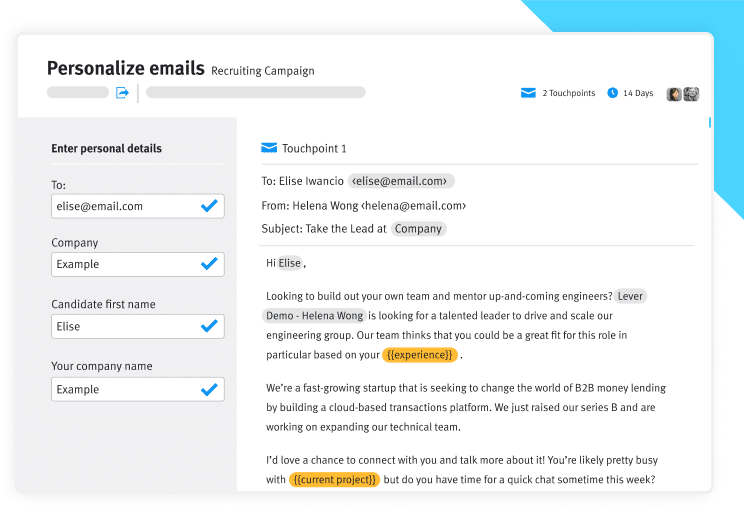 Internal and external communication improve markedly.
It's not just Lever users who set up and send nurture emails who can see candidates' real-time status (e.g., current interview stage). Multiple users can see which prospects' open, click, and reply to campaign emails.
They can also view their resume and notes, all from their unified candidate profile.
On top of this democratized talent data, TA and recruiting teams can communicate with one another (and hiring managers and talent leaders) about specific candidates and requisitions from right within Lever.
This reduces the need for sending emails outside our TA suite about the status of candidates.
These one-off email chains for individual candidates can become unwieldy quickly. They can also lead to delayed and/or unproductive conversations and, potentially, missed opportunities in terms of hiring talent.
With Lever, you never have to worry about losing track of your recruiting/nurture progress. You and your team will always be on the same page regarding nurture campaigns, interview stages, and offers. This means no more bottlenecks or blockers in your hiring process and better collaboration.
Candidate relationships become far easier to manage.
A single source of truth that stores all info for your talent pool (i.e., newly sourced and archived talent, active and passive candidates) and is accessible to your recruiting team is now essential to talent acquisition success.
Specifically, it's the key to better nurturing and managing relationships with your talent pipeline.
LeverCRM not only helps our customers grow critical metrics (e.g., time to hire and fill, days in stage, offers sent/accepted), but also manage their pipeline more efficiently — before, during, and (long) after nurtures.
Data related to one's full-cycle recruiting process, including candidates' interactions with prior nurtures and the results of said nurtures (withdrawn, hired, not offered role/archived), can inform future outreach for TA orgs.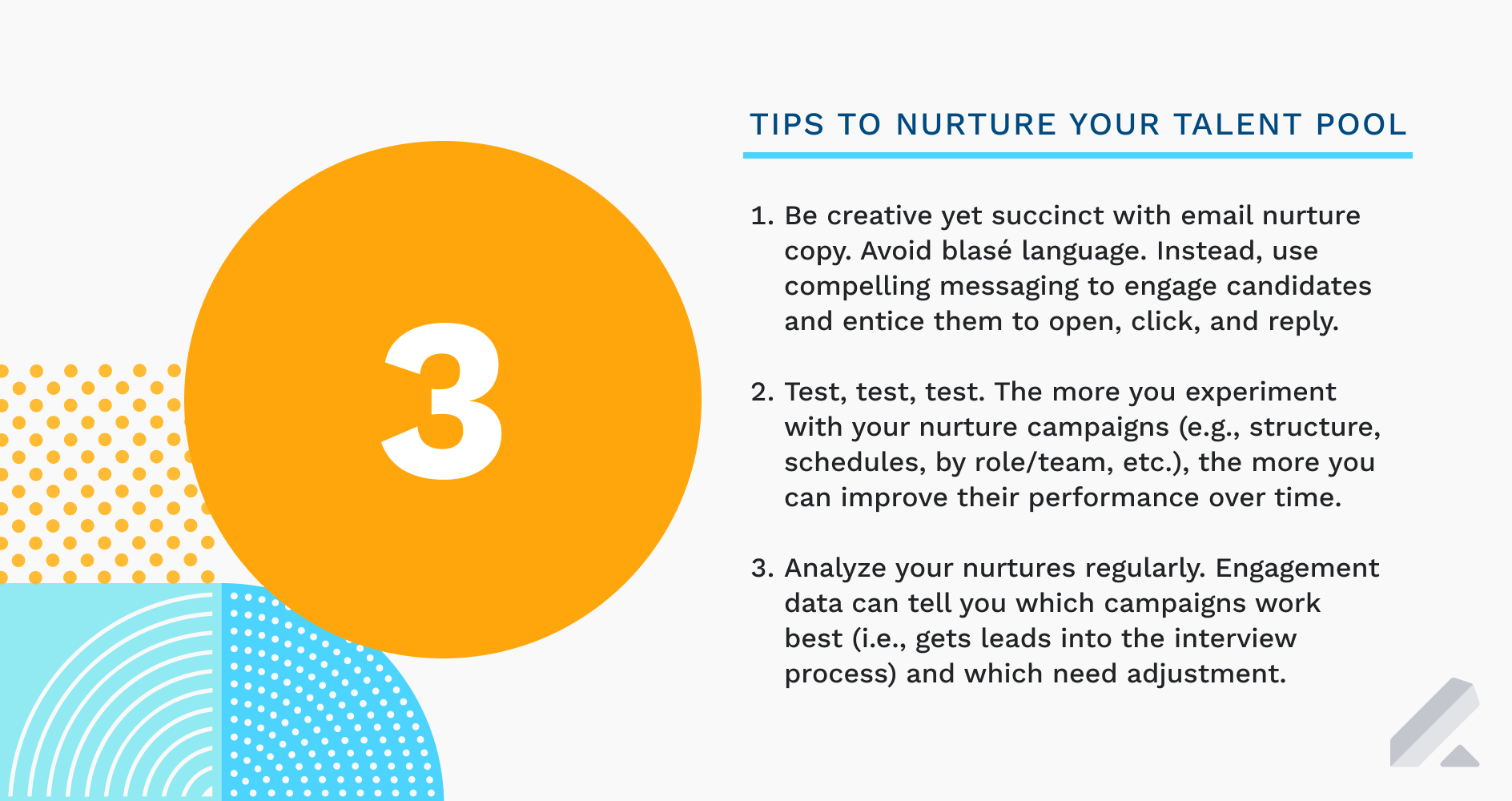 Candidates have a stellar experience with your brand.
Regardless of whether you hire a prospect or not, the personalized touch of your nurture emails to individuals in and segments of your talent pool will increase your odds of delivering a first-class candidate experience.
This enables Lever users to delight new hires and even impress passed-on candidates they may want to speak with down the line for future roles. This top-tier CX ultimately leads to better employer branding too (i.e., positive word-of-mouth).
An added bonus? You can send CX surveys at the end of your recruiting cycle to secure candidate insights (e.g., what they did and didn't enjoy about their interview experience, thoughts on the interview panel, etc.).
Experimentation, analysis, and optimization: The secret to success with nurturing your talent pool
The entire concept of candidate relationship management (like LeverCRM) is built on the premise of having an ongoing dialogue with leads to gauge their interest in and qualifications for job opportunities at your business.
And the automated nurture campaign is the cornerstone of this continuous communications approach. But, like any other TA activity, ongoing testing, evaluation, and optimization is key to long-term success with nurturing.
As our latest Talent Benchmarks Report states, "Combine research and creativity with pleasant persistence to maximize your chances of developing candidate relationships" and provide a top-tier candidate experience.
Translation? You need compelling, personalized content in each nurture email for them to resonate with talent. You also need to test your campaigns often, double-down on 'winning' formulas, and eliminate any elements (e.g., inefficient schedules, overstuffed/confusing copy) to achieve repeatable success with them.
Your talent pipeline is an invaluable resource you can tap into routinely to improve time to fill and quality of hires. To convert qualified candidates at the scale required to meet your quotas and goals, though, thoughtful, custom-tailored nurture campaigns must be a central component of your recruiting process and CRM strategy.
Download our new eBook to learn how you and your talent organization can start building nurture campaigns and elevate your candidate relationship management strategy.