The irony of the Lever hiring team using our very own talent acquisition suite — that is, the industry's only native ATS + CRM solution — to recruit and hire top talent isn't lost on us.
That said: Why wouldn't we use it? LeverTRM enables our entire talent org to identify, engage, interview, and extend offers to candidates in a streamlined, efficient, and quick manner.
From creating and optimizing job descriptions, to assigning hiring managers and recruiters to each active job posting, to understanding where every prospect is in the hiring process, our TA team uses our platform to enhance every facet of their day-to-day efforts.
Here's how the Lever hiring team makes the most of our solution to not just hire smarter, faster, and at scale, but also to ensure we achieve our diversity, equity, and inclusion goals.
LeverTRM: Our hiring team's single source of truth for sourcing, nurturing, and interviewing activities
As our 'internal' LeverTRM case study explains, our talent staff has three primary objectives:
1) Ensure DEI is factored in all recruiting activities (e.g., sourcing, nurturing, interviewing)
2) Increase our operational efficiency with each of the aforementioned recruitment tasks
3) Provide a first-class, inclusive candidate experience (CX) to each job seeker we engage
These are certainly goals we share with our customers. Nonetheless, they're all vital ones to achieve to build a diverse workforce and implement equitable interview and hiring processes.
And they're ones more easily realized with LeverTRM at the heart of our TA/DEI tech stack.
Our hiring team meets these goals using our ATS + CRM (along with partner integrations) by:
Building a diverse talent pipeline: As Lever Director of Recruiting Caitlyn Metteer stated, TA orgs have to meet business needs and achieve core KPIs (e.g., speed up time to fill/hire). Those goals, however, must go hand in hand with diversity hiring needs, she added. That means building up a robust pipeline of candidates with diverse backgrounds is essential. LeverTRM's EEO and Diversity Insights surveys help us gauge the gender, race, and other demographics of candidates to ensure our team can gradually improve its sourcing and hiring efforts.
Tracking and improving our sourcing: Speaking of sourcing, knowing the efficacy of sources (and source origins), 'doubling down' on the best ones, and ceasing use of poor-performing ones (i.e., those that lead to few prospects and/or poor quality of hire for eventually hired employees) is how TA orgs thrive today. LeverTRM helps our hiring team monitor the strength of each job board and career community on which we post jobs and look for prospects to make sure we spend our time and resources (see: recruitment marketing spend) wisely.
Nurturing job candidates thoughtfully: Our talent sourcer, full-cycle recruiters, and hiring managers all play pivotal roles in nurturing. Per our case study, the sourcer adds individuals of interest into LeverTRM. This creates unique profiles for them. A recruiter is then assigned to the prospect and nurtures them with personalized messaging that relates to the role for which they'd be a good fit. Candidates who want to learn more are then phone-screened and, as decided by the hiring team and manager, advanced in the interview process.
Each talent acquisition team member at Lever has distinct recruiting duties and tasks.
But it's their collective work executed in LeverTRM — and, as needed, with the aid of partner integrations (e.g., text-nurture tools like Grayscale; talent-intelligence solutions like Bryq, which helps eliminate hiring bias) that leads to a smarter, more scalable hiring approach.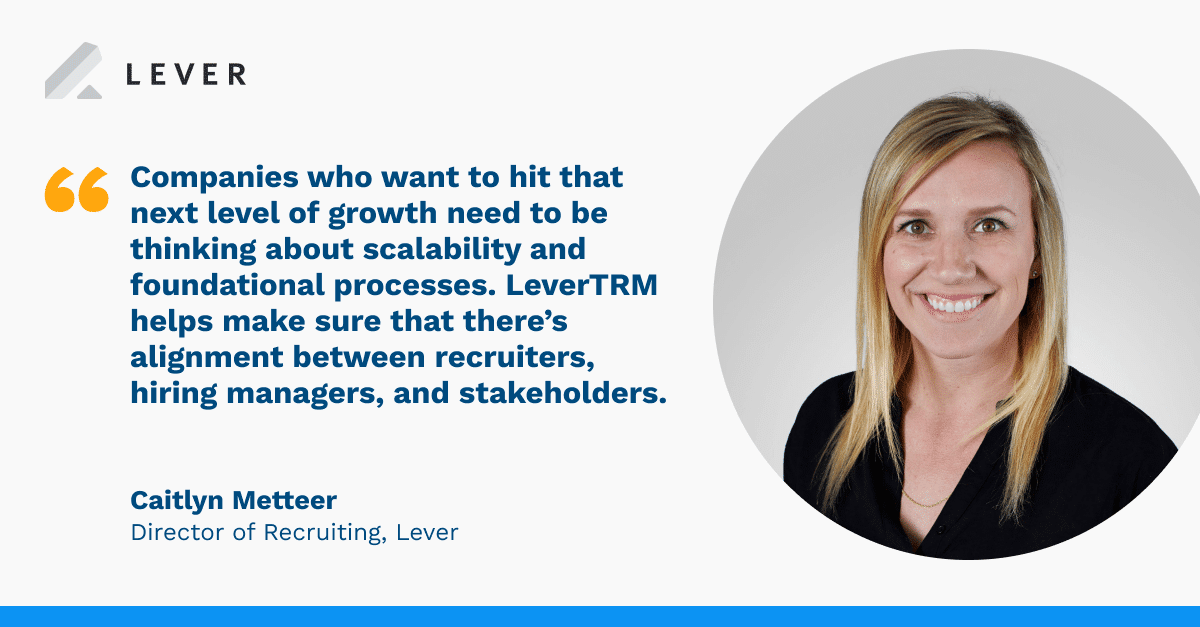 How our hiring team develops a diverse pipeline and better achieves its DEI goals with LeverTRM
Of the three objectives mentioned above, building a more diverse workforce and ensuring inclusivity is omnipresent in our recruitment efforts is inarguably our biggest one.
We've invested heavily in creating a welcoming workplace. What's more, we've achieved 50:50 gender parity and 51% minority representation. But the work doesn't end there.
"We use DEI data to analyze our processes and improve," Caitlyn stated in our LeverTRM case study. "When we see candidate drop-off, or notice that some groups are underrepresented, or see a need for more diversity at a certain stage in the hiring process, we can quickly take the necessary steps" to adjust our recruiting strategy and realize our goals.
There are many ways Lever's recruiters and talent specialists evaluate their own (and shared) progress as it pertains to our DEI efforts as well how they can improve in key areas.
More specifically, our talent team can see all EEO and Diversity Insights survey results anonymized and aggregated in our EEO/DEI dashboards in LeverTRM. This helps them (and Caitlyn) see how we're doing in terms of engaging and onboarding diverse talent from a macro (e.g., over the past year) and micro (e.g., in the past month) vantage point.
On top of this daily data analysis, our talent staff ensures we share the above diversity growth within our own org to show we're committed to building an equitable and inclusive workforce — something we've seen help us convert many candidates into new hires.
All in all, through the use of our talent acquisition suite — and ongoing optimization of our hiring strategy within LeverTRM — we like to think we help set the example for our 4,000-plus customers on how to both realize the desired business growth leadership demands and ensure diversity is at the core of the recruitment model at large.
Read our entire internal case study to learn more about how our hiring team leverages our talent acquisition suite to achieve our DEI hiring goals and build a diverse workforce.