Just as HR professionals audit their human capital management and payroll software regularly to ensure they have a best-in-class, best-of-breed tech stack, you must do the same to transform your talent strategy.
More specifically, you must ditch dated, legacy applicant tracking systems (i.e., ones that don't innovate and evolve with the times) and onboard a solution that can help you take your talent strategy to new heights.
Getting value from your TA technology: 5 critical capabilities you need to elevate your talent strategy
Before you research the marketplace to find the right platform for your team based on your long-term goals and overarching business strategy, though, it's best to consider the exact functionality you need in such a solution.
Here are five features you need in your primary TA tech to build a high-performing talent management strategy.
1) Centralized CRM solution to help drive your team's talent strategy
Traditional ATS doesn't get the job done for recruiting and TA orgs anymore. A full-fledged candidate relationship management (CRM) solution with ATS capabilities (like LeverCRM) however, can help streamline core duties, like:
Reviewing submitted résumés in a timely manner to identify prospects who are worth pursuing
Managing interview schedules and ensuring hiring managers/interview panels offer timely feedback
Revisiting 'archived' talent to determine their potential fit for both open and upcoming requisitions
Consider Lever. Our customers use our complete TA suite as their single source of truth for candidate data.
Lever enables them to engage, manage, and convert individuals in their talent pool — and all from a single UI. That means they don't have to jump into other tools to handle core tasks and worry about disparate talent data.
Notably, they can sync their TA/HR systems with Lever via easy-to-set-up integrations.
2) Intuitive user interface recruiters and TA pros can navigate easily
Speaking of UI, the best talent management systems today have user-friendly, human-oriented design. This makes it easy for users to navigate them quickly and efficiently and tackle their tasks expediently.
Prior to onboarding Lever, Hopper, which analyzes airfare costs for fliers, was bogged down by an old-school ATS with an inadequate UI that prevented its team from sourcing, interviewing, and hiring speedily.
Since the move to lever, though, Hopper has seen a twofold increase in interview-scheduling speed, which has led to improvements in other key recruiting areas and helped it hire engineering talent at its desired pace.
"Lever's UI for scheduling is a magical, wonderful, warm, and welcoming place," Hopper Head of People Operations Ashleigh Jaffe stated. "Easy Book is sensational. We've been able to hit, if not exceed, internal requirements for interviews and screens on a weekly basis."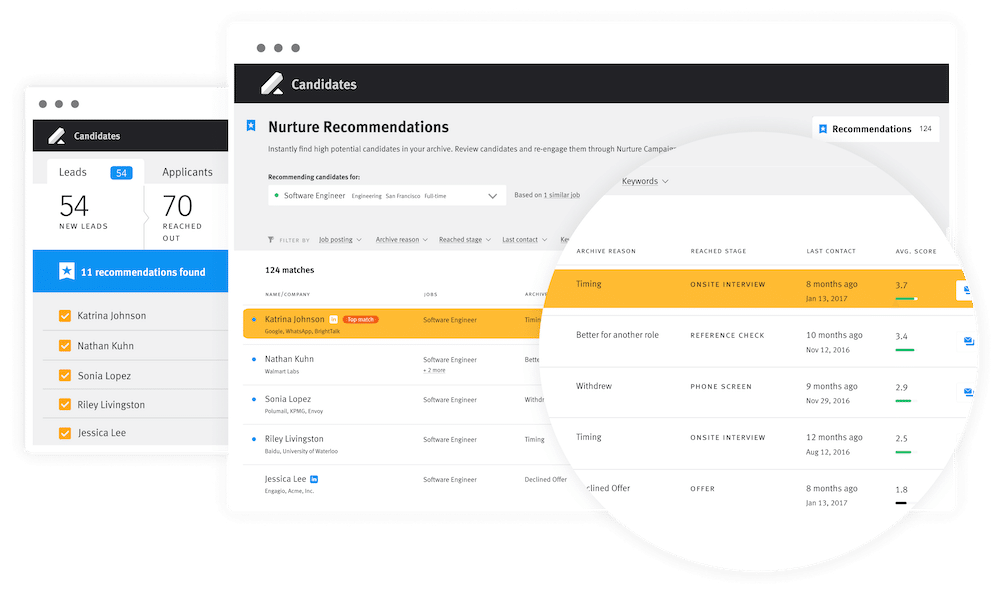 3) Advanced talent-sourcing, -nurturing, and -tracking functionality
Identify interesting and qualified candidates. Conduct personalized, well-timed outreach. Track engagement with said communications. That's the bare-bones (over-simplified, really) version of the recruiter playbook.
Those are also activities recruiting and TA pros should be able to take on in a single solution, not several. Here's a dream scenario just about every talent org wants to become standard operating procedure today:
'Spot' several candidates who meet the criteria for open roles without having to jump from one tab or tool to another (e.g., using a Chrome extension, like the LeverTRM extension our customers use).
Immediately send emails to those prospects to notify them of their strong fit for the position in question and ask if they want to learn more — again, without having to hop out of their TA tech and browser window.
Track their interactions with that email and all subsequent comms (i.e., automated nurture campaigns customized for the role) in real time from a centralized database that features all candidates' info.
With a complete talent suite and coordinated action plan that outlines who 'owns' each respective task and ongoing reporting (more on that shortly) and optimization of them, this dream becomes a reality for TA teams.
4) Convenient (and customizable) feedback forms and CX surveys
The days of discussing interviews with internal stakeholders via one-off email chains and compiling shared candidate feedback and 'grades' in spreadsheets are (or, at the very least, should be) over.
Now, leading talent acquisition teams request, offer, and analyze interviewee feedback and scores in a single, centralized database that makes it simple to keep talent-related communications organized.
Custom feedback forms can be created in Lever, for instance, that allows lead recruiters to ask standardized questions to hiring managers and interview panelists post-interview (so as to avoid any groupthink or interview bias), then average their scores together so they can make an informed, data-driven decision.
One pro of this approach: It gives TA orgs (notably, TA leaders) the ability to spot-check for any biased steps in their recruiting processes across departments and eliminate said bias if it exists.
On top of securing feedback on candidates, TA specialists can (and should) hear from candidates themselves.
Automated CX surveys can be sent to prospects after they've completed the interview process to ascertain info from prospects as to why they declined, accepted or weren't provided an offer. These survey responses can help TA orgs understand strengths and weaknesses with their hiring efforts and help them rectify deficiencies.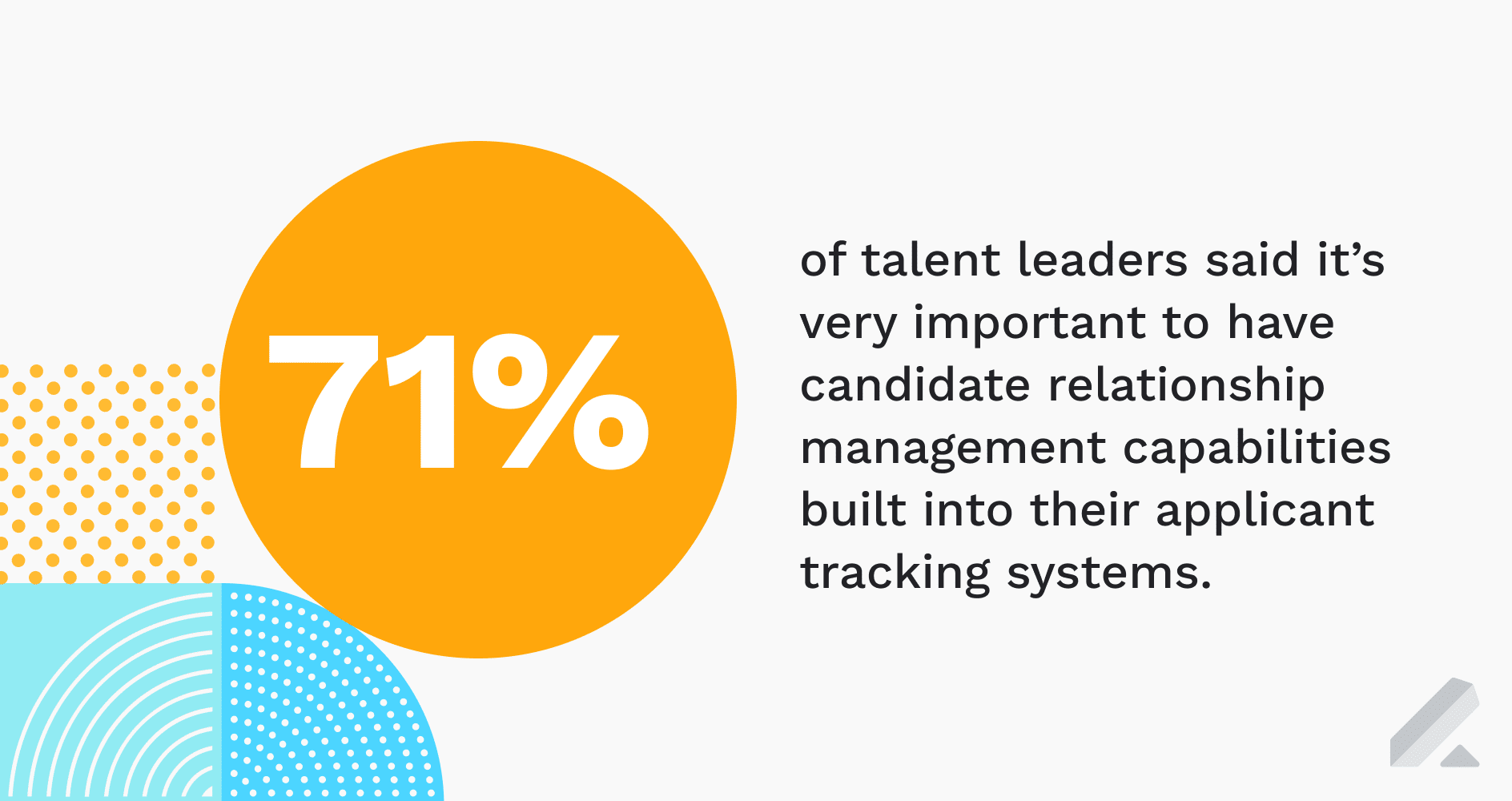 5) In-depth analytics and reporting to evaluate your talent strategy
You can't improve what you don't measure. That's certainly true when it comes to your team's talent strategy.
Data-driven recruitment models and TA strategies aren't built overnight. That said, their 'construction' — and the return on investment generated from them — can be expedited considerably with a versatile platform.
Translation? Your TA tech must have the functionality of ATS (e.g., job-posting distribution, interview management, candidate sourcing across channels). But it also needs modern CRM capabilities, including an integration and partner ecosystem, automated workflows, custom access controls — and advanced analytics.
Real-time reporting on everything from diversity, equity, and inclusion hiring initiatives to pipeline growth and the ability to share that data across your TA and recruiting teams as well as with leadership (i.e., custom, at-a-glance dashboards): That's how you elevate your analytics game — and, in turn, your talent strategy.
As a few Lever customers noted during Ascend 2021, talent data shouldn't be a "scary thing" to TA teams.
Rather, data should be the enabling resource that helps them connect with and convert top talent and improve the way they find, engage, and hire those individuals so they can streamline and scale their recruiting and talent acquisition programs and prove their progress with team and company OKRs and KPIs.
Download our 'TRM explained' eBook to discover how you can develop a talent strategy that helps you source, nurture, and interview qualified candidates more effectively.