What is a talent management strategy? What role do TA leaders, recruiters, and HR professionals play in the talent management process? Why is talent management so critical to your company's success?
Our in-depth guide answers these questions — and provides exhaustive advice regarding how you and your talent acquisition team can work with HR specialists at your organization to better attract and retain top talent by making talent management a strategic priority.
5 ways to help develop a strong talent management strategy alongside human resources
As Forrester Principal Analyst Mark Brandau said, "Yesterday's approaches to talent management do not support today's future-of-work strategies." Companies must adapt to the new business landscape. And that means modernizing their talent management strategies.
Here's how you and your HR team can use human capital data (i.e., workforce analytics) and recruitment insights to enhance your talent strategy and better contribute to growth.
1) Exchange data with your HR department.
Ask any business leader today, and they'll say data is the lifeblood of their organization.
While marketing, customer service, and sales have historically relied on prospect and customer data to enhance their day-to-day efforts and achieve long-term objectives, it's now also essential for talent acquisition to tap into its wealth of recruiting-performance and candidate data to evolve its TA strategy and realize its growth targets.
A common issue with data utilization for talent teams today, however, is failing to factor in HR insights with recruiting analytics. That is, TA and HR must share data to thrive wit their respective work — and build and sustain a strong talent management strategy together.
As Gartner stated, by unifying the distinct data sets owned by your team and human resources and optimizing your ideal candidate personas (i.e., must-have skill sets they need in employees), your can collectively boost your company's quality of hire.
2) Leverage candidate experience insights.
Regardless of whether or not they're actually hired, candidates will review, comment on, and relay their experiences to other potential talent via word of mouth and online career communities like Glassdoor.
The risk of one bad candidate experience (CX) can taint your employer brand pretty quickly.
When it comes to candidate interactions, a core talent management goal should be to come off as personable and affable. The difference between a recommendation, even if the candidate doesn't get the job, could come down to the positive impression you leave with them.
Some ways to make the most of CX insights to provide more positive experiences include:
Communicating early and often with your candidates: Send reminders, congratulations, and genial goodbyes when appropriate. (And follow up with prospects as needed.)
Encouraging candidates when they're not hired: Comforting your candidates when they aren't extended an offer (and even offering insights into how they can better interview for positions at other companies) can show them you care about their well-being.
Making it easy for candidates to apply to your jobs: This means writing a clear impact job description, explicitly stating job requirements, and making management responsibilities known.
If you have the right recruitment tech, you can compile (and leverage) candidate experience insights to ensure each prospect thinks fondly of your employer brand, whether they're extended an offer or not.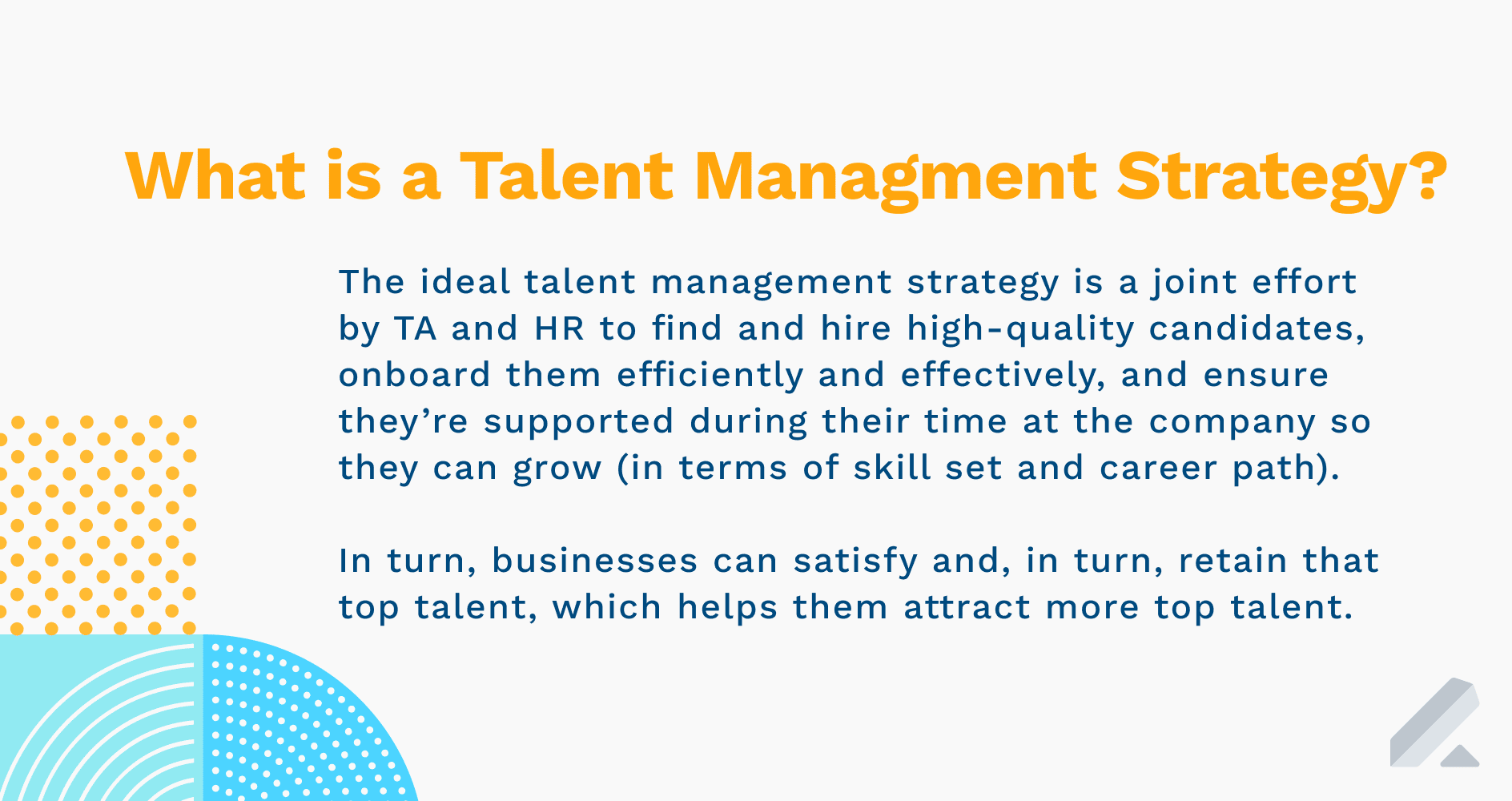 3) Craft a coordinated onboarding approach.
Onboarding is an essential talent management practice for both HR and TA, as it helps ensure new hires are given the tools, resources, and advice needed to hit the ground running.
A shaky onboarding experience can cause new hires to lose confidence and leave them open to quitting in the first six months, the most common time to quit. Effective onboarding, on the other hand, contributes to a highly effective talent management approach.
Nailing your onboarding process means you're far more likely to boost employee performance for new hires and continually enhance their level of job satisfaction as times goes on.
Since onboarding is the leading driver for revenue (followed by solid recruiting practices), per a recent Boston Consulting Group report, it's vital to abide by onboarding best practices, like:
Giving enough time for all your new employees to acclimate to their new position
Socializing your new hires to keeps them informed of the company culture/events
Keeping the onboarding timeline tight and your engagement with the worker active
Sharing that your door is always open to answer questions and address concerns
With a well-coordinated onboarding program, you can ensure your 'handoff' of hired candidates to HR is seamless. Moreover, this smooth transition of duties can empower your HR colleagues can focus on performance management for said new hires instead of fixing issues with their processes around getting them situated.
4) Put a focus on employees' experience.
Building your company from the inside (see: internal mobility) should be one of the top objectives of your talent management strategy. To manage your company's talent effectively and enable them to move laterally or up role-wise, you need to provide opportunities for development and create a culture that emphasizes continuous learning.
To pave the way for career mobility — and, in turn, an enjoyable employee experience during their tenure at your organization — you and your HR team can do things such as:
Provide info on relevant conferences and course that can provide workers with new skills
Develop mentor programs at your company to bolster rapport and entice internal mobility
Set up recurring coffee chats (e.g., weekly, biweekly) to discuss employees' career ambitions
There's also the matter of succession planning. If you know certain department leaders plan to exit the company in the near future, it's worth identifying top-performers within your organization to ensure they're considered to move into those roles, provided they're strong fits.
Though this task falls largely on human resources and your C-suite, when it comes to evaluating existing employees, your talent acquisition team can support their efforts by sourcing external candidates who could be ideal fits, should no internal talent indicate a willingness to want to take over for a manager who intends to depart soon.
5) Design new career advancement plans.
Arguably the most important facet of any successful talent management strategy is to retain one's workforce and lower employee attrition. The simple reason? The sizable cost of hiring a new employee compared to keeping workers and incentivizing them to stay (e.g., through promotions, raises, and/or additional perks).
To keep high-quality workers, you need to create a career advancement roadmap for employees on every team that pans out in a realistic time frame for growth at the business.
Fail to do so, and your best and brightest will leave you. The good news? You can prevent employee churn (and lessen the pressure on sourcers to constantly find top talent) by:
Sitting down with top talent to discuss what they want to achieve in the months and years ahead
Setting specific and realistic KPIs for workers to achieve so they can prove their high performance
Regularly touching base with employees to remind them of your talent management approach (i.e., how you're committed as a company to helping them grow as desired)
Working with HR to outline multiple career advancement paths for workers to give them options
By incorporating these techniques into your own talent management strategy, you can help safeguard your company's future by convincing your top employees to stick around. Equally as important, you reduce your TA team's need to allocate considerable time and resources to bolster your talent pool with qualified candidates.
Download our talent relationship management eBook to learn how TA teams use LeverTRM to better engage and manage talent in their database and boost efficiency and productivity.