Nearly all business professionals, including those in talent acquisition, understand the importance of strong body language when in the office (or, in TA specialists' case, when interviewing candidates).
They know to sit upright in meetings. They understand how folded arms can be perceived negatively. They recognize it's polite to maintain eye contact with those with whom they speak.
But many of these same professionals don't realize similar rules apply to their online communication and collaboration at work. That is to say, they don't know much about digital body language.
It's a topic covered in great detail in Erica Dhawan's book, Digital Body Language: How to Build Trust and Connection, No Matter the Distance. It was also the focus of her recent Lever Ascend session, during which she noted how TA teams can transform how they engage with colleagues and candidates for the better.
What is digital body language? And why is it so important to incorporate in our daily work?
"Our world right now is online — video calls versus leading in person," Erica stated during Ascend. "We're having to chase people down for information, and multi-tasking is at an all time high."
In other words? We live in a digital world. So, it only makes sense we adjust our communication styles, approaches, and behaviors accordingly to improve how we interact with others — from co-workers and customers to prospective hires — via emails, text messages, virtual meetings, and video chats.
That's where the concept of digital body language comes into play. The short definition:
It's how we communicate with and are perceived by the world via online means.
On her website, Erica refers to digital body language as the "new signals and cues that have replaced traditional body language across genders, generations, and culture."
And, as Erica noted at Ascend, we've all seemingly run into issues with workplace digital communication.
For example, we've sent and/or received poorly written or ambiguous text messages with teammates (e.g., with unprofessional or weird punctuation) which can lead to confusion, anger, and stalled progress.
The pandemic has forced many businesses and schools to shift to distance learning and remote working. For departments across organizations, including talent acquisition, this means 'face-to-face' Zoom calls, ceaseless Slack messages, and lengthy email chains have mostly replaced in-person meetings.
According to Erica, this has led to "video chats full of 'oops sorry no you go" and 'can you hear me?!'" In turn, workers across industries lose their "innate capacity to understand each other."
In a Q&A with the Association for Talent Development, Erica said she wanted to aid executives and managers across industries enhance their teams' online communication for one main reason:
"The more I worked with leaders to forge new, improved connections in their businesses, the more obvious it was that the digital tools that had set us free … also led to widespread miscommunication and conflict. And all of that was lowering employee engagement and creating across-the-board anxiety."
By giving these organizational leaders the tools to improve their employees' digital body language, Erica helps them streamline their virtual work, prevent communications issues, and, ultimately, enable them to be just as productive as if they were all in the same office, working side by side.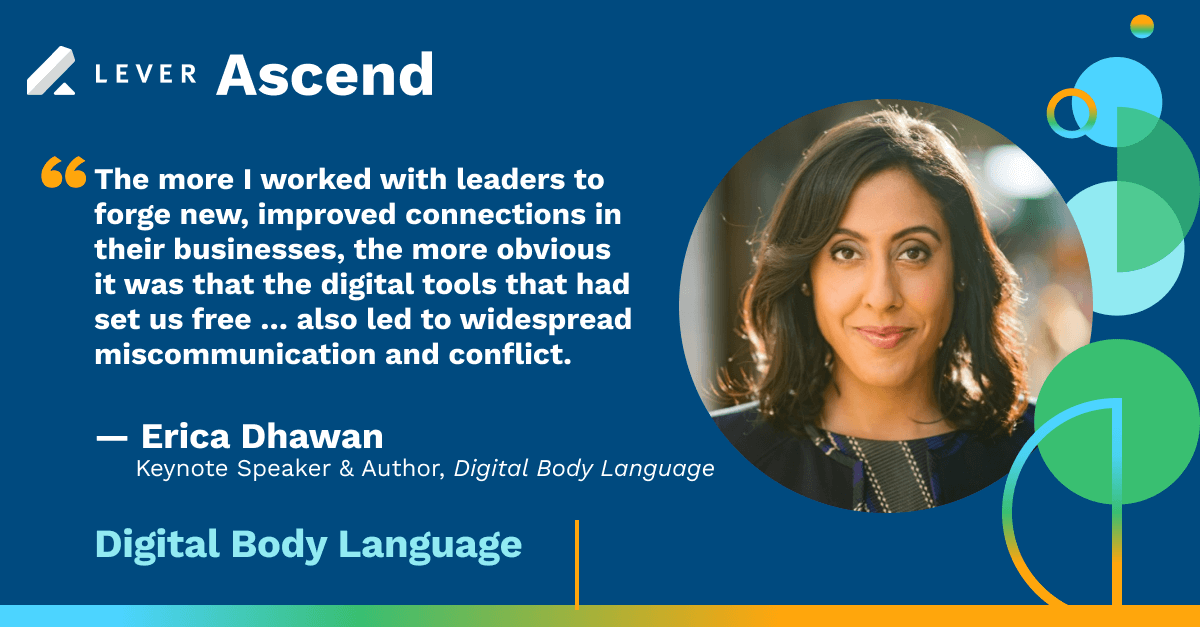 The evolution of digital communication — and its effect on talent acquisition professionals
In addition to Erica's ample expertise as it relates to all-things digital body language, there's also substantial data that denotes just how much poor digital communications affects companies today.
Just look at the results of the joint study Erica conducted with strategy and insights firm Quester:
44% of workers feel "frequent digital anxiety" due to the altered business landscape.
More than 65% of employees cited confusing/vague, unclear, and minimal digital communication with colleagues as their biggest work challenges impacting their individual and team's success.
The average worker loses four hours of work productivity per week due to poor communication.
More than one-third of employees are "dissatisfied with how their managers communicate."
While this data reflects the broader workforce, it certainly applies to talent acquisition orgs.
As Erica pointed out during her Ascend talk, TA leaders can strengthen communication and collaboration among their team members as well as with candidates with whom they engage for roles by practicing better digital body language and abiding online-communication best practices.
Erica shared how, by "reimagining collaboration and inclusion" and "understanding digital communication pain points," TA teams can streamline their collective day-to-day work (e.g., evaluating prospective talent, requesting and reviewing candidate feedback).
Per Erica, this upgraded communications approach can lead to greater efficiency with and output from their recruiting activities. Moreover, it can lead to fewer arguments and less friction.
Some specific tips and tricks regarding digital body language Erica shared in her Ascend presentation that could help your talent acquisition team implement a stronger communications approach include:
Determining the preferred medium and method of communication for each team member: Your TA director might prefer to keep all comms via email, while talent sourcers may favor quick chats in your ATS or candidate relationship management (CRM) solution.
Knowing when — and when not — to loop team members on communications: For instance, Erica stated how not every colleague of yours needs to be CC'd or BCC'd on every email. Understand who the relevant stakeholders are before sending a single email.
Being careful with your word choice: It's vital to use a professional tone and voice in comms with co-workers and candidates. It's equally important, though, to use inclusive language.
Responding promptly manner to all communications: Whether it's a candidate asking for an interview-status update or your VP of recruiting asking for pipeline data, it's best to reply to all comms quickly. Fail to do so, and you can end up with strained relationships with talent and/or colleagues.
Erica offered much more advice in her talk. Ultimately, her main message was clear, though: Clarity, preparedness, and attentiveness matter more than ever with communications in a digital-first-world.
Watch Erica's Lever Ascend session to learn more about digital body language and how refining your communication style with colleagues and candidates can improve your talent-acquisition work.