As each year comes to a close, talent acquisition and recruitment teams worldwide plan their respective strategies for the next 12 months. The top TA teams tackle several critical tasks and address key areas like:
Resolving issues with their hiring processes
Revisiting language in their job descriptions
Reevaluating their talent management
Reconsidering what a 'qualified' candidate looks like
Reassessing where and how they source top talent
Developing a concrete action plan to improve their recruiting processes is certainly the biggest end-of-year priority for talent acquisition teams. But, while devising their TA approaches, it's wise for these orgs to also stay on top of the industry's top trends, particularly ones that will impact their day-to-day work.
With that in mind, here are five talent acquisition trends to know about heading into 2022.
1) The (continual) rise of data-driven recruiting
Consistent, data-driven talent acquisition and recruiting strategies will become table stakes.
Today's talent acquisition leaders are the ones who ensure their teams have both data-driven mindsets as well as the requisite technology that enables their orgs to execute data-driven recruiting and TA strategies.
That is, they use real-time analytics and insights — from pipeline growth metrics and offer acceptance rates (by team, department, and location) to the quality and cost of new hires and candidate feedback scores — to help them in the short term (craft automated processes to reduce/eliminate manual work and improve in critical areas) and long term (routinely attract, engage and hire the best talent).
Everyone from sourcers and TA specialists to hiring managers and executives has access to and works from the same set of candidate and new-hire data in a single source of truth (e.g., a complete talent acquisition suite).
Conversely, the talent orgs that don't embrace data in 2022 (and moving forward) will continue to have difficulty in sourcing talent, nurturing job seekers, and hiring the top candidates in an efficient, predictable manner.
"Data is the key to enabling talent teams to be more strategic," Renewal by Andersen Director of Talent & Culture Christina Schmit noted at Ascend. Without data guiding your team's efforts, they will only find it more difficult to keep up with data-driven TA orgs who can better collaborate and bolster key recruiting and hiring metrics.
2) The increasing importance of automated nurturing
Personalized, intelligent nurturing will be the biggest key to providing a premier candidate experience.
One key facet of data-driven recruiting and TA (as well as the talent relationship lifecycle) is candidate nurturing.
Manually emailing prospects is time- and labor-intensive. It's also a dated, ineffectual, and unsustainable approach to building relationships with prospective hires and moving them through the recruitment funnel.
In 2022 and beyond, automated nurturing is what will both eliminate the needless complexity and inefficiency of manual communications and ensure you provide a personalized touch with your team's candidate outreach.
The best nurture programs balance creativity with persistence. They are also tested and optimized regularly (monthly or quarterly) to ensure each successive nurture campaign improves on the previous one.
For instance, our research found Lever customers reduced time to hire by an average of 19% (from 49 days to 40 days) and increased the average number of sourced hires by 40% after employing their nurture strategies.
What's more, 71% of brands said it's now more important than ever for their ATS to have candidate relationship management capabilities — including nurturing functionality — built in to build better relationships with engaged and archived talent, according to our 2020 State of Recruiting Report.
"[C]ustomer relationship management systems have facilitated long nurturing cycles for sales for many years," Lever Founder and CEO Nate Smith said on the 3Sixty Insights podcast. "Talent acquisition is catching up."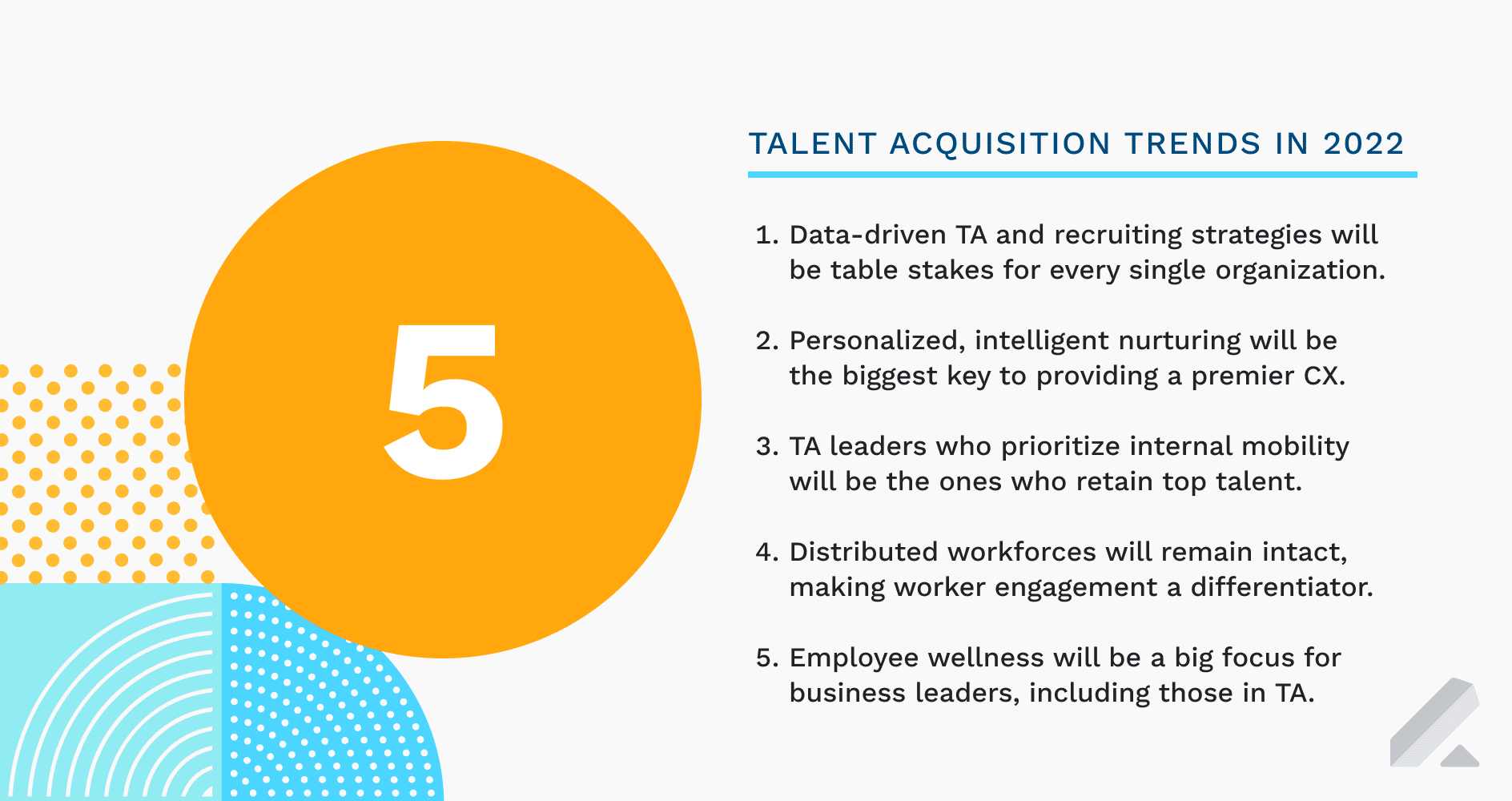 3) The (growing) need to prioritize internal mobility
Talent acquisition leaders who prioritize internal mobility will be the ones who retain top talent.
Nearly nine in 10 human resources leaders said 10% of their businesses' open roles can be filled internally in 2021-22, per Randstad RiseSmart's 2021 Career Mobility Outlook survey. What's more, 88% of these HR professionals said their organizations encourage their workers to apply for openings within their companies.
These findings support the notion C-suites are finally understanding that, in a highly competitive job market that makes it harder to hire well-qualified candidates, they must focus on retaining their existing employees.
That means they need to create clear career paths for their workforce to entice them to stay.
It also means they must offer re- and up-skilling for employees to avoid attrition and alleviate the pressure worker 'churn' would put on their talent acquisition teams (i.e., their sourcing goals would skyrocket).
Whether it's offering stipends for certifications (e.g., analytics/data literacy, graphic design, management) or conducting in-house trainings (i.e., mentorship programs), business leaders must offer plentiful opportunities for employees to grow their skill sets so they enhance their ability to move up within the organization.
Sourcing new talent via job boards, social media, and other channels and hiring top-tier candidates discovered via those avenues is obviously central to any modern and successful talent acquisition strategy.
But the (many) pros of prioritizing internal mobility can't be ignored by executives any longer.
4) A renewed focus on employee engagement
Distributed workforces will remain commonplace, making employee engagement a differentiator.
As of late 2021, The Great Resignation continues full steam ahead. Meanwhile, The Great Return (to the office, that is) has stalled. News of the latter has led to the collective realization among business leaders across the globe that distributed workforces will remain commonplace in 2022 (and, really, the foreseeable future).
That makes it vital for orgs with in-office and at-home workers to modify their employee engagement efforts.
Consider Lever. Like so many other companies, we shifted to a hybrid workforce model due to the pandemic. Amid this transition, we also evaluated our employee engagement approach at the time and adjusted it accordingly to ensure each Leveroo — those working in an office and remotely — were set up for success.
In 2022, a strong company culture will be less about making the office a fun environment and more about ensuring employees, regardless of location, feel seen and heard by colleagues and managers, understand the value of their work to their team and business, and are set up to succeed in their respective roles.
In short, the orgs with strong values and a concerted plan to keep employees engaged are the ones who will 'win' in a competitive market — one in which it's no longer easy to hire top talent for many roles and teams.
As noted in our recent webinar, employee engagement starts with the interview and rolls into onboarding.
By rethinking how you engage your staff, you can boost retention and prove to external candidates your company has capably adapted to accommodate a distributed workforce — a potential competitive differentiator.
5) An effort to improve workers' well-being
Mental health and employee wellness will be a big focus for business leaders, including those in talent acquisition.
Burnout is real. To make matters worse, employee well-being was the area CEOs said their brands struggled with most amid the pandemic. In 2022, leaders must address it head on (if they haven't already).
This burnout has hit recruiters, talent acquisition specialists, and human resources pros especially hard over the last couple years. On top of trying to achieve lofty hiring objectives, those working in TA and HR have had to adjust to big changes like fully remote interviewing cycles and staying in sync with fellow team members.
Thus, it's no surprise a focus on mental health and wellness — and being flexible to employees' needs as it pertains to workers' personal well-being — is now essential for all companies to thrive today.
The question is: With the world inching back to normalcy, how can your business make sure all employees — including those in TA and HR — are keeping up with personal development and mental health?
Lever Ascend keynote speakers Alison Hadden and Neil Pasricha relayed the importance of becoming a 'better you' and how self-improvement and -care can lead to professional growth and greater happiness on the job.
Business leaders, including those running TA and HR, would be wise to heed their words of wisdom in the new year to help guide their staff through what is — and could remain — a disruptive and uncertain climate in 2022.
Diversity, equity, and inclusion will also be a focal point in 2022 and beyond. Download our DEI report to see what measures companies are taking to improve their DEI initiatives.