A lot has happened over the course of the past two years.
We've experienced a global pandemic, witnessed significant movements toward equality and racial justice, and have seen more organizations commit to strengthening their stances on diversity, equity, and inclusion (DEI). 
From an organizational perspective, much of the focus has been on the growing representation of women in leadership. Between driving crucial DEI initiatives to pioneering work in various fields of innovation, today's generation of women leaders is proving there's nothing stopping women from rising to new heights in business — even amidst a pandemic.  
However, as with all things DEI-related, there are still strides to be made. 
In business, for example, research from Pew reveals 53% of Americans believe men will continue to hold top executive positions in the future, while 22% believe women are better off not having children if they hope to establish themselves in senior roles(!).
Other studies show further disparaging gaps between men and women in leadership:
As IBM found in their study conducted around women in leadership, there are a few key reasons disparities like those above occur:
There's a desire for change, but companies move too slowly

— while there's intent to elevate women into leadership roles, not enough progress has been made in the efforts to do so. 

Times have changed, but strategies haven't

— approaches to addressing specific challenges with DEI are too broad and don't consider underlying mindsets, biases, and alternate paths to success. 

While organizations focus on incremental change, leaders must focus on breakthroughs

— this includes viewing gender parity as an asset to both company cultures and business outcomes. 
Now, despite all of this, change is being made for women in leadership. Especially in today's political and socio-economic climates, organizations that prioritize DEI and work towards elevating minority groups will win both from a business perspective and in the fierce competition for diverse talent. 
But how do women in leadership today feel about these changes? We asked women in senior leadership for their take on how women in leadership roles will help change the landscape of work in 2022 (and beyond). Let's see what they have to say!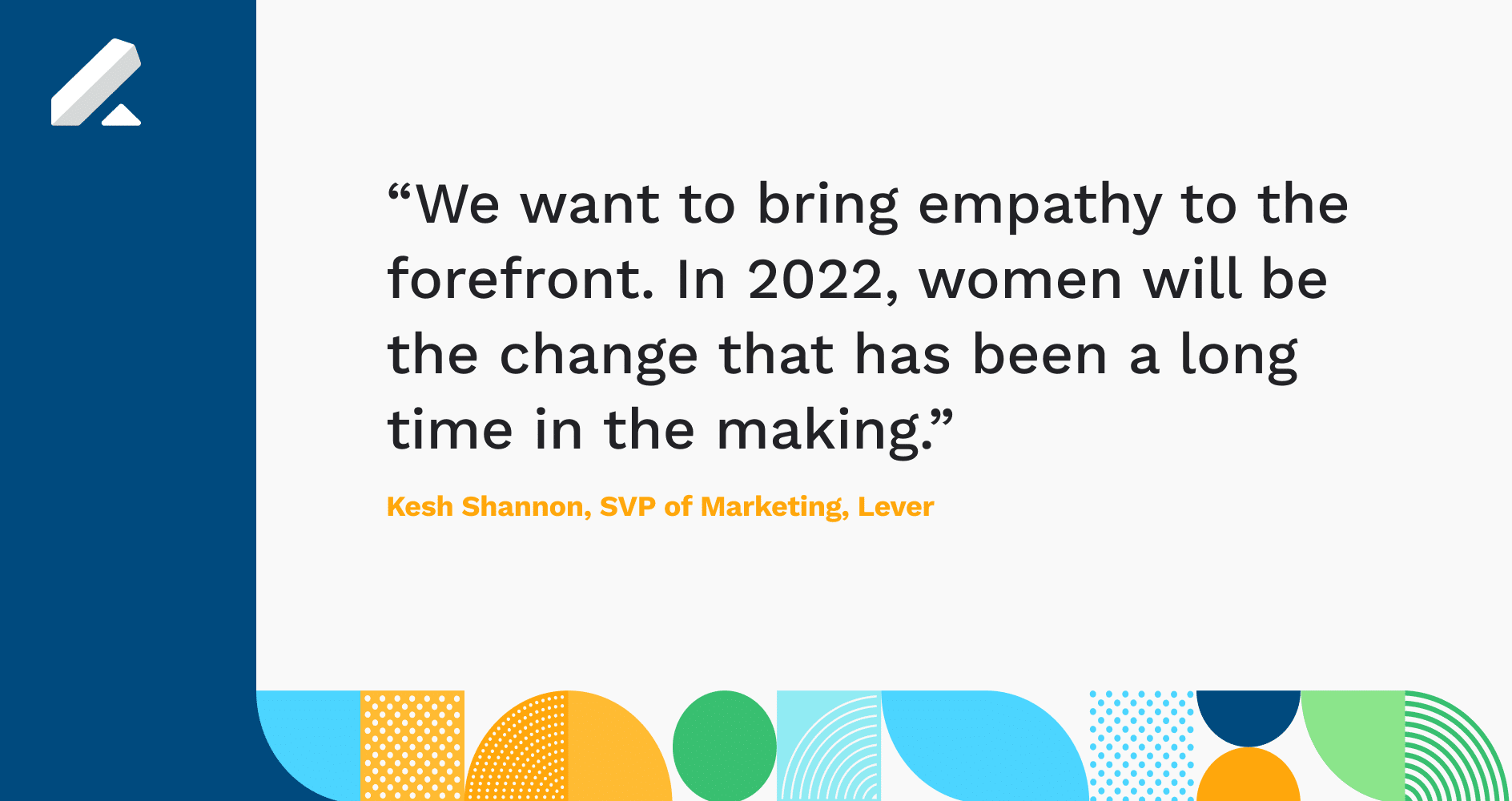 The way we train future leaders will change
"Currently, women are trained to reach leadership positions the way men reach leadership positions—through competition for power. However, as more employees and organizations are shifting toward more purpose-driven, people-centered business models (thanks to COVID), I believe the construct of leadership will change. Instead of fighting for power, leaders will advocate for purpose – which is where women excel. Instead of the future leaders being trained to emulate men, they will be trained to emulate women."
— Ashley Levesque, VP of Marketing, Banzai  
Women will create the type of companies they want to work for
"The shared experience we have all lived through over the last couple of years has encouraged us all to think about what we really want in our lives and in our careers. Women especially are emboldened more now than ever to be the change they wish to see in their own lives and for the world we live in. I believe in the year ahead, we will see more women make the moves from their current roles and careers they've built to take on entrepreneurship and build the companies, products, cultures, teams, and workplaces they want to see in the world and be a part of. It's what I did before the pandemic and I am so glad I did. Frankly, I can't wait to see more women make this jump."
— Lindsay Tjepkema, CEO and Co-Founder, Casted
Personal brands will inspire women to reach their full potential
"More women in leadership will have visible personal brands. In previous years, the percentage of well-known "influencers" in many industries seemed to have fewer women. That has changed over the past year and will continue to increase throughout 2022. Building in public or telling your story is a great way for women to lead by humanizing the journey they took in their careers. This allows people on their team or aspiring leaders to see how to grow, learn, and help others. My prediction is that more communities will also spring from this movement so like-minded people can help each other as guides in their careers and lives."
— Alessandra Colaci, VP of Marketing, Mailshake 
We'll see more leaders work to normalize empathy, resiliency, and representation in the workplace
"Over the last two years, COVID ushered in a new wave of thought and leadership. Living through a pandemic has created so many unknowns but has forced us to be more empathetic and adapt how we work and lead every day for better. We're seeing success in a distributed workforce model gaining access to a global talent pool, creation of more flexible benefits to support individual needs, adoption of family-friendly policies and different working styles, greater investment in connectedness among teams, and doubling down on DEI strategies. Through these transformations, we will not only see more women and minorities in leadership in 2022 but continue to see their influence in normalizing empathy, resiliency, and representation in the workplace as well as greater investment in people, programs, and behaviors."
— Sarah Britton, Senior Manager, Employee Operations, Lever
Women leaders will continue to invest in one another's success
"While we certainly have a long way to go, I'm excited by the increasing number of women CEOs leading IPOs and large funding rounds. As this moves from an anomaly to an expectation, we will see more investor support for women leaders at all levels in 2022—giving a chance for more voices and styles to build the next generation of companies."

— Amanda Richardson, CEO, Coderpad
Mentorship will play a larger role in career development for women
"There is abundant evidence that women want formal mentorship, are willing to mentor other women, and benefit greatly from having a mentor at work. In addition, we know over the past year, companies are increasingly struggling to retain talent and prevent burnout – this problem is even more pronounced with women in the workforce who have disproportionately had to shoulder the burden of the pandemic. In 2022, I believe mentorship for women will (and should) be a big focus for organizations. Companies see that their women employees need mentorship, and starting a formal program will lead to more engaged and productive employees. As a leader at Together mentorship software, I've seen first-hand the benefits mentorship can have within dozens of leading organizations."

— Brittany Hendriks, Head of Marketing, Together Platform
The wage gap will be more transparent (and so will compensation)
"While I don't think the wage gap will completely close, a big change I've seen in the past year has been access to information around compensation. With incredible resources from women-led companies like Elpha, more women can better understand our worth and how to get equally compensated for it. Having access to information around how others are being compensated at the level of gender and race and being able to see things line-by-line has been incredibly eye-opening for me and a lot of women in the workplace. I've always been incredibly transparent about my compensation, and I'm glad that talking about money is becoming less "taboo" or "secretive" because it's that knowledge that's going to help us close the wage gap and give women all the power they need to get fairly and competitively compensated at work."

— Hiba Amin, Senior Marketing Manager, Testbox
Remote work will open new doors for women returning to work
"2022 is going to allow more women to enter (and re-enter) the workforce, thanks to the embracing of remote work across industries. Remote work allows women who are caretakers, coming back from pregnancy or illness, or entering a new field, to thrive in business no matter where they're located. With more women ready to participate in leadership roles, companies will benefit from diverse viewpoints and experiences that will help move their businesses forward. It's critical for every company to have diverse leadership—representation at the top helps fuel diversity and inclusion initiatives and creates an encouraging and safe space to work."

— Margot Mazur, Head of Business Development and Partnerships, Crosschq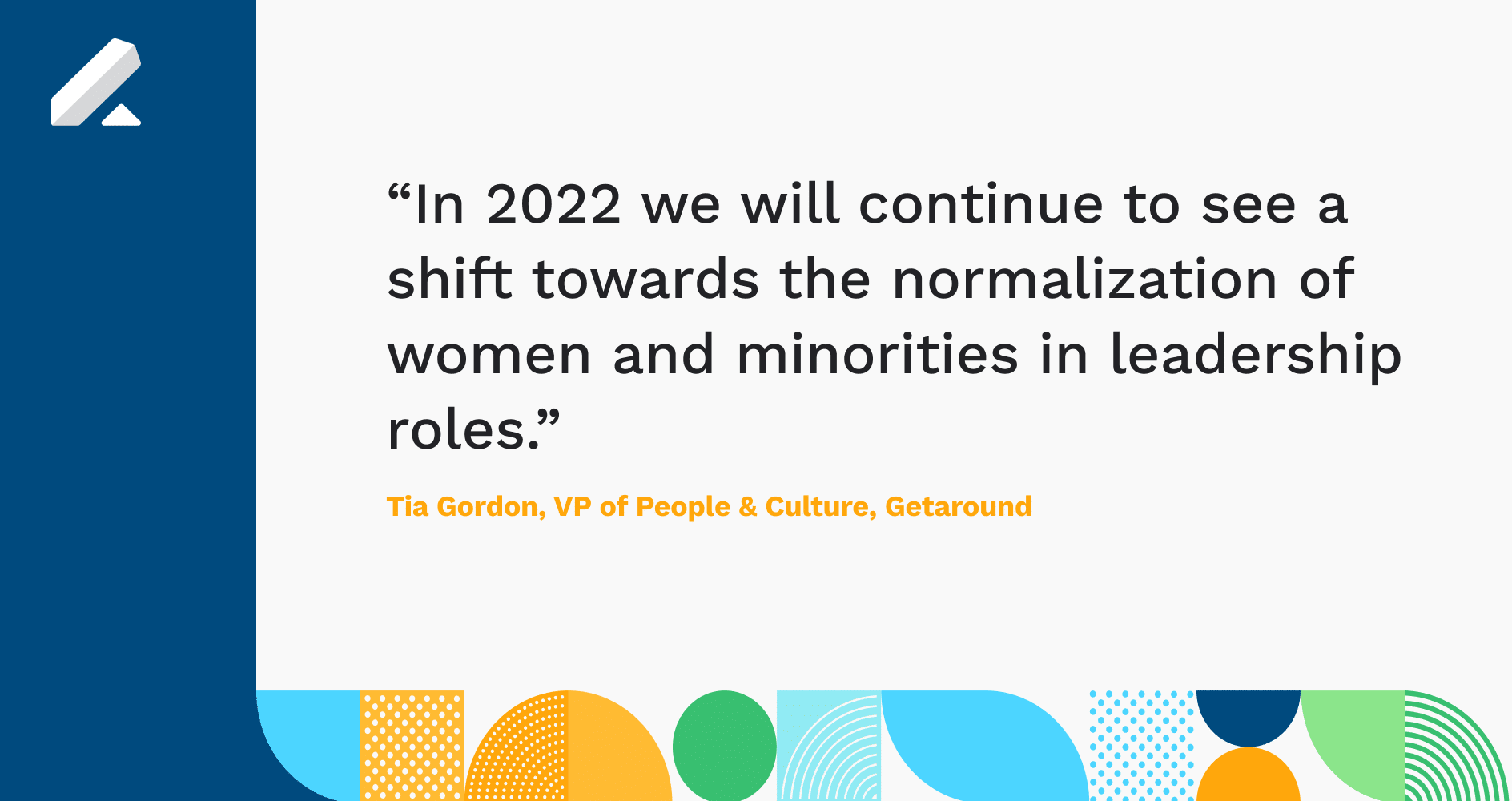 Returnship will apply to working mothers, too 
"For working mothers, there are so many burdens that we have yet to unpack, discuss, and solve. To achieve leadership roles for women, especially working mothers, there are many obstacles, sacrifices, and choices that impact the household and beyond. For 2022, there should be prominence for hiring initiatives on Returnship, especially targeting the return of working mothers, and developing pathways towards leadership for women. Leadership should also be redefined to be inclusive, and to amplify the uniqueness of gender, race, age, and abilities."

— Madeliene Sumera, Partner, Kita Consulting LLC
Inclusive language will become more mainstream in business comms
"Female leaders will spearhead changes in the way we talk about work in formal business communications. We will develop intentionally inclusive language (gender-inclusive and culturally competent terms) in formal documents like proposals and sales collateral."

— Kathryn Bennett, Director of RFP Excellence, Loopio (check out their insights on inclusive language in proposals from Rachel Bracken!)
The narrative around compensation and benefits will change 
"I think women in leadership are completely changing the narrative around how we think about compensation and benefits. Historically, particularly in tech, these decisions were made to benefit young men, and instead of having a stipend to support child care you had a stipend for a gym membership or ping-pong tables and snacks at the office. There will continue to be a shift and I think we'll see perks go away and instead the money will be put towards cash compensation, good health care, and support for families."

— Jocelyn Thompson, Principal & CEO, WorkVision Consulting
Retention of women talent will shift from transactional to relational 
"There will be an increase in women in leadership and an increase in investment in women-owned and run startups because of a trend we're seeing in the overall tech industry—employees are prioritizing relational factors at work over transactional. A lack of relational factors is the top reason people are citing for quitting: they don't feel valued by their organization, they don't feel valued by their managers, or they don't feel a sense of belonging at work. We're finding that the transactional approaches to retention aren't working because great talent can go anywhere for a higher paycheck. Women founders and other founders that are underrepresented in tech have a lived experience to thrive at intentionally building these relational factors into their company culture. And companies that do this will be able to both retain and grow thriving teams."

— Mary Jantsch, Head of Talent & Partner Success, Elpha
We'll see a normalization around having women and minorities in leadership roles
"Increased women in leadership will change the ways in which we do business. In 2022 we will continue to see a shift towards the normalization of women and minorities in leadership roles and, with this shift, we will also begin to see higher collaboration across industry lines."

— Tia Gordon, VP of People & Culture, Getaround
Greater investment in DEI will lead to increased representation of women in leadership
"The studies show that the number of women in leadership roles is increasing. For example, McKinsey and Lean In's "Women in the Workplace" report, stated women in the C-suite grew from 17% to 21% between January 2015 and January 2020. However, there's still significant work to achieve authentic representation. Therefore, the more compelling question is, "What can be done to accelerate representation?". It starts with tracking high-quality data as this will lead to meaningful action and outcomes.
I believe we'll see significant investment in 2022—from organizations tracking their DEIB (Diversity, Equity, Inclusion, and Belonging) efforts, training and measuring inclusive behaviors, and equitable redesigns of people systems and processes. I strongly feel that only by addressing equity and inclusion head-on, can we accelerate growth and create lasting cultural change for all women in leadership."

— Marlina Kinnersley, CEO, Fortay
Women leaders will carve paths for themselves that are defined by more than just their careers
"Throughout this pandemic, our roles and responsibilities have shifted quite a bit; many women put a pause on their professional careers to focus on family and health. Regardless of your path, I believe that we, as leaders, finally discovered a way to separate our self-worth from our career and take back our identity. During challenging times, it teaches you to count your blessings, breathe and meditate, journal and be grateful for all you are and have. We recognize at the core how we want to be seen and participate in seeing others. We want to bring empathy to the forefront. In 2022, women will be the change that has been a long time in the making. Leaders who genuinely make a difference knowing that life does not equal work and that empathy is the language of recognition, appreciation, and respect."

— Kesh Shannon, SVP of Marketing, Lever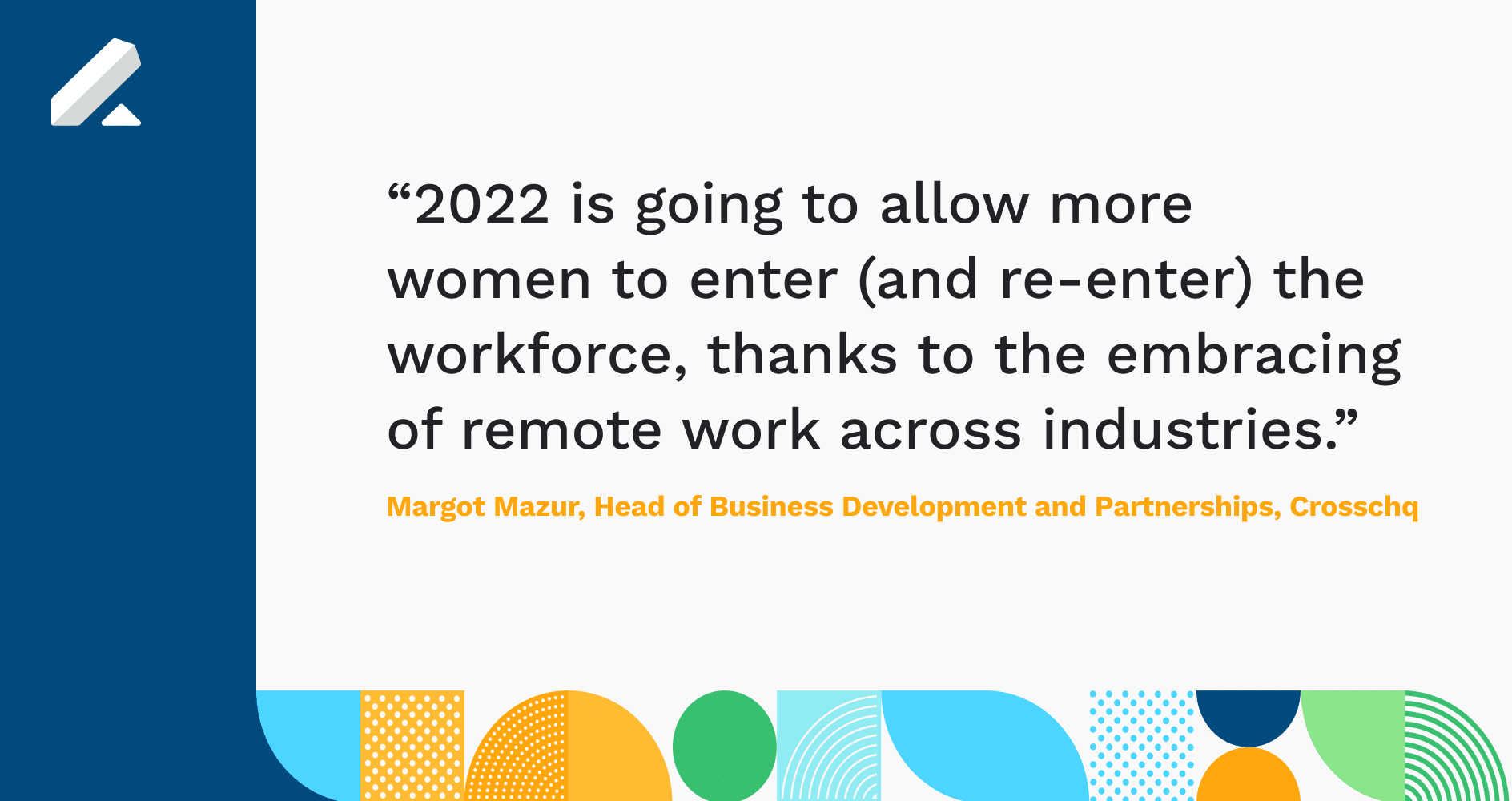 We'll see more women leaders setting boundaries (for themselves and their teams) 
"When it comes to leadership effectiveness during the pandemic, studies have found that women performed better in a crisis. Across the board, women in leadership are reimagining what it takes to be happy at work, and they're paying specific attention to how they can support employees in ways that center DEI best practices. As companies adapt to the realities of hybrid-remote work, I predict women will continue to play a pivotal role in modeling the leadership that our teams value and need. This includes setting clear boundaries, saying "no" to performing extra 'invisible' work, and normalizing public celebration of DEI efforts – in addition to making these competencies part of the professional development of our direct reports and colleagues in 1:1 check-ins, team meetings, and reviews."

— Krupa Shah, Head of Growth Marketing, Rewatch
Companies will adopt more flexible policies that support women in and outside of work
"Women in the workforce are at a crossroads. Millions of women are exiting the workforce amid the pandemic—just as a global reckoning is forcing companies worldwide to prioritize diversity and representation across roles, particularly at senior levels. Companies have a real opportunity to show up for their employees and meet them where they are. In 2022 and beyond, our hope is that more companies will adopt similar strategies and policies focused on flexibility so that women can continue to feel empowered and supported in the workplace. Adopting permanent family-friendly policies, flexible scheduling, or supporting different work styles like hybrid or remote will open the doors to extraordinary talent by meeting employees where they are, both in life and location."

— Danielle Brown, Chief People Officer, Gusto (check out Gusto's Great Resignation report for further insights)
Building a diverse workforce that supports women and minorities starts with your recruiting
Companies hoping to win top talent and retain their workforce can no longer afford to ignore diversity recruiting. With our DEI tech stack guide, you'll learn everything you need to know about creating a tech stack that enables successful diversity recruiting. From sourcing diverse talent to leveraging equitable hiring practices, our guide will help your hiring team win at recruiting and crush your diversity, equity, and inclusion goals. Read the free, ungated guide below!