While executive leaders focus on long-term workforce planning to help their business grow as desired, human resources and recruiting leaders must address headcount and talent planning.
In short, today's top talent strategies are the ones that fill critical roles across the organization with high-potential prospects and ensure top-performing employees are retained as well.
They're also ones that require a closely coordinated effort from both HR and recruiters to:
Address workers' skills gaps by offering professional development
Enhance their employer brand through equitable and inclusive hiring
Ensure high-performing workers are 'heard' and recognized accordingly
Prioritize hands-on employee engagement and talent management
If you need advice and insights to help you improve in these areas to achieve your headcount and talent planning KPIs in 2022 (and the years ahead), you've come to the right place.
Lever Director of Recruiting Caitlyn Metteer joined CloserIQ VP Operations & Strategy Jason Lalk in a recent webinar to discuss how they augment their hiring processes and retain top talent.
Adjusting headcount and talent planning to account for external forces and remote work a must
The COVID-19 pandemic. Ongoing supply-chain issues. General volatility in the modern business climate. There are myriad external factors that have impacted HR and recruiters' joint efforts to both hire high-quality candidates and bolster their retention strategies.
Because of these factors, the tables have turned, so to speak, within much of the job market.
"It became a very different recruiting landscape [in the last couple of years]," per Jason. "We went from a candidate-driven market to a company-driven market overnight. Now, we have demand that is probably 3-5x what we had going into the pandemic."
Due to high competition for a sparse selection of quality candidates, Jason said it's vital for HR and recruiting to work to retain top performers and, in turn, prevent employee attrition.
One way many HR and recruiting orgs are doing this today, according to Jason, is focusing on better meeting prospects' needs and preferences regarding salary and where they want to work.
"Figuring out what those remote [work] options look like [at your business] is going to be really important, because the appetite is still there [among candidates] and it's going to be there for a while," Jason stated. He added prospects he speaks with increasingly request to 'work anywhere,' noting "it's just a reality we're going to have to accept."
Caitlyn relayed these prospect preferences must not only be addressed on a case-by-case basis with candidates, but — in addition to factoring in external factors like COVID — also accounted for in your company's end-of-year headcount and talent planning for the next year.
"One of the challenges we've seen is this sort of chicken-egg situation where you're working on your annual plans, and so teams might not feel confident in their total ask for headcount until those plans are finalized," Caitlyn explained during the webinar.
In 2021, Caitlyn detailed how the Lever recruiting team had a 'quick-start' plan in place for Q1 2022 well before 2021 ended (around Q3 '21). As she noted, this plan "allows our team to start on roles that we know we're going to need, so that we can at least get working on that plan now so we have the most important building blocks in place."
Caitlyn said this quick-start plan enables the Lever talent team to "get a head-start [on filling roles] without forcing things to be completely locked in" to a set-in-stone hiring strategy.
As for the 'WFH' component, Caitlyn said Lever listens to candidates to know what each wants from their prospective work experience and accommodate new hires as best we can.
"We've decided to go with a really flexible return-to-work plan, even when we do have offices that reopen," said Caitlyn. "We're really hearing from candidates they want that flexibility.
"Some people are really invested in and excited about eventually going back to an office. Some people we speak with are like, 'I'm never set stepping foot in an office again.' So being able to appeal to all of those folks I think is is really helpful."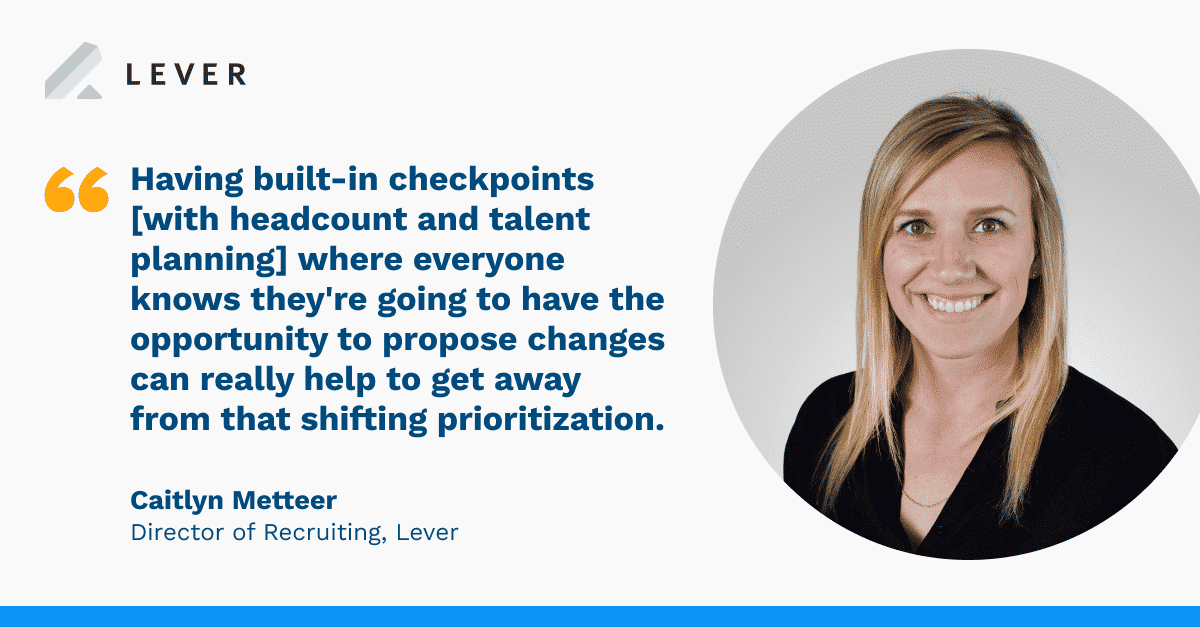 Flexibility and agility essential to best execute (and gradually enhance) your talent planning
By not having a rigid headcount and talent planning approach, Caitlyn said it becomes easier for CHROs and their counterparts in talent acquisition/recruiting to adapt as needed.
"We have an agreed-upon cadence with which we look at the [headcount] plan," Caitlyn revealed. "Things change, and you have to have a level of flexibility" with your hiring processes.
That said, if things change daily or weekly, "it's really hard to actually execute." That's where built-in 'checkpoints' over the course of the calendar/fiscal year can help, Caitlyn said.
These checkpoints allow the C-suite, hiring managers, and/or other key stakeholders involved with hiring to propose changes to the hiring roadmap and help them "get away from [constantly] shifting prioritization, which … can make you really spin your wheels."
Jason and his colleagues at CloserIQ now have a similar approach to ensure their headcount and talent planning efforts changed as business conditions, and/or objectives changed.
Specifically, Jason said the company shifted to 'milestone-driven' planning. "You have to figure what that goal is [with headcount planning], then reverse-engineer off that," Jason declared.
"If you're hiring for sales, you need to think about the different revenue benchmarks that you're planning to hit and build a team accordingly," said Jason. "But it's not just, 'I need this many reps to hit this much in sales.' It's, 'I need my reps to be fully ramped by this time, and this is my expected revenue that I'll get from that number of reps."
This kind of careful thinking and execution regarding their hiring efforts — and accounting for specific milestones at each stage of the recruiting funnel — leads to smarter hiring, per Jason.
As far as communication around headcount and talent planning changes, both Caitlyn and Jason agree that conducting weekly check-ins with relevant stakeholders make a ton of sense.
The key to keeping everyone involved in planning on the same page, according to Jason?
A single source of truth, like a candidate relationship management system, that HR, recruiters, and other stakeholders can use to see up-to-the-minute updates regarding both open and closed requisitions and postings as well as the latest statuses regarding candidates who are currently being interviewed or have been extended offers.
"We started [this tracking] in a spreadsheet and then started to evolve that as things go on," Jason noted. "But that central source of truth, like a CRM [solution], is incredibly important."
Watch our entire webinar with Caitlyn and Jason to learn how to execute a talent planning strategy that helps you better scale your hiring and retain employees in 2022 and beyond.