'Ghosting' is on the rise among job seekers today. Smart candidate nurturing is the antidote.
The reasons prospects abandon the recruitment funnel are many, per a 2022 Robert Half poll:
40% wanted more flexibility than employers were willing to provide
35% indicated the company took too long to extend them an offer
33% stated they had a poor interview experience with an employer
29% noted they simply got a better job offer from another business
"To help combat ghosting, employers need to put themselves in candidates' shoes and provide a clear picture of the role and organizational culture, a seamless recruitment process, and regular communication," Robert Half Sr. Executive Director Paul McDonald said.
A strong company culture and streamlined talent acquisition process certainly matter. That said, communication should be a primary focal point for your TA team and business too.
This will only lead your team back to the sourcing well to find more top talent to engage and prevent your recruiting org (and org at large) from achieving its pipeline-growth and hiring goals.
The good news? You can keep candidates engaged and interested — and, in turn, convince them to interview for open positions for which you think they'd be an ideal fit — with a data-driven, personalized, automated nurture approach that utilizes both email and SMS.
How to prevent talent from ghosting you with a well-coordinated candidate nurturing strategy
Here's how you can prevent high-quality candidates from exiting your hiring process with intelligently constructed (and regularly optimized) nurtures sent via both emails and SMS.
Know candidates' communications preferences and adjust your approach accordingly.
The cornerstone of candidate experience is knowing prospects' preferred mediums of communication so recruiters such as yourself know the right 'places' to connect with them.
With that in mind, it's vital to evaluate both your individual and team's recent sourcing and nurturing activities to discern whether your prospects favor email, text messages, or both, when it comes to discussing job opportunities with them.
For instance, if you notice the nurture email click-through rate for most engineering candidates in your pipeline is fairly low, consider shifting to an SMS-centric strategy.
You could set up a multi-text cadence using a candidate-engagement platform like Grayscale that sends messages to these prospects over, say, the course of a week or two and then see if this approach outperforms email.
If your conversion rates (notably, your reply and 'sourced-to-screen' rates) improve, that's a clear signal SMS should play a bigger part in your candidate nurturing program.
Just be sure to update your candidate personas with the findings from this analysis (and, if needed, nurture adjustments) so you can easily identify which segments of passive candidates like which communication method(s) (e.g., by work/role type, experience level).
"Our customers see the most engagement increases when they lean into the platforms their candidates are most open to," Grayscale Cofounder and CEO Ty Abernathy stated. "Curating a system of data-driven communication, usually optimized for SMS, allows our customers to see a 51% reply rate with a six-minute average response time."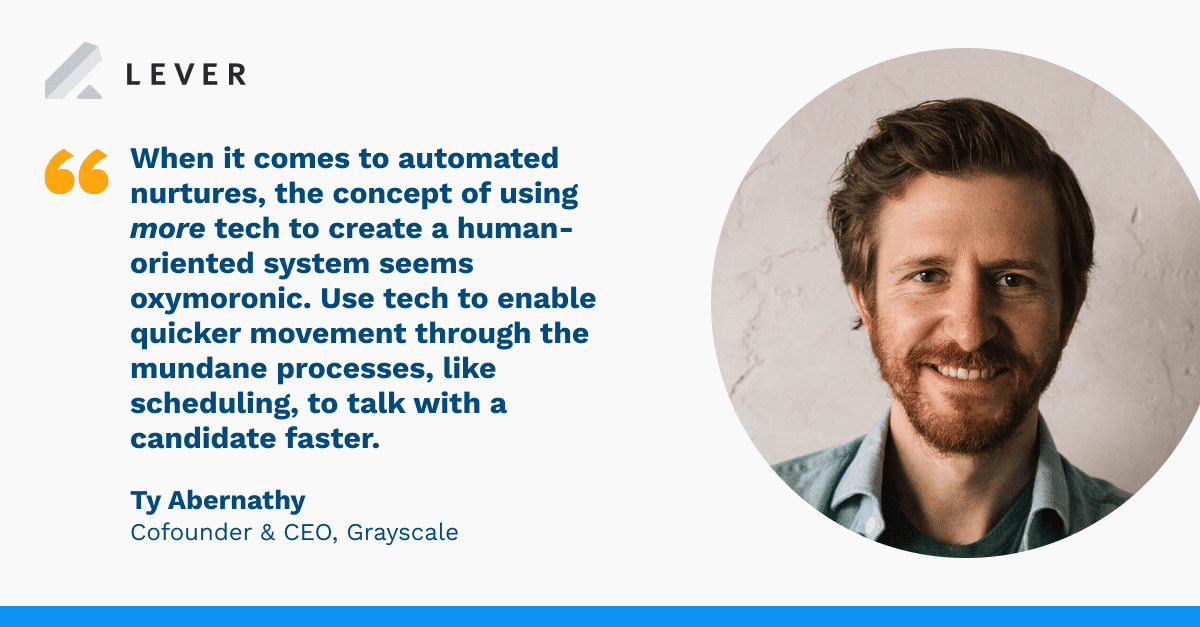 Be clear and concise with your messaging, and set the right expectations with talent.
Two common reasons job applicants and sourced candidates alike ghost companies like yours is they get turned off by unnecessarily lengthy and complex nurture communications and aren't kept up to speed about 'next steps' following each engagement in the nurture cycle.
Let's address the former reason first.
Just as you don't want your job descriptions to turn into novels, you don't want nurture emails or texts to dive into too much needless or redundant detail regarding open roles.
Brevity is the name of the game, when it comes to candidate nurturing.
Passive candidates need a reason to open your email or SMS. That means punchy, to-the-point copy that dives right into why you're contacting them and offering succinct job details and, ideally, a link to learn more about the role at their own leisure is essential to driving them to your careers page or getting them to reach out to you directly.
"Delivering brief, personalized text messages to top prospects can help make a lasting impression for the candidates your team engages and works with," Ty stated.
This practice is as easy as setting up an automated text to communication things like:
"Hi, [name]. We saw you submitted your background check. Thanks! It won't be returned for a few days, but we'll let you know as soon as we get it. In the meantime, let me know if you have any Qs!"
"Hey there, [name]! I'm [your name] from [company name]. I saw you applied for the open [X] role. I'll reach out via email tomorrow with your next steps. Can't wait to chat more about it with you!"
"The more you can engage and communicate with your candidates about what is going on, the easier it is for them to stay involved in the recruiting process," according to Ty.
As for not being kept abreast of what's coming up in the recruitment process, candidates get frustrated when companies fail to stay in touch with them regarding the next stage(s).
They want to know how many interview rounds will take place, if an assessment will need to be taken at some point, and when a final hiring decision is expected to be made.
Neglect to share timely updates like these (and, in general, stay top of mind) with individuals in your pipeline, and those prospects will very likely vacate your recruiting process outright.
Upgrade to an applicant tracking system with better candidate-nurturing capabilities.
Modifying your recruitment marketing efforts (and, really, recruitment strategy at large) through regular analysis and optimization of your candidate-nurturing is great.
However, this work will be fruitless, without the right talent acquisition solution to help you enhance your prospect engagement efforts and leverage nurture campaign data.
Consider LeverTRM users who integrate with Grayscale. These talent teams are able to:
Add premier talent to their database, analyze applicants' resumes quickly and efficiently, and determine which of these passive and active candidates to reach out to regarding open roles
Customize LeverTRM's out-of-the-box nurture templates for specific positions or teams and create individualized drip campaigns in Grayscale that automate individualized SMS messages
Develop a joint nurture approach using LeverTRM and Grayscale (e.g., deliver three-email cadence, then send a text message to unengaged prospects to see if that 'nudges' them to reply)
Analyze unified data related to this coordinated nurture strategy (i.e., sync Grayscale engagement data into LeverTRM to unify those insights with email-nurture data) to which type of message (one or both) resonated with the target talent in question.
Optimize their nurtures, based on this information, and test a new approach to continually improve their candidate engagement metrics and advance more prospects through their funnel
"As we think about ways to both proactively and reactively connect with candidates, we believe in using all the channels in a cohesive and respectful way," per Ty.
One best practice, Ty relayed, is to use SMS to send personalized reminders to prompt immediate action and then use email for more important information.
"When it comes to automated nurtures, the concept of using more tech to create a human-oriented system seems oxymoronic," Ty explained. "Use tech to enable quicker movement through the mundane processes, like scheduling, to talk with a candidate faster."
Download our eBook on candidate nurturing to get expert tips that can help you and your talent team better connect with prospects and move them through your recruitment funnel.