Talent optimization comprises a number of tasks today:
Having candidates take behavioral assessments to see if they're a good fit for open positions
Building high-performing teams to realize better (and constantly improving) business results
Prioritizing employee experience to enhance both staff members' morale and performance
Using people data to measure engagement among employees and assess workplace culture
As many of the guest speakers at Predictive Index OPTIMA 2022 noted, it also requires organizations' leadership teams to develop a coordinated action plan that addresses these areas (among many others) to make sure they get the most out of their employees and ensure they're set up for success in (and satisfied with) their specific roles.
The top talent optimization insights shared by business leaders at Predictive Index OPTIMA 2022
Here are three of the best pieces of advice from human resources leaders, executives, consultants, and other business experts shared during the latest edition of OPTIMA 2022 — insights that can elevate your people strategy and talent management efforts.
Aaron Dignan: Eliminate 'organizational debt' and upgrade your company's 'OS'
Half of employees today are unhappy with their jobs, aren't engaged with their teams at work, and often think about quitting, business consultant Aaron Dignan noted at OPTIMA.
A big reason for these worker (and, in turn, workforce) issues? Organizational debt, per Aaron.
"All the principles and practices and rules and norms and ways of working … we haven't updated or changed in any way" in decades, Aaron stated. This lack of evolution in terms of how businesses operate today has led to a significant amount of organizational debt.
Long or convoluted approval processes, Monday meetings, systems that don't 'talk' with one another, unnecessary roles, compliance mandates: all of these are forms of organizational debt that hinder companies' — and employees' — performance today.
In fact, Aaron said it costs U.S. businesses $3.4 trillion a year (3x that for orgs worldwide).
Whether a business has a 'bureaucratic' or 'chaotic' organizational debt cycle, Aaron indicated it's essential their leadership teams change their 'operating systems' accordingly to get the most out of their workers.
One of the biggest OS changes companies can make, according to Aaron, is to shift toward a "people-positive" approach to work (i.e., trust employees to do the work assigned to them instead of micromanaging) or "complexity-conscious" approach (i.e., install rigid workflows to keep tasks and projects on schedule and within budget).
There is no one right path for every company, per Aaron. But it is vital to pick a lane and stick with it.
"It's not rocket science — it's complexity science," Aaron stated in his talent optimization session. "We're working in the business and on the business all the time" to realize growth.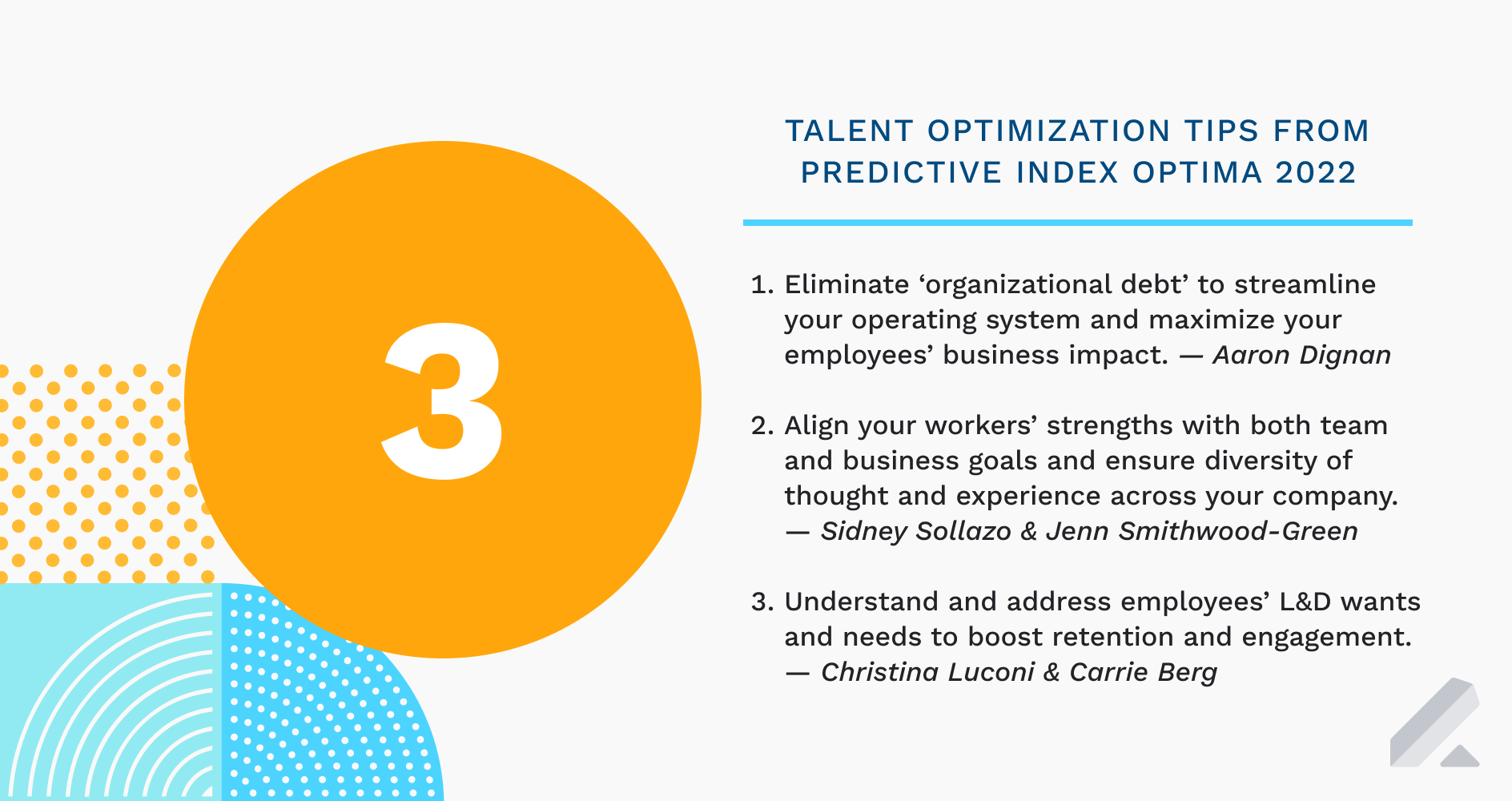 Sidney Sollazo & Jenn Smithwood-Green: Align employees' strengths with brand goals
Aside from tackling organizational debt, finding the right people and ensuring strong employee engagement and recognition was another top talent optimization tip from OPTIMA.
Rockwell Automation Director, Sales Enablement Sidney Sollazo and PTC Principal, Organizational Development​ Jenn Smithwood-Green shared how their billion-dollar businesses built dream teams in an era of high worker turnover and low job satisfaction.
One key area in which Sidney and her leadership team at Rockwell focus on to bring on high-quality employees and keep them at the business for years to come? Diversity, equity, and inclusion.
"When you have a really diverse team … you have so much diversity of experience, so much diversity of thought," which leads not only to greater retention, but also to more innovation across the org, per Sidney.
Jenn, meanwhile, said PTC has turned its attention to company culture to retain top talent. Actions speak louder than words, when it comes to culture-building, she noted:
"The team is where the individual experiences the culture."
By creating "intentional spaces" that are shared realities (i.e., jointly created goals and objectives among business leaders and workers) and understanding the human drive to connect and contribute together, Jenn and the PTC executive team were able to provide the right resources to workers at all levels of the org.
The embrace of emerging AI tech also helped Jenn and Co. better discern work styles across different teams. This led to bespoke guidance and training for employees in various business units tailored to their short-term work and long-term professional development needs.
Ultimately, Sidney and Jenn shared four strategies that helped them build dream teams, ensure accountability throughout their businesses, and keep employees "tethered to purpose":
1) Maintain an open dialogue with the workforce
2) Develop shared business goals and objectives
3) Align team work individual work to ensure clarity
4) Promote learning and idea-sharing among workers
Follow these four business principles, and workers will not only want to stay with their current organization, but also feel a part of the big 'wins' it realizes on its long-term path to growth, according to Sidney and Jenn.
Christina Luconi & Carrie Berg: Put people first to retain top talent, boost performance
Sticking with the culture theme, Rapid7 Chief People Officer Christina Luconi and Teladoc Health VP of Learning and Development Carrie Berg spoke about the need to implement people-first recruiting and business practices during their talent strategy talk at OPTIMA.
Intentionality came up again, this time in the business context of putting core values in place for every employee to follow. Christina stated the ability to think about what's going to help your workers and org grow is critical, especially during down periods like the pandemic.
As Christina said, values "remained at the forefront" of Rapid7's business model during the pandemic.
In that spirit, Christina relayed she worked (and continues to work) hard to build authentic, genuine relationships with her staff members to ensure they feel heard and respected. "Trust matters, and it's hard when you're only transactionally working with colleagues."
"Connected leadership" is one way to develop these relationships, Carrie stated.
Carrie and her C-suite use a mix of emotional intelligence and active listening to ensure every employee is fully engaged in every conversation they have regarding work — whether it's an in-person meeting at the office or one of their (many) daily Zoom calls.
Be invested in product, brand mission, and customers, Carrie stated, and you can help employees understand the 'why' behind business decisions. It also puts workers at ease around long-term planning and their roles with the company in the future.
One of the worst things business leaders can do today, per Christina and Carrie, is to "gather employee feedback and do nothing." For instance, if many employees say they want more learning and development options, take action on that by prioritizing L&D in the months ahead.
Fall short with this people-first approach today, and worker retention and engagement issues are bound to exacerbate, the pair explained in the OPTIMA session.
Watch our webinar with The Predictive Index, BambooHR, Crosschq, Betts Recruiting, and Glassdoor to learn how to rethink your business strategy with talent optimization.