Accumulating diversity data in an ATS (or similar system) only for that data set to sit there unused won't help you move the needle with your diversity, equity, and inclusion (DEI) initiative.
Instead, you need to take action on DEI insights you generate to ensure your org:
Eliminates unconscious biases in its recruiting and hiring efforts
Employs ethnically diverse candidates and members of underrepresented groups
Realizes your executive team's diversity and inclusivity objectives
If you lack solutions and processes that can help you make the most of your DEI data to boost your business performance and bottom line, it's time to upgrade your TA tech stack.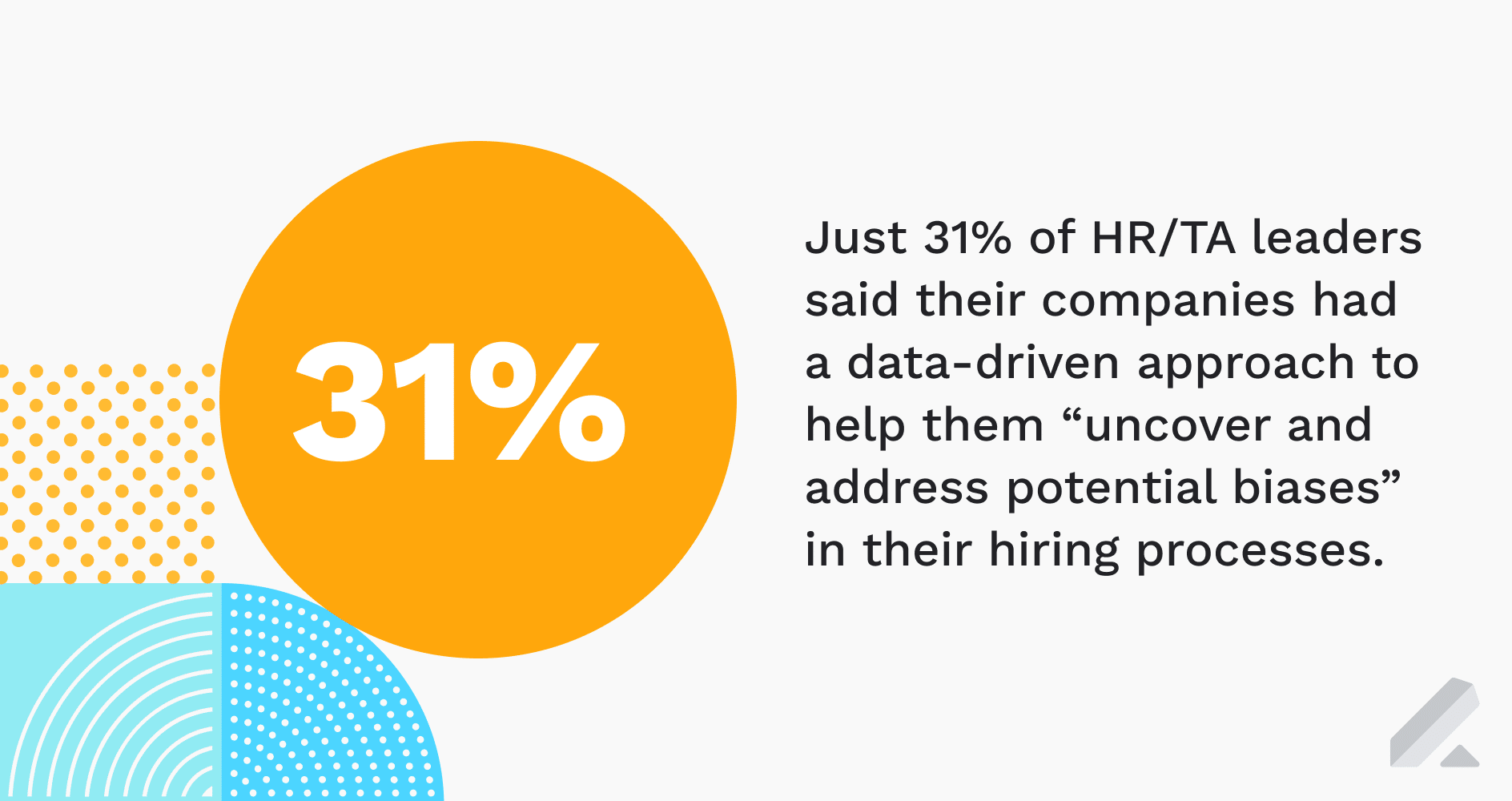 Collecting diversity data for candidates and employees: Essential to evolving your talent strategy
According to our 2021 State of Diversity, Equity, and Inclusion Report, just 31% of human resources and talent acquisition leaders said their companies had a data-driven approach in place to help them "uncover and address potential biases" in their hiring processes.
What's more, just 44% of these HR and TA pros noted their businesses took action on any DEI data they collected in the prior 12 months to enact changes to their hiring policies.
If your org is in a similar state of stasis when it comes to using diversity data to make headway with your DEI initiative, there's a good chance your company's inaction stems from a lack of unified data (and dynamic data visuals) related to your DEI efforts.
In short, it's not enough to simply store data related to your DEI-centric recruiting and hiring programs (i.e., ethnicity and gender diversity data for prospects and new hires) in an Excel sheet or disparate database that doesn't sync and share data with your ATS.
Instead, you need a legit, complete single source of truth in which all recruitment data — diversity and otherwise (e.g., data tied to candidate experience, current recruiter operations, open and closed requisitions, job postings, source efficacy) — can live and update dynamically.
(In other words, 'refresh' as candidates' statuses change and hiring stakeholders take an action, like advance a prospect to a new pipeline stage or provide feedback post-interview).
Only when such a solution is in place for you and your talent org can you track team and individual-recruiter performance related to standard TA metrics like pipeline growth and time to hire/fill as well as your collective efforts to improve the diversity of your business.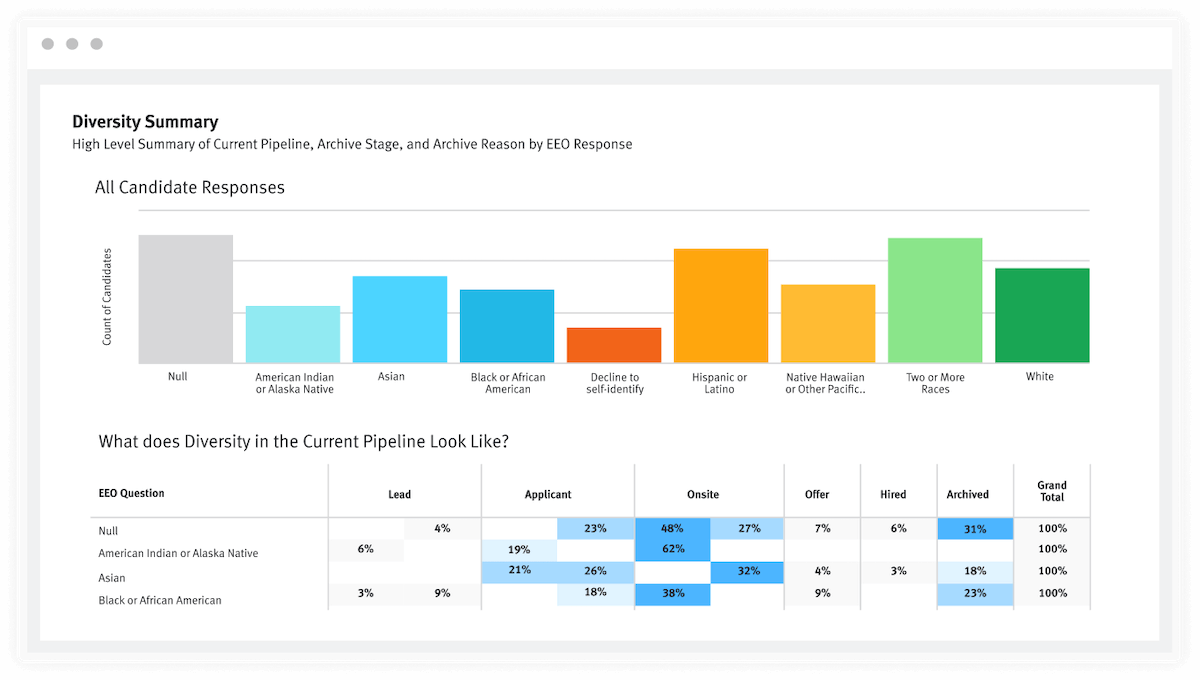 How to use DEI data to make progress with your diversity, equity, and inclusion initiative
The case for collecting diversity data is fairly straightforward. Now the question arises:
How can your org make the most of your diversity data to actually effect changes in terms of evolving the makeup of your workforce and embracing individuals from varying backgrounds
Truly diverse companies in the United States, United Kingdom, and elsewhere globally don't just generate this data only to have it 'live' in their database collecting cobwebs.
Rather, they use an advanced talent acquisition solution with in-depth analytics and candidate relationship management (CRM) capabilities that help recruiters, TA leaders, and C-suite members alike assess and take action on that data regularly.
Consider Lever customer Fiix Software. The company is a prime example of how to build a business case for better tech that can compile all relevant DEI data, make diversity data actionable for their talent teams, and use those insights to develop more diverse teams:
A limited understanding of its candidates' demographics due to its limited recruiting tools and stringent data-privacy laws in Canada deterred the CMMS software provider from gaining visibility into the diversity of its talent pool and workforce at large.
Onboarding LeverTRM immediately addressed this challenge.
Incorporating diversity survey questions in applications (e.g., one asking if the company's equity and impact statement impacted a person's decision to apply) helped Fiix discern whether the company's DEI efforts had an effect on adding new talent to its pipeline.
Moreover, the org was able to relay the work it conducted regarding its DEI initiative with candidates through targeted nurture campaigns that helped keep prospects of interest 'warm.'
And the sourcing insights Fiix was able to glean in LeverTRM helped it identify departments for which diverse groups were underrepresented (e.g., far more men than women on certain teams).
The cumulative results of the org's efforts to make major progress with its DEI program?
During that time, the company also boosted the representation of women, in particular, on business units where there was a historical imbalance in terms of gender diversity.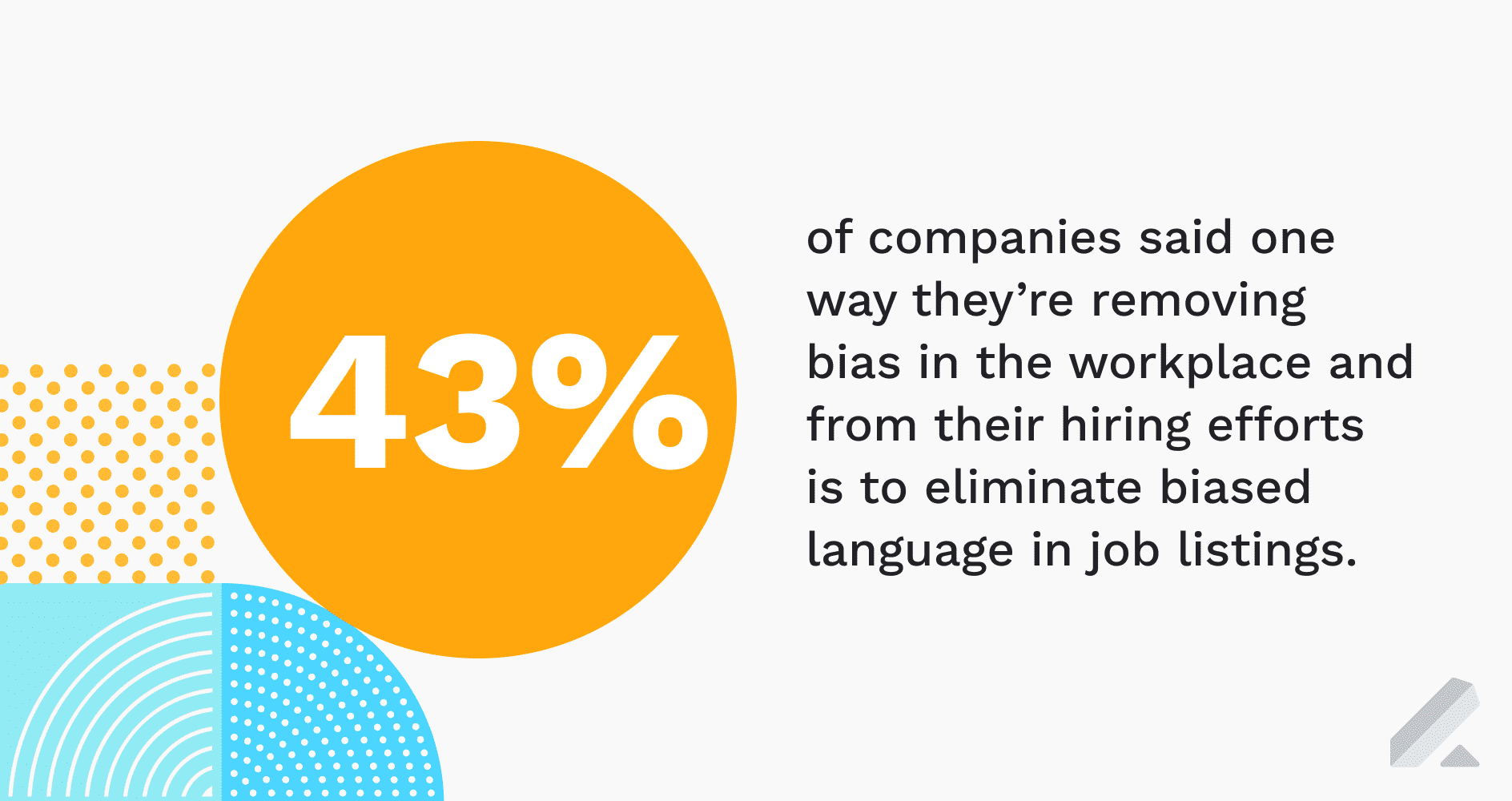 Why you need the right DEI tech to properly leverage your diversity data and enhance your hiring
Your company's DEI initiative doesn't solely fall on the shoulders of HR and talent acquisition. In fact, its structure (and success) falls mostly on your leadership team. Why? Because they're the ones who must set specific (and realistic) DEI goals for all teams to achieve.
"Instead of (or in addition to) asking, 'What (separate) DEI programs should I stand up?,' ask 'How can I make my existing processes, programs, and policies more inclusive?' former Lever VP of People Annie Lin said. "This is work that's hard and often behind the scenes, but it's also work that will have the most sustained and widespread impact."
All that said, once your business leaders have a clear vision for what you want to achieve with your DEI efforts and a solid plan to execute cross your org, you and your TA team must do your part by capitalizing on your diversity data.
That is to say, use the data to optimize and adapt your recruiting and candidate engagement.
And this requires the right recruiting platform in your tech stack. Notably, one each talent specialist and your TA leader can all to use better understand — and improve — the:
Sources (and source origins) you turn to to find net-new job candidates: Not all prospects turn to the same job boards and social networks to find jobs. Candidates — including those of different backgrounds — search in a variety of online (and offline) channels. Since you may not find a diverse array of folks on one career community, it's vital you and your team diversify (no pun intended) the places you source candidates to make sure you build a diverse talent pool.
Messaging on your career site and in nurture emails: Employer branding doesn't start and end with your brand's website. It also 'carries over' to your careers page(s) and your comms with candidates. Audit all of your existing DEI messaging in these areas to see if it impacts candidate engagement (e.g., clicks, opens, applications submitted), to ensure you add a diverse array of prospects to your talent pool. (And not discourage job seekers to apply or reply to nurtures).
Desired qualifications and skills featured in job listings: "Job-posting language can deter diverse candidates, but it can also drive more minority applicants when done well," Liz Wessel, CEO and Cofounder of WayUp, a site for college students to find internships, shared with SHRM. And she's spot on. The language of your listings makes a bigger difference than you may realize. So, use feedback from candidates (via CX surveys sent post-interview, like Lever customers do) to ensure you're not biased in your postings. This will help make sure you don't use language that may offend and/or discourage applications from certain ethnic minorities and/or people of different sexual orientations.
Structure of your interview panels and questions you ask: Just as you don't want to include noninclusive language in job listings, you also don't want to have a non-diverse interview panel or ask questions that aren't sensitive to prospects of differing backgrounds. The same CX surveys you use to secure feedback on job postings can also help you gain insights into candidates' thoughts on your interview format. For instance, they can help you discern whether prospects found the questions you asked inclusive and equitable or if they thought unconscious bias was present.
Once you've reoriented your recruiting strategy, you can build a more scalable, sustainable TA program. Just as importantly, though, you can also ensure you better identify and extend offers to employees with unique backgrounds, experiences, and voices.
Realizing this goal is how prove DEI truly matters to your org.
Download our State of Diversity, Equity, and Inclusion report to discover what HR and TA leaders as well as general business professionals had to say about their companies' DEI efforts.