The makeup of human resources (HR) analytics certainly overlaps to a degree with data your talent team accumulates — notably, insights connected with candidates who get hired.
While your recruiting organization collects and utilizes a sizable amount of data related to sourcing, nurturing, and interviewing prospects to refine its collective and individual work, your HR department is busy leveraging its own data to elevate performance in areas like employee experience, engagement, and retention.
You may not think the data sets your HR colleagues use to address these areas can inform (or improve) your talent acquisition team's day-to-day tasks. However, that's just not the case.
In fact, 'post-recruiting' HR data for existing employees can show you what traits high- and low-quality hires have as well as insights into your progress with your DEI initiative — info you can use to refine how you identify, engage, advance, and 'archive' prospects.
Understanding HR analytics: What it is and how it relates to other forms of human resources analytics
Before noting the benefits of HR analytics for your recruitment and hiring programs, it's worth it to take a step back and understand the 'varieties' of analytics tied to HR:
Workforce analytics (or talent analytics): Headcount planning and management is the main focal point for many, if not most, HR pros' work today. Knowing which positions need to be backfilled and which net-new roles need to be filled informs much of their daily decision-making. Monitoring trends and insights associated with workers' and teams' performance and accounting for hiring and growth goals laid out by leadership helps HR prioritize requisitions in the short and long term.
People analytics (or human capital analytics): Whereas workforce analytics ties into how many individuals currently work and need to be added to one's organization, people analytics is more — well — people-focused. It entails the use of data analytics for one's work environment (e.g., business processes and functions, workers' relationships and knowledge). Analyzing these areas helps HR provide recommendations regarding internal mobility (i.e. employees who could be better suited for other, possibly higher-level roles) and skill gaps that should be filled to improve business outcomes.
HR analytics: Sometimes used as a synonym for the aforementioned types of analytics, HR analytics is actually a catch-all for all-things data that fall under human resources. Essentially, this includes prescriptive and predictive HR analytics tied to both potential and current employees at a given organization. Data collected regarding existing workers and prospective hires (that is, one's talent pool) can be turned into actionable insights — with the right mix of both HR systems and TA tech.
It's this latter point that's most important.
Without a direct connection between the platforms HR uses to handle their core activities day in and day out (e.g., HCM and HRIS) with your primary talent acquisition solution — ideally, a complete suite with powerful ATS and candidate relationship management capabilities built in — it's very difficult to factor in HR analytics in your TA strategy.
(That is, use the data to optimize your recruitment funnel and hiring efforts.)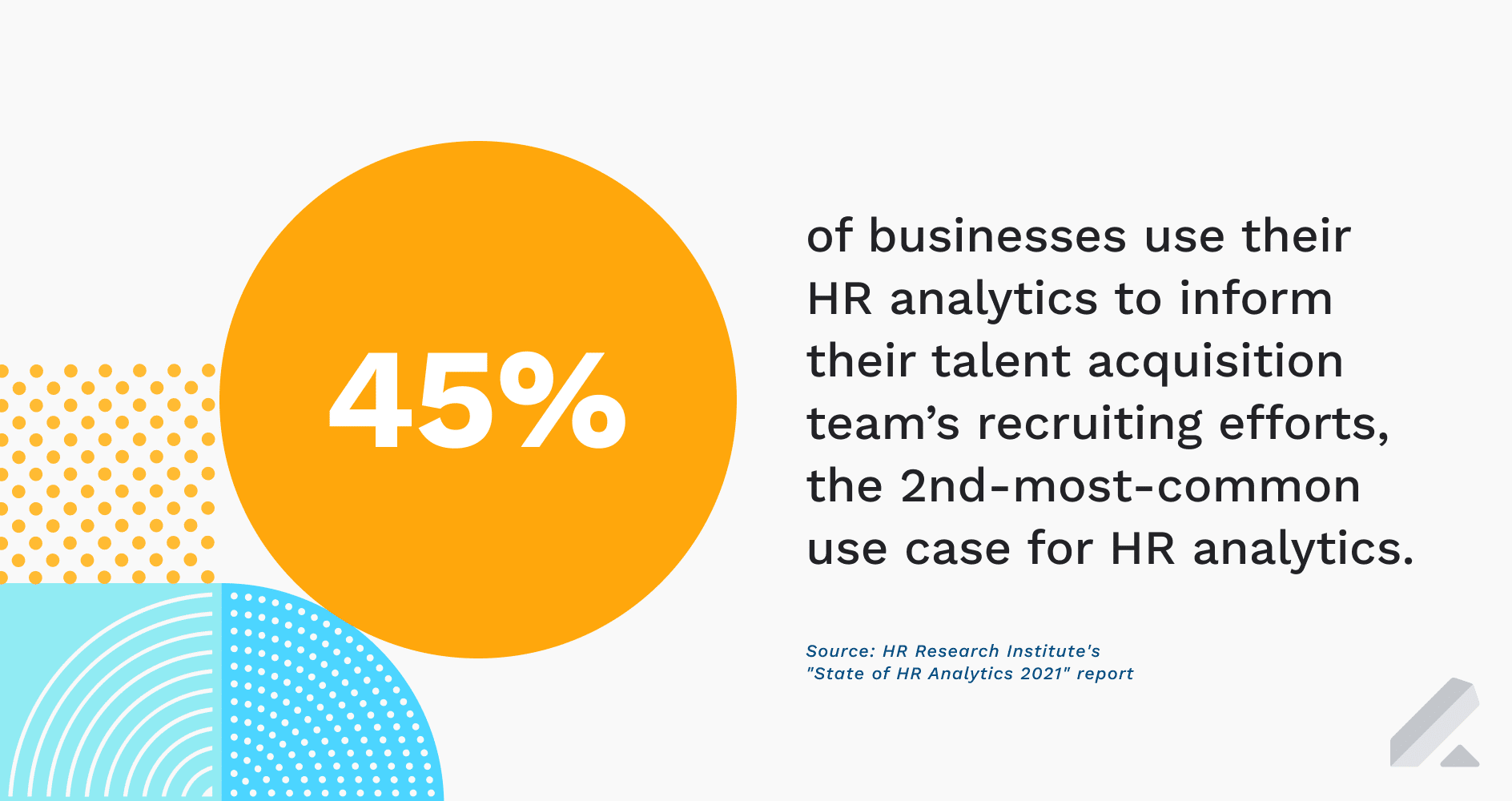 How unifying recruiting data sources and insights with your org's HR metrics can improve hiring
Here are a couple common examples of combining HR and talent acquisition data that enable non-recruiting HR team members and talent specialists alike to work and plan smarter.
HR leaders can share quality-of-hire data with recruiters to enhance their sourcing.
Both human resources and talent team members have specific roles in the full-cycle recruiting process. The 'baton' is basically handed off by TA to HR once a new hire has signed on the dotted line so they can begin the onboarding process in earnest.
That being said, talent leaders and their recruiters can benefit from predictive HR analytics after engaging with candidates who join the business. Notably, they can use quality-of-hire data compiled by HR to better understand which type of individuals they source, nurture, and interview turn into top-tier employees (by role, team, and/or department) and which don't.
This, in turn, can help them address inadequacies with each of these recruitment tasks — including and especially their sourcing.
Think about it: If you can identify a specific source (or source origin at large) that leads to low-quality workers more often than your org would like, that's a clear indication those sourcing avenues aren't optimal — and you should double-down on more fruitful approaches.
As Lever integration partner Crosschq noted, HR "can use quality-of-hire data to refine sourcing budget allocations and advertising budgets based on the channels that bring in the highest quality candidates." This gives recruiters guidance on how and where to spend their time looking for premier prospects for open and upcoming roles.
Recruiting and HR can 'swap' candidate and employee feedback with one another.
Another way to blend TA and HR analytics to benefit both recruiters and HR professionals focused on non-recruiting activities and initiatives is to have both teams share feedback data: candidate feedback by talent acquisition and employee feedback by human resources.
The advantages of accessing these insights are different for both teams, but equally helpful:
The talent acquisition team can use formal (and even informal) employee feedback to implement changes to the way it works: from the types of people it sources (e.g., build a talent pool with a more diverse array of candidates) to how it promotes the brand in as positive a light as possible to candidates (e.g., note high employee-experience scores/feedback, relayed through surveys regularly sent to the workforce to entice more job seekers to apply for roles).
The HR department can use candidate feedback to bolster their employer brand. For instance, if comments shared by recently engaged prospects show the recruitment cycle took too long or certain interviews seemed redundant or (worse) unhelpful, in terms of learning about the company and role, HR can work with the talent acquisition team to address these recruiting 'missteps' to ensure the a better experience for future candidates.
These are just two examples, of course. The point is the opportunities for both HR and TA to evolve and improve their work are many, when data is shared often between the two teams.
Why it's (well past) time to sync your recruitment software with your HR analytics solution
Legacy applicant tracking systems just don't cut it for today's talent teams. Rather, modern TA orgs are increasingly turning to more comprehensive and robust recruitment solutions — notably ones that integrate with critical HR analytics systems — to execute their core tasks and leverage data tied to those activities to adapt their approaches.
Look no further than Lever customer BenchSci for a prime example of a business that understood the need to sync its HR and TA tech to align internal hiring stakeholders and adapt its workforce (and overarching hiring strategy) in a streamlined, organized, efficient manner:
The company, like so many others amid the global pandemic, had to adjust its operations on the fly. Specifically, its human resources and talent teams had to work closely to co-construct a remote-heavy hiring strategy to cope with the new business climate and kept its long-term organizational objectives on track (and deadline).
By onboarding both LeverTRM and HRIS software hibob — and ensuring data flowed between both systems seamlessly — BenchSci has been able to streamline key HR and TA tasks: onboarding as well as payroll and performance management for the former team, and better candidate sourcing and engagement for the latter.
A concerted, coordinated effort to leverage the TA-HR analytics 'hybrid' now offered in LeverTRM, thanks to the hibob integration, ultimately helped the BenchSci team transition to a remote-first hiring program (and workforce at large) in just one week. Using our platform and hibob has helped the business hire 119 new employees.
What's more, BenchSci automated key workflows. For instance, it reduced the amount of time talent specialists and operations managers spend on KPI reporting by 98%. How? By using the dynamic dashboards in LeverTRM to track them instead of having to manually update multiple disparate KPI dashboards outside our talent suite.
"We've implemented a number of automations to help with regular HR processes, including candidate sourcing, lead management, and administrative tasks," per BenchSci Head of People Ops Roald Harvey. "All of these things build capacity for my team to focus on more impact-driving initiatives."
On top of that, it's helped the BenchSci talent and HR teams build a more unified, data-driven approach to bolster its already-strong, end-to-end recruiting and hiring strategy.
Download our data-driven recruiting eBook to learn how our customers use LeverTRM to make smarter, insights-centric decisions that enhance their recruiting and hiring strategies.