The benefits of a diverse workplace are well known, yet it's no secret that the tech industry has had a long-standing, problematic relationship with diversity, equity, and inclusion (DEI). Leadership roles continue to be dominated by homogenous teams lacking diverse backgrounds, and women are still underpaid and underrepresented. 
However, the impact of diversity in tech—or lack thereof—stems beyond workplace injustices and flaws in inclusive tech products. When we peel back the curtain on culture and leadership in tech, it becomes more evident that these two cornerstones of organizational success have a much greater impact on DEI than meets the eye. 
To stay relevant with customers and win at innovation while remaining competitive in a fierce talent market, diversity initiatives are imperative for tech companies to succeed. 
Let's take a look at how business and talent acquisition leaders can foster more diverse workplaces in tech along with the data that shows the impact of culture and leadership on DEI in tech. 
What is diversity in tech?
To put it plainly, diversity in tech revolves around bringing unique people and perspectives to an industry that has traditionally been homogenous, binary, and non-inclusive. 
Across the tech industry, women, people of color, and those belonging to the LGBTQ2S+ community continue to lack representation. As of 2020, black employees made up just 3.8% of Facebook's workforce, 6% of Twitter's employee headcount, and 26.5% of employees at Amazon. Meanwhile, just 5.5% of hires in 2020 were Black+, and only 6.6% were Latinx+. 
Why is diversity in tech important?
Beyond the moral reasons for cultivating a more diverse organization, diversity enables tech companies of all sizes to achieve key business and hiring goals that ultimately drive growth. Research has proven that companies with racially diverse teams outperform those lacking in diversity by nearly 35%. 
What's more, diverse workplaces are among candidates' top priorities when leaving their current organizations for more inclusive ones. Sixty-seven percent of employees weigh workplace diversity as an important factor when considering employment offers with a new company. 
To foster a workplace that is rich in culture, leadership, and innovation, tech companies have little option but to drive diversity in culture and in recruiting and retention. This means looking beyond one's own 'backyard' for talent as opposed to hiring only within strict geographic borders. There's a significant trend in Silicon Valley, for example, of companies hiring strictly from certain tech hubs like New York and San Francisco. 
Tech companies must also support their People and HR teams in diversifying their remote workforces to support POC and womenx in leadership. This benefits your company and its culture. Consider how diversifying your workforce can lead to a larger talent pool to choose candidates from. 
Diversity also brings new ideas, opinions, perspectives, and positive challenges that tech companies are otherwise lacking—something your diversity recruiting strategy could help your company achieve. 
Lever's 2021 DEI Report found that driving more inclusive and diverse recruitment practices is a top priority for 50% of organizations, given the benefits that DEI holds for both employers and employees alike.
The impact of culture and leadership on driving diversity in tech
While company culture is often held responsible for most issues surrounding diversity, inclusion, and equity in tech, these challenges are not solely caused by culture— leadership can further exacerbate them, too, making it difficult to see the forest for the trees when hiring diverse tech talent and working to retain employees. Let's break down a few ways that culture and leadership impact diversity in tech. 
Equity and opportunity
Leadership has more control over equity than you might think. For example, if talent acquisition teams benchmark salary and compensation and monitor trends in these key areas, they can better ensure they're offering fair compensation to talent across the board, regardless of race, gender, sexual orientation, and other factors. However, equity also encompasses the opportunities employees have for role and monetary advancement. 
In fact, 34% of people in tech have applied for a new role in the past 6 months, and it's not a competitive salary that prompts people to apply for a new role, but a fair one. As the report states: "When employees believe they're paid below market value, they're 1.3X more likely to apply for another job."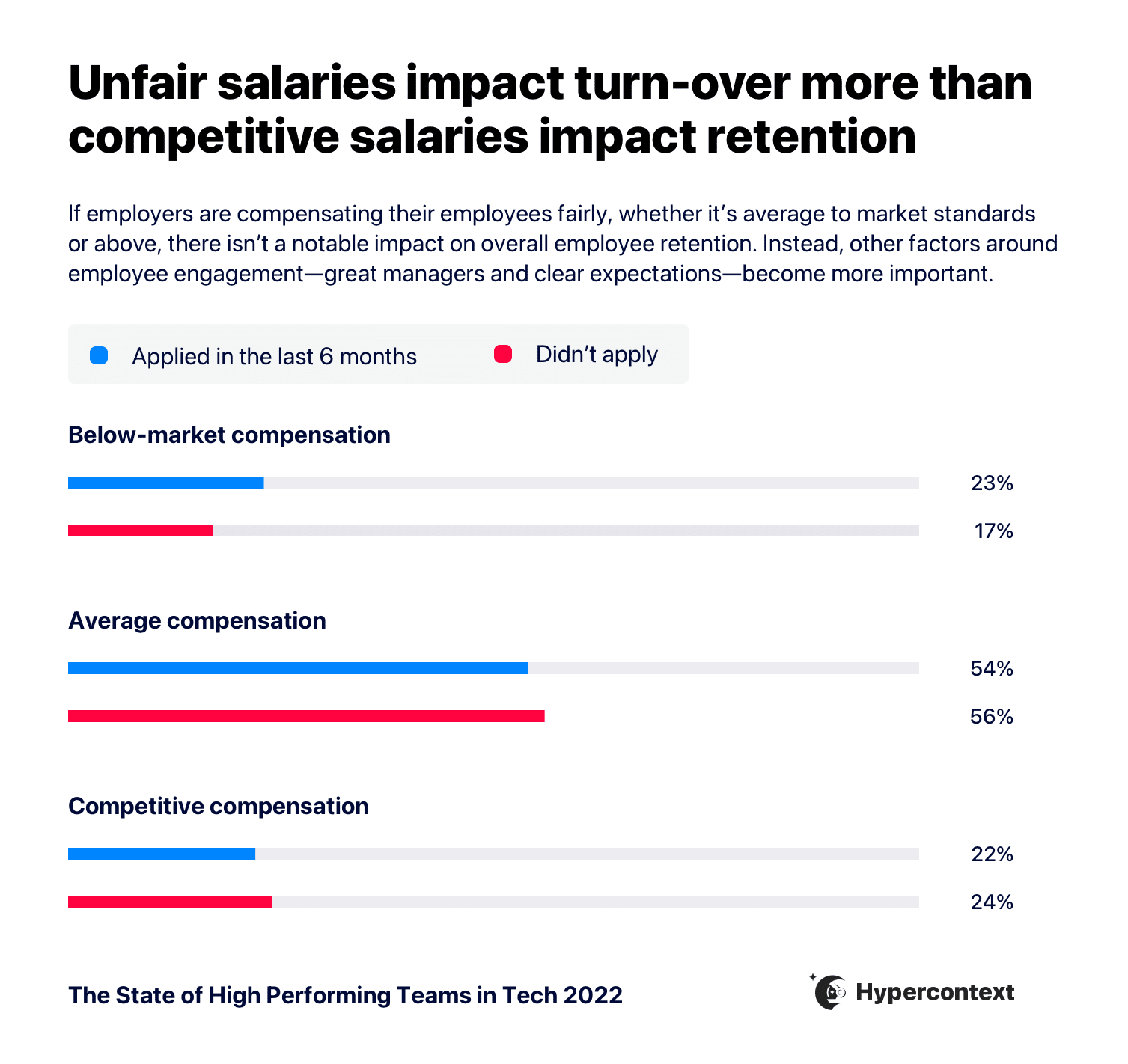 With fair salary and compensation being a critical factor for top talent, it's surprising that in many categories, diverse tech talent is still underpaid. Women make up just 25% of computer science-based roles and continue to experience pay gaps in all areas (including maternity leave). 
The ethnicity pay gap is also very real and another point of concern for tech talent. Black engineers are paid significantly less than engineers of all other backgrounds, earning 13% less than white engineers. 
Salaries by Ethnic Background and Function

*Data from Cord
Salaries by Ethnic Background and Seniority

*Data from Cord
Meanwhile, from mid-level roles, onwards, Black Engineers continue to make less than their white counterparts. 
Diversity of thought
Diversity of thought denotes that there is more than one way of thinking about something. In other words, when leadership encourages diversity of thought, they're supporting employees in bringing their unique perspectives, ideas, and experiences to their work. 
However, fostering diversity of thought is a growing challenge that sees many employees lacking the psychological safety they need to express their thoughts and ideas. 
For example, Hypercontext found that people of color—more specifically, women of color—are less likely to speak during meetings. Further, 91% of men who identified as white feel comfortable speaking in meetings versus 75% of women who identify as a person of color.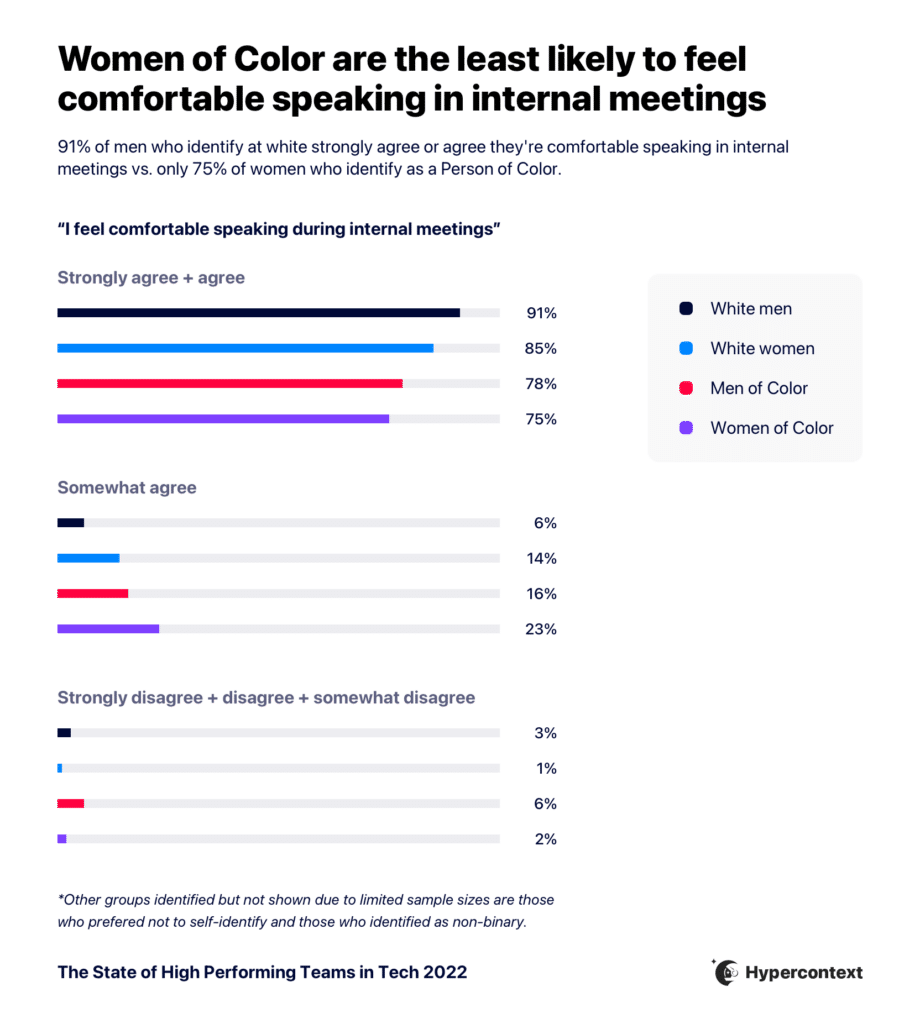 While diversity of thought should be a given—especially in tech, where it's imperative for innovation—candidates and employees alike are looking for diversity of thought as a cornerstone of successful cultures. 
Consider that cognitive diversity can enhance team innovation by nearly 20%, while 55% of employees want more improvements in diversity of thought in their workplaces, and just ⅔ of women feel they can voice differing opinions without fear of repercussions. 
This may sound like an issue of poor company culture, but upon closer inspection, it becomes clear that leadership and management play a much larger role in nurturing diversity of thought among their teams. A lack of psychological safety contributes greatly to a lack of diversity of thought. 
What can you do to improve diversity in tech in your organization?
Many tech companies have made bold claims of improving diversity at work, but it's not uncommon for those diversity promises to fall to the wayside. To make tangible improvements in diversity in tech, companies must be willing to take real action based on where they can have the most impact on DEI. 
Much of this change in diversity in tech should begin with your company's hiring practices and how your team recruits. It's important to remember that DEI is not a one-and-done initiative; rather, it's a long-term commitment. 
Here are a few examples of quick wins your hiring team can execute against today, in preparation for long-lasting change tomorrow: 
Make your hiring location-agnostic

: make remote work the norm and hire beyond your own borders

Focus on making incremental yet impactful culture changes

: commit to consistent improvements in your company culture

Finalize your DEI policies and initiatives

: use these to help candidates better understand your diversity recruiting initiatives 

Promote your internal mobility strategy

: if your company has an

internal mobility program

, ensure your hiring team promotes this to

all

candidates during the hiring process 

Start measuring your recruiting results

: you don't know what you don't know, but

measuring your DEI efforts

can give you a more holistic view of how your diversity recruiting efforts are doing
Above and beyond the quick wins, your hiring teams can also optimize their recruiting practices to be more inclusive at every stage. 
Start by setting the right goals for your team
You'll need to set goals that are attainable and also align with your organization's objectives for increasing diversity in your recruitment practices. Think of these goals as SMART goals, ones your team can work consistently toward rather than checking items off of a list.
When it comes to creating SMART goals for your DEI initiatives, consider how you can apply the SMART model to your hiring and recruitment.
S

pecific: Your goals should be simple yet specific enough that there's no confusion as to what your team is trying to achieve

M

easurable: Each goal should be measurable, something you can monitor the progress of

A

chievable: In other words, every goal should be attainable

R

elevant: Are your goals realistic and aligned with your hiring objectives?

T

ime-bound: While your DEI initiatives should be ongoing, recruiting and hiring goals may be more timely or executed against in a specific quarter
Assess what's working and what isn't
It's no longer enough to focus solely on high-level recruitment metrics—your team needs to dive even deeper into your recruitment data to understand how and where diversity recruitment is lacking in your organization.
Look at your data to assess everything from candidate feedback and EEO survey results to interview scorecard insights and more. When you think of your current hiring initiatives, what does the data tell you about every step of your process? For example, are you sourcing candidates from diverse networks and platforms, or excluding diverse stakeholders from your interviews?
Asking these types of questions can lead to greater discovery and improvements in your process. Consider your interview process—is it truly inclusive and objective, or does bias creep in at virtually every stage?
Eliminate and address unconscious bias in your interviews by including diverse stakeholders in panel and 1:1 interviews

Analyze your

job descriptions

for gender-coded and discriminatory language

Use a

structured interview process

to ensure every candidate has a fair and objective experience
Use data to empower your recruitment practices
DEI is not a project or problem to solve—it's an ongoing, ever-evolving effort that involves every individual in an organization and touches nearly every aspect of work. To see long-term change, we need to keep moving forward, measuring results, learning from past results, and course-correcting as needed.
In our recent DEI survey, we found that the top 3 metrics employers are using to measure the effectiveness of their diverse recruitment practices include hiring results (57%), surveys (55%), and employee demographics (48%).
Work on your employer brand
It's important to keep in mind that recruitment marketing extends far beyond sourcing talent. In fact, it applies to the entire recruitment life cycle, from attracting to engaging and nurturing potential talent.
Here are a few ways you can leverage recruitment marketing to drive diversity recruiting and consistently improve your employer brand:
Focus on increasing awareness by posting open roles to diverse talent boards

Generate interest in your company by sharing relevant content around DEI initiatives

Nurture candidates by providing insight into your company's DEI policies and progress

Add your DEI commitments to strategic web pages on your site (like your About and Careers pages)

Leverage diverse internal subject matter experts (SMEs) who can share their stories and experiences with candidates
Discover how organizations big and small are driving DEI forward
Our team here at Lever surveyed over 500 HR decision-makers and 1,000 employed adults to learn what efforts companies have been taking to increase their DEI efforts, how they've been communicated, and the gap between the company's perspective versus the employee's perspectives.

In our 2021 State of Diversity, Equity, and Inclusion Report, you'll learn how organizations big and small are working to drive DEI forward. Download your free copy of our 2021 DEI report below!